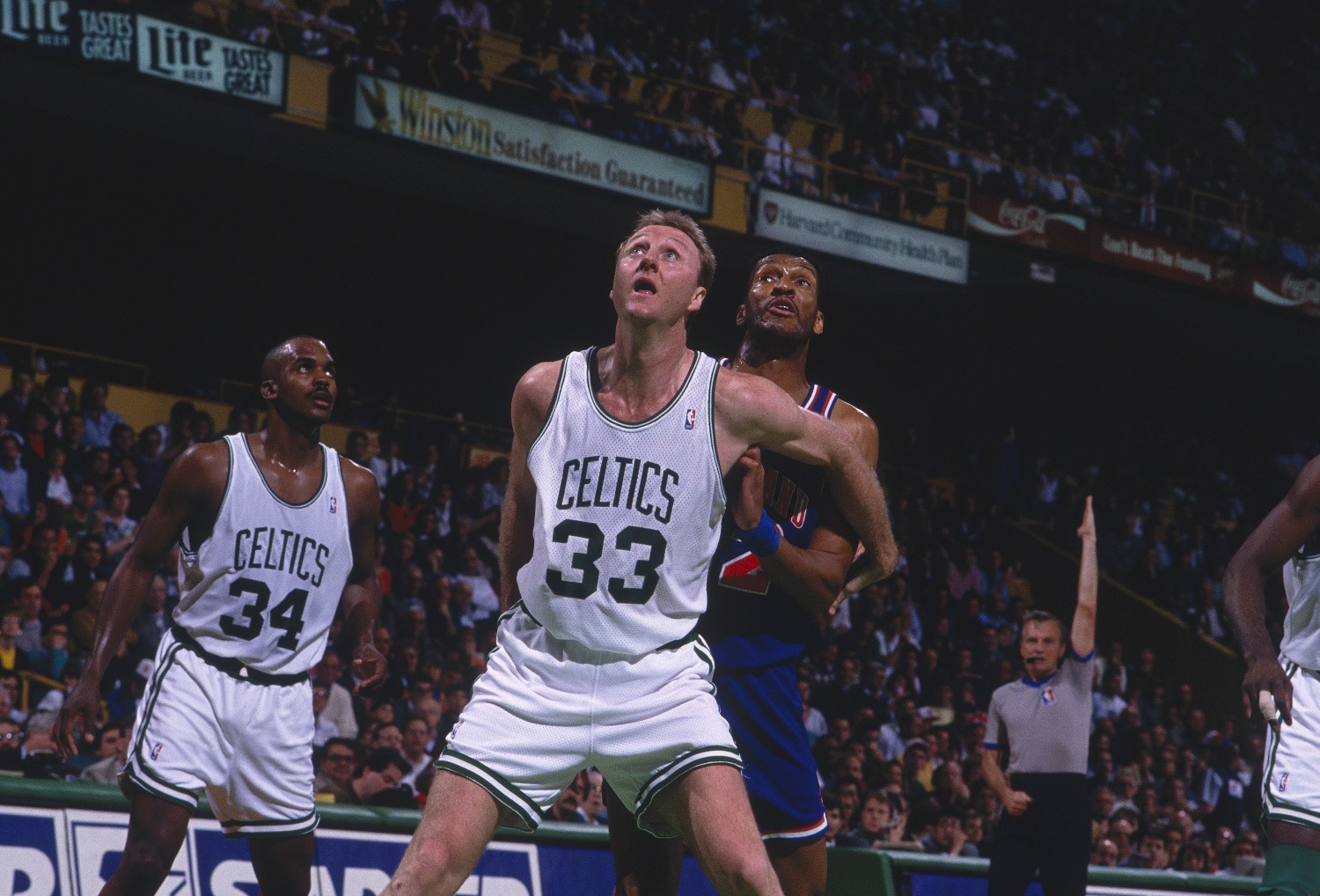 Gregg Popovich Just Called the NBA's Best Center the Reincarnation of Larry Bird
Gregg Popovich just made a strong statement by declaring that Nuggets big man Nikola Jokic is the reincarnation of Larry Bird.
From David Robinson to Tim Duncan to Manu Ginobili, Gregg Popovich has plenty of experience coaching NBA legends. The longtime San Antonio Spurs coach may be on the back end of his career, but he certainly has an eye for talent. And on Wednesday night, the five-time NBA champion revealed who he believes is the reincarnation of Larry Bird.
Larry Bird became an NBA legend with the Celtics
Larry Bird spent his entire NBA career with the Boston Celtics. And for more than a decade, he thoroughly dominated on both ends of the floor. Bird possessed one of the smoothest shooting strokes in NBA history and could seemingly score from anywhere on the court.
Bird's career scoring average of 24.3 points per game certainly deserves praise. Yet, his uncanny passing skills for a player of his size made him truly special. Larry Legend averaged 6.3 assists despite spending his entire career as a forward. Celtics fans witnessed the 6-foot-9, 220-pounder dish out behind-the-back and no-look passes like a top-flight point guard.
Of course, Bird also did damage on the glass. Thanks to his height and tenacious work ethic, the 12-time NBA All-Star averaged double-digit rebounds in each of his first six years in the league. He also helped the Celtics capture three NBA titles in his 13-year career.
Though a back injury forced him to retire after his age-35 season, Larry Bird cemented a legacy as one of the most well-rounded superstars in NBA history. He got inducted into the Naismith Memorial Basketball Hall of Fame in 1998.
Gregg Popovich believes Nikola Jokic is the reincarnation of Bird
As one of the top coaches in NBA history, Gregg Popovich's opinion carries a ton of weight. After all, he has coached against both Michael Jordan and LeBron James and countless other NBA superstars since taking over as the head coach of the Spurs in 1996.
On Wednesday night, San Antonio took on the Denver Nuggets. Budding star Michael Porter Jr. stole the show with his second straight 30-point double-double. However, Popovich's attention fell on Nuggets big man Nikola Jokic.
The All-Star center dropped 25 points in the Nuggets' 132-126 victory. He also dished out 11 assists and grabbed four rebounds. The Spurs struggled mightily to contain the 7-foot, 253-pound behemoth. And that led Popovich to invoke quite a lofty comparison (H/T ESPN).
"And Jokic, he's like a reincarnation of Larry Bird. He does everything. He's amazing."
San Antonio's head coach couldn't contain his awe over Jokic's incredibly well-rounded performance. In fact, Popovich even compared the 25-year-old to Moses Malone and praised Jokic for his rare passing ability.
"It's not just luck. He does it all the time. He is great on the board, he's obviously maybe the best big man passer in the league. If not, then close to it. He's a pretty special player."
Jokic boasts striking similarities to Bird
Did Gregg Popovich go too far in declaring Nikola Jokic as the reincarnation of Larry Bird? On the surface, the comparison may seem like a stretch. But dig a little deeper and you will realize that the Serbian center possesses striking similarities to Larry Legend.
Though nobody would confuse the two due to their vastly different physical statures, Jokic does boast a diverse skill set that certainly could remind older NBA fans of the Celtics icon.
Denver took a flyer on the talented big man in the second round of the 2014 NBA draft. Since making his debut in 2015, Jokic has rapidly developed into the league's most dominant center.
Like Bird, the Nuggets big man puts up double-doubles on a nightly basis. Jokic may not be a knockdown 3-point shooter, but he did shoot nearly 40% from behind the arc just two years ago. Plus, he has knocked down 82.6% of his free-throw attempts. Bird shot 88.6% from the charity stripe.
But the reason Gregg Popovich believes Jokic is the reincarnation of Larry Bird comes down to his passing skills. The towering center averaged 7.3 assists last season; Bird only topped that twice. Jokic currently dishes out 7.0 assists per game and continues to facilitate the offense in Denver.
He certainly has a long way to go in terms of longevity, but Nikola Jokic absolutely has the skill set to become an NBA legend in his own right.
All statistics courtesy of Basketball Reference