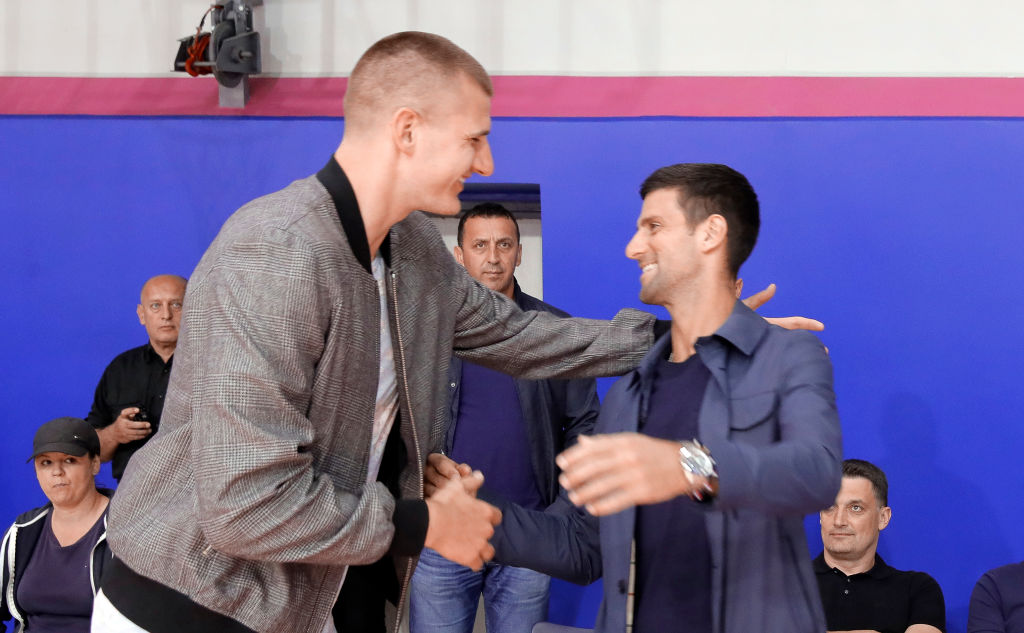 Nikola Jokic Came Out of Quarantine Slimmer Than Ever
How well did Nikola Jokic take to quarantine? It turns out he came out of it looking better than anyone could have expected.
Quarantine did no one any favors. For NBA stars, an active schedule came to an abrupt halt. Someone like the Nikola Jokic might find quarantine more difficult because of his larger body frame. The Denver Nuggets center has always caused controversy due to his larger body mass index. Yet, his footwork and shooting skills are noted as formidable.
How well did Jokic take quarantine? It turns out Jokic came out of it looking better than anyone could have expected.
What did Nikola Jokic do during quarantine?
It seems Jokic was working out with James Harden during quarantine to prevent himself from gaining more weight than he already had. This came from a report on Uproxx recently saying Jokic had slimmed down considerably with those working out with Harden.
Whether Jokic did this here in America is unknown. What is known is he managed to lose significant weight when he went home to Serbia during the quarantine period. A video posted on June 11 showed a skinnier Jokic practicing in a Serbian gym with other players.
Video evidence never lies, proving some good came out of quarantine. Was this truly a blessing in disguise for those who always struggle with their BMI and got in the best shape of their lives?
Based on how skinny Jokic appears now, he may have to put on pounds to be at acceptable playing weight once the NBA season resumes this summer.
How skinny is Nikola Jokic now?
Media sources say Jokic dropped 25-30 pounds over the last several months. Most people noticed this in more recent shots of him at practice sessions stateside. If this amount of weight loss holds as true, it might mean him being lighter on his feet than usual.
On the other hand, some sports analysts think Jokic is too skinny now, bringing possible problems on the court. How he achieved this weight loss has already been a point of debate. Jokic's favorite restaurant (The Cheesecake Factory) being closed since March might have had something to do with it.
What everyone is hoping for is along with the weight loss, he also built some muscle. Based on how most NBA stars work out, this may be the case based on shots of him having abs. And if he did, he could become a new war machine when the Nuggets start playing again.
As such, all possibility exists the Nuggets are primed to win a title during this strange season. With the 2019-20 NBA season scheduled to restart on July 31 at Walt Disney World Resort in Orlando, the team looks favorable.
Nikola Jokic has stellar odds in helping the team go to the top
One can only imagine what would have happened to Jokic's weight had he not have made a conscious effort to watch his health. In the past, he was known for returning from summer well over his playing weight, creating numerous problems in having to lose pounds too fast.
As every athlete knows, losing weight gradually is a more healthy way to go, including building muscle in the process. Keeping this all in mind, Nuggets fans might find out the virus occurred as good karma for the team.
Odds have improved greatly for the team winning another ring. Most of those odds rest on Jokic's abilities, his weight loss, plus acquiring Bol Bol (from the Miami Heat), and Michael Porter, Jr. returning from injury.
Hopefully more than the Nuggets winning a championship will be mentioned as a positive occurring in the time of COVID-19.