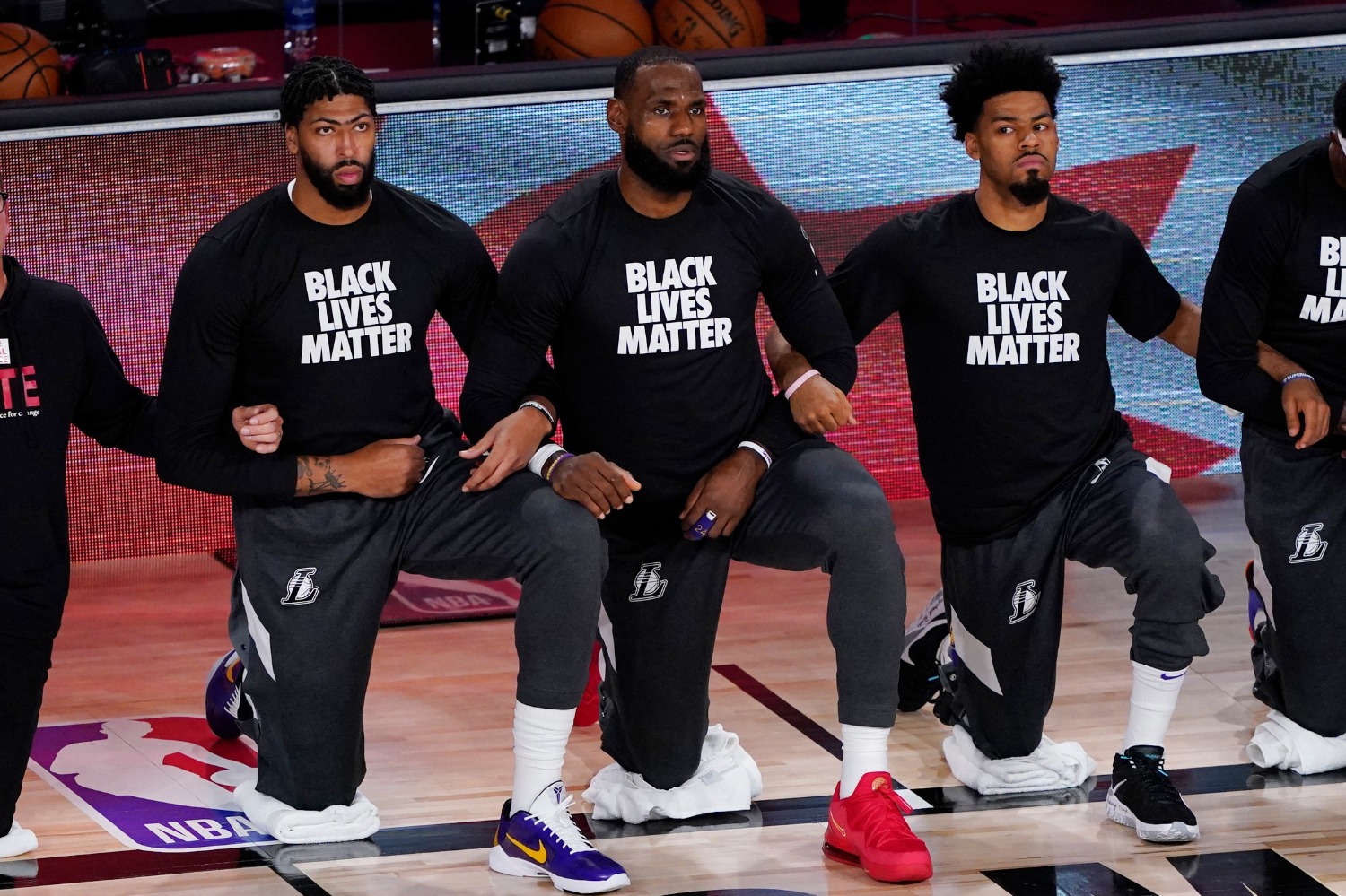 LeBron James Refuses to Stay Silent About Social Justice After Lakers Clinch Top Seed
LeBron James refused to stay silent about social justice issues both before and after helping the Lakers clinch the No.1 seed.
When LeBron James speaks, everyone listens. As the Black Lives Matter movement and social justice causes have become intertwined with sports, the NBA's biggest star has not been shy about voicing his opinion. On Monday, James helped the LA Lakers clinch the No. 1 seed for the first time in a decade.
But while many people focused on the Lakers' impressive accomplishment, James refused to stay silent on social justice issues both before and after clinching the No. 1 seed.
LeBron James has been a powerful figure in the social justice movement
From a basketball perspective, only Michael Jordan tops LeBron James. Some would even argue that The Chosen one outranks His Airness. But for all of his accomplishments on the court, James' influence off the court deserves recognition.
The four-time MVP and three-time NBA champion takes his role as the face of the league seriously. As such, his words and actions surrounding police brutality, racial inequality, and social justice carry a ton of weight.
Recently, James scored a $100 million investment to launch SpringHill Company, a media company that will specifically aim to give a voice to Black creators and consumers. He explained the inspiration for his new media company in a released statement.
"I've always wanted to use the platform of basketball to empower those around me. Now I'm incredibly excited about the opportunity to build a company that empowers creators, consumers, and everything it touches. The SpringHill Company defines empowerment. You see it in the team we've built, the stories we tell, and the community our work will serve."
In addition to his foray into the media world, James has made a profound impact through donating $100,000 to help pay court debts for former felons in the state of Florida so that they can register to vote. Plus, he sent a strong statement when the NBA returned to play by taking a knee alongside his Lakers teammates and praising Colin Kaepernick for his sacrifice.
The Chosen One helped the Lakers clinch the No. 1 seed
Heading into Monday night, the Lakers had the chance to secure the top seed in the Western Conference. Of course, Donovan Mitchell and the Utah Jazz represented a tough opponent to knock off.
Ultimately, LeBron James and Anthony Davis once again carried LA in a highly-entertaining matchup that featured a whole lot of scoring. Davis led all scorers with 42 points. He chipped in 12 rebounds, four assists, and three steals in a monstrous effort.
James took a bit of a backseat from a scoring perspective. However, he still grabbed eight rebounds and dished out nine assists to go along with 22 points.
Despite a valiant effort from the Jazz that included 33 points from Mitchell, the Lakers won by a final score of 116-108. LA captured the No. 1 seed for the first time in a decade. Coincidentally, the last time the Lakers held the top seed, Kobe Bryant led them to an NBA title.
But while Lakers fans celebrated their impressive accomplishment, LeBron James refused to stay silent about an entirely different topic.
LeBron refused to stay quiet about social justice before and after the game
NBA fans should have expected LeBron James to speak up after the game based on his pre-game attire. When the 16-time NBA All-Star arrived at the arena, he donned a black t-shirt that delivered a profound message, according to ESPN.
On the front, in white screen print, there was a stopwatch showing the time 8:46 on its face, with "Minneapolis" printed below it. On the back there were several stopwatches — all frozen on 8:46 — with various city names below them, including New York, Houston, Tokyo and Paris. Below the stopwatches there was a message: "The World is Watching This Time."
Sloan and Bennett designed James' shirt. Klutch Sports, the agency that represents James, commissioned the shirt.
"You think about 8 minutes and 46 seconds, an officer having his knee on someone's throat for that long. Video or no video, it doesn't matter," James said. "No one deserved to lose their life when it could have been prevented from what I've seen and from what the world has seen. So that's what the T-shirt is all about: The world is watching. Everyone knows the time. Everyone knows what's going on."
Following the Lakers' monumental victory, the aging superstar discussed how traveling to Orlando has inspired many conversations about tough topics. It turns out that basketball hasn't distracted players from the social justice issues that plague our society.
"There were so many conversations before we got here that this right here, the bubble, us playing basketball would take away from the main thing," LeBron James said. "I think it's been the absolute opposite of that. It's given us the opportunity to every single day speak about, feel passionate about whatever is going on in your personal life, whatever is going on in society, us trying to make a change.