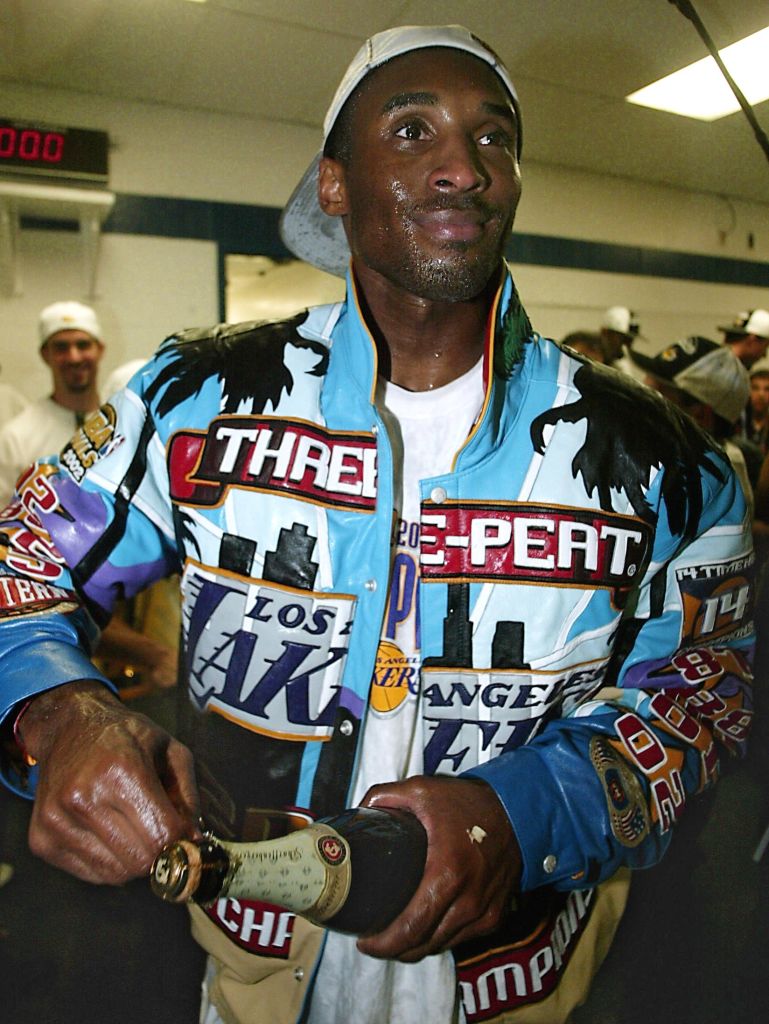 Kobe Bryant Embarrassed a Poker Legend in a $21,000 Champagne War
Kobe Bryant's competitiveness wouldn't allow him to be shown up by a poker champion who was dropping thousands of dollars on champagne.
Kobe Bryant thrived on competition. He elevated his game in the biggest moments and certainly never backed down from a challenge. An obsession with perfection fueled a storied Los Angeles Lakers career that put him on the same level as Michael Jordan. But Kobe's legendary competitiveness extended far beyond the basketball court. From embarrassing opponents on the floor to dropping thousands of dollars on champagne just to prove a point, Kobe Bryant was determined to be the best.
Kobe Bryant's Hall of Fame NBA career
Kobe entered the NBA as a teenager and retired as a living legend. Blessed with the perfect combination of size, speed, explosion and heart, he devoted his entire career to the Lakers. While he didn't immediately emerge as a superstar, it didn't take long for the rest of the league to recognize the young buck's transcendent talent.
At 19 years old, Bryant made his first NBA All-Star team. While he didn't earn a selection the following year, he made the All-Star team in every season until he retired. While the Michael Jordan comparisons may have caused other players to crack, Bryant did everything in his power to prove he belonged in the conversation.
Early in his career, Kobe formed an unstoppable duo with Shaquille O'Neal that carried Los Angeles to three consecutive NBA titles. Bryant spent the rest of his 20s establishing a reputation as the Black Mamba before delivering two back-to-back titles over a decade ago. Sadly, Kobe Bryant and his daughter, Gigi, were amongst a group of people who died in a tragic helicopter crash in January 2020. He was immortalized in the NBA Hall of Fame as part of a stacked 2020 class that also featured Kevin Garnett and Tim Duncan.
Competitiveness fueled the Lakers legend
Kobe's untimely death rocked the basketball community and the world at large. But it also led many of his former teammates, competitors, friends and family to share interesting stories about the Lakers legend. The devoted father and husband touched so many lives during his 41 years on Earth. And at his memorial, several prominent members of his inner circle reflected on his legendary competitiveness that carried over from the court to his home life.
Shaq had many bouts with Kobe during their time together in LA. But both NBA legends deeply desired to win above everything else. When the titanic center tried to teach his sidekick a lesson, Kobe's competitive nature showed through.
"Kobe, there's no 'I' in 'team," O'Neal recalled saying, likely more than once. "He said, 'I know, but there's an 'M-E' in that (expletive).' "

Kobe hired Rob Pelinka as his agent in 2003, but he became much more than that. In fact, the NBA executive became Gigi's godfather. At the memorial service, Pelinka shared a story about Kobe's response after losing to Pelinka in a tennis match.
"There he was waiting for me already with a full sweat," Pelinka said. "As his tennis skills exploded, I learned that he had secretly reached out to the clubs pro for private lessons and then share any of them with me. Typical Mamba mentality."

In a league full of alpha males, Kobe Bryant truly stood above the rest.
Kobe wouldn't let poker champion Antonio Esfandiari outspend him
Perhaps the most fitting story about Kobe Bryant's competitiveness took place far away from the bright lights of the Staples Center. This time, it didn't involve a basketball. Instead, it involved some seriously expensive champagne.
According to TMZ, in 2007, Kobe and his wife, Vanessa, attended a grand opening of BLUSH Boutique Nightclub in Las Vegas. The Lakers star watched poker legend Antonio "The Magician" Esfandiari buy two $1,400 bottles of Cristal champagne. As urban legend has it, Kobe responded by ordering five bottles. Esfandiari upped the ante to 10.
In typical Kobe fashion, he wouldn't be denied. The multi-millionaire reportedly purchased 15 bottles—which cost about $21,000—and walked straight out of the club. Now that's real magic.