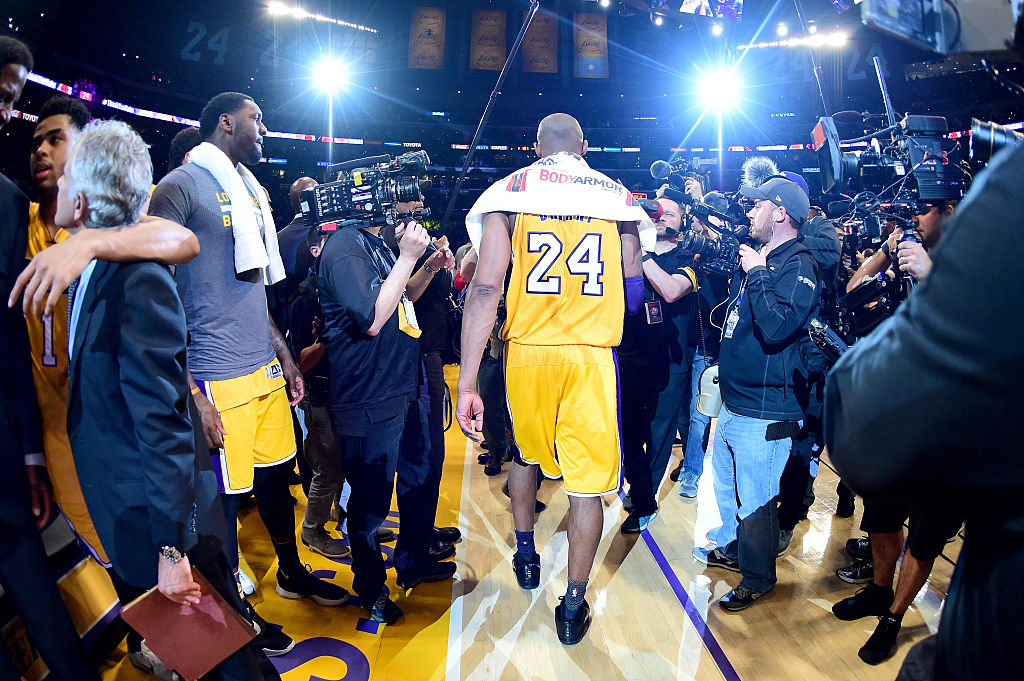 Los Angeles Lakers Legend Kobe Bryant Reportedly Dies in a Tragic Helicopter Crash
Los Angeles Lakers legend Kobe Bryant tragically died in a helicopter crash on Sunday afternoon.
As initially reported by TMZ, Los Angeles Lakers legend Kobe Bryant died in a helicopter crash on Sunday afternoon. He was apparently one of several people aboard the vehicle; no one is believed to have survived.
Eyewitnesses told TMZ that "they heard the helicopter's engine sputtering before it went down." While emergency personnel were promptly on the scene, the crash started a brush fire, which inhibited rescue efforts.
According to Adrian Wojnarowski, Bryant and his daughter were heading to a travel basketball game at the time of the crash. Another parent and child were reportedly on board.
In a press conference, Los Angeles County Sheriff Alex Villanueva stated that there were nine passengers aboard the helicopter. Their identities will be publically confirmed once their families are notified.
This is a breaking news story, and we'll update as more details become available.
Kobe Bryant's dominant Los Angeles Lakers career
It goes without saying that Kobe Bryant was an NBA legend. Basketball was in his blood—Bryant's father and uncle played professionally—and he burst onto the national scene as a high school freshman outside of Philadelphia. After an impressive career, he jumped directly to the NBA.
Thanks to a draft-day deal, Bryant joined the Los Angeles Lakers in 1996. While his adjustment to the Association wasn't seamless—Kobe won the Slam Dunk Contest as a rookie, but struggled in some big moments down the stretch—but the guard's talent was apparent. With each passing season, he began to shine brighter and brighter.
In 1999, Phil Jackson took over the Lakers; his triangle offense seemed perfectly suited for Bryant and Shaquille O'Neal. The team promptly won three-straight NBA titles, with Kobe coming up big in nearly every clutch moment.
After those titles, though, things took a turn. Although the Lakers assembled a star-studded roster featuring Karl Malone and Gary Payton, the team couldn't make it over the hump. Kobe, however, remained remarkably consistent, capable of scoring at will.
In the 2008 season, though, everything came together again. Byant carried the Lakers to back-to-back titles, giving him five career championships. Even though he couldn't reach the promised land again and struggled through nagging injuries, Kobe remained one of the league's elite players until he retired.
Kobe Bryant's historic resume
While Kobe Bryant might have captured five NBA titles, that only scratches the surface of his legacy.
Bryant saw NBA action for 20 seasons, playing from 1996-97 through 2015-16. He played 1,346 games during that span and averaged 25 points, 4.7 assists, and 5.2 rebounds per game for his career. During that time, he was a true star, capable of winning games and astounding crowds in equal measure.
On an individual basis, Bryant also took home plenty of awards. He was an 18-time All-Star and made the All-NBA team on 15 different occasions. The guard also claimed two scoring titles, two NBA Finals MVP awards, and one league MVP award.
Both of Kobe's numbers, 8 and 24, have been retired by the Los Angeles Lakers. He was nominated for the 2020 Basketball Hall of Fame class; independent of his passing, he was sure to make the cut.