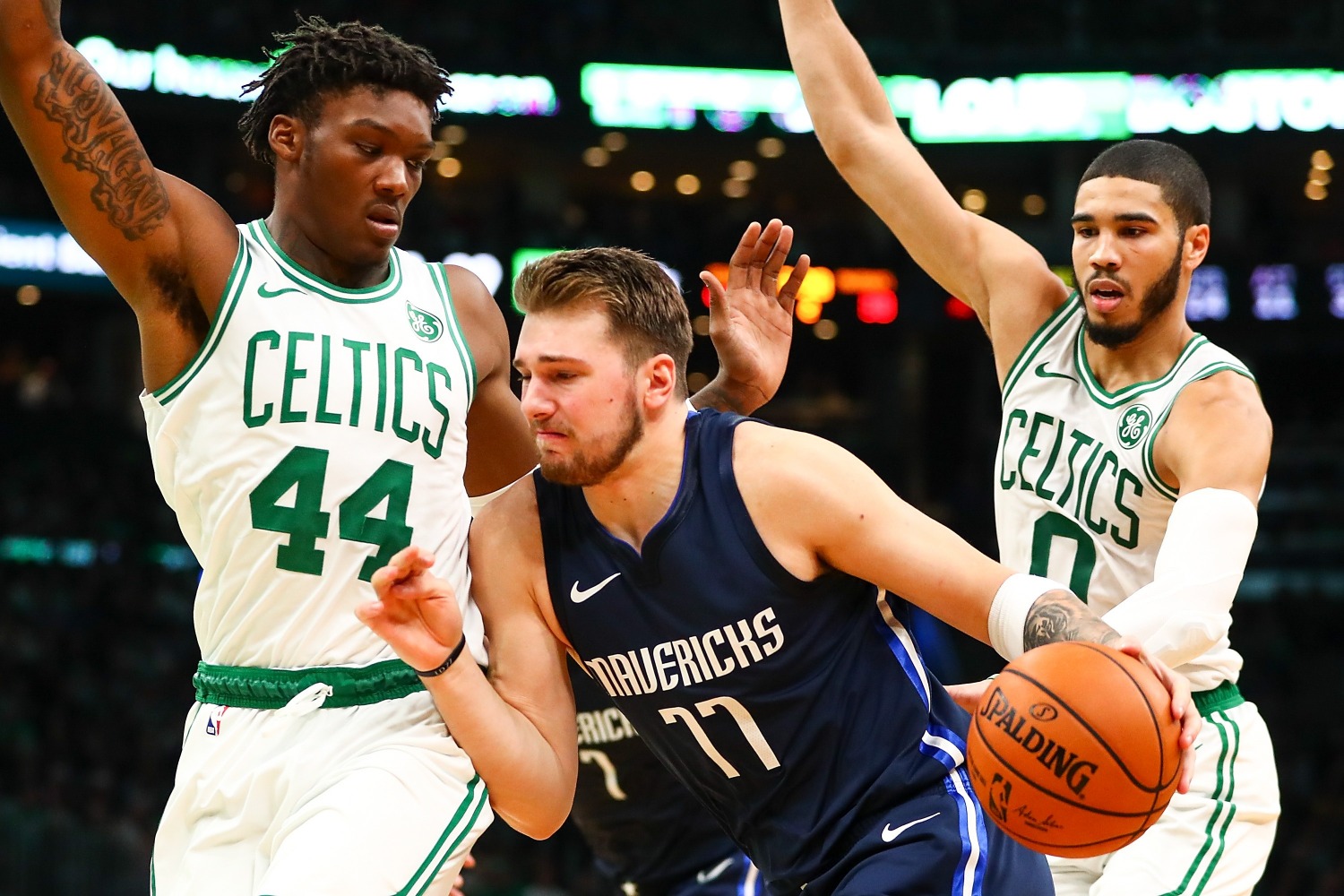 The Celtics Boast a Budding Star Not Named Jayson Tatum or Jaylen Brown
Jayson Tatum may draw all the attention, but the Boston Celtics have another budding star in 22-year-old center Robert Williams.
It didn't take long for Jayson Tatum to become a dominant NBA player. The sharp-shooting 22-year-old has already become one of the best wings in the league after entering the NBA at 19. Fellow former No. 3 pick Jaylen Brown has also made the leap to star status this season. However, the Boston Celtics have another budding star who could be the key to an NBA title run.
Jayson Tatum made the leap to superstar status this season
Danny Ainge deserves tremendous credit for how he handled the 2017 NBA draft. Armed with the first overall pick, Boston's general manager swung a savvy trade to move down to the No. 3 spot and secure another first-round pick. While the Philadelphia 76ers made Markelle Fultz the top pick, the Celtics got the better player by snagging Jayson Tatum two picks later.
The 6-foot-8 small forward played just one season at Duke University. However, he flashed dominant scoring ability and superstar upside. Tatum showed plenty of promise as a rookie. He shot 43.4% from 3-point territory. With Kyrie Irving missing the playoffs with an injury, Tatum took over as the Celtics' No. 1 scoring option and averaged 18.5 points in 19 games.
Last season, Tatum failed to make the year-two leap many expected. Of course, Irving's poor attitude and overall fit within the team caused many Celtics players, including Jaylen Brown, to deliver underwhelming results.
But with Kemba Walker taking over for Irving, Tatum has ascended to elite status this season. The St. Louis native boasts impressive averages of 23.3 points and 7.0 rebounds while shooting just over 40% from behind the arc. It's scary to think about what Jayson Tatum could look like even a few years from now when he adds even more muscle to his growing frame.
Jaylen Brown looks like a $115 million bargain
Before Ainge made Tatum the third overall pick in 2017, he selected Jaylen Brown at the same spot the year prior. A highly-coveted high-school recruit, Brown took his talents to the University of California. Truly an athletic freak, the 6-foot-6 small forward didn't quite live up to the hype in college.
Brown averaged just 14.6 points on 43.1% shooting. His 29.4% 3-point shooting percentage left NBA scouts doubting his ability to become a top-flight wing at the next level. Yet, Ainge still pulled the trigger on the player Billy Donovan once predicted would be out of the league after three years.
So far, Brown has proven the former University of Florida coach wrong. Though his development came at a slower pace, the former No. 3 pick has also made a quantum leap this season. After averaging just 13 points last year, the 23-year-old has put up 20.6 points per game while playing terrific defense.
While Boston boasts two dynamic wings in Jayson Tatum and Jaylen Brown, the team also has another budding star who Danny Ainge just drafted two years ago. And if he can live up to his potential, the Celtics could make a deep postseason run that ends with an NBA title.
The Celtics have another budding star in Robert Williams
For all of Danny Ainge's genius, he has struggled to find a long-term fixture at center. Sure, you could do a lot worse than the veteran duo of Daniel Theis and Enes Kanter. However, neither possesses the upside of Robert Williams.
At 6-foot-8, 237 pounds, the Louisiana native does not have the typical frame you would associate with a dominant center. However, the former Texas A&M big man has a tantalizing skill set that meshes perfectly with Boston's deep array of wing talent.
Though he easily could have been a lottery pick, Williams slipped in the 2018 NBA draft due to concerns about his work ethic and maturity. As a rookie, he averaged just 2.5 points and 2.5 rebounds. This season, Williams has earned more playing time and has flashed moments of brilliance.
An elite finisher at the rim, the explosive big man also provides excellent rim protection and rebounding skills. On Wednesday, the 22-year-old enjoyed the best game of his young NBA career. Facing the Brooklyn Nets, Williams scored 18 points to go along with five rebounds and three blocks in just 19 minutes.
Though Theis currently holds the starting center spot, it makes sense for Celtics head coach Brad Stevens to start giving Robert Williams more opportunities. Theis provides a well-rounded veteran option, but Williams possesses superstar upside and needs to get more time playing alongside Tatum, Brown, Walker, and Gordon Hayward.
If the Celtics want to make a deep postseason run, they'll need more performances like the one Williams put up Wednesday night. And if he follows a similar development path like Jayson Tatum and Jaylen Brown, Robert Williams will become Boston's next star sooner than later.
All statistics courtesy of Basketball Reference