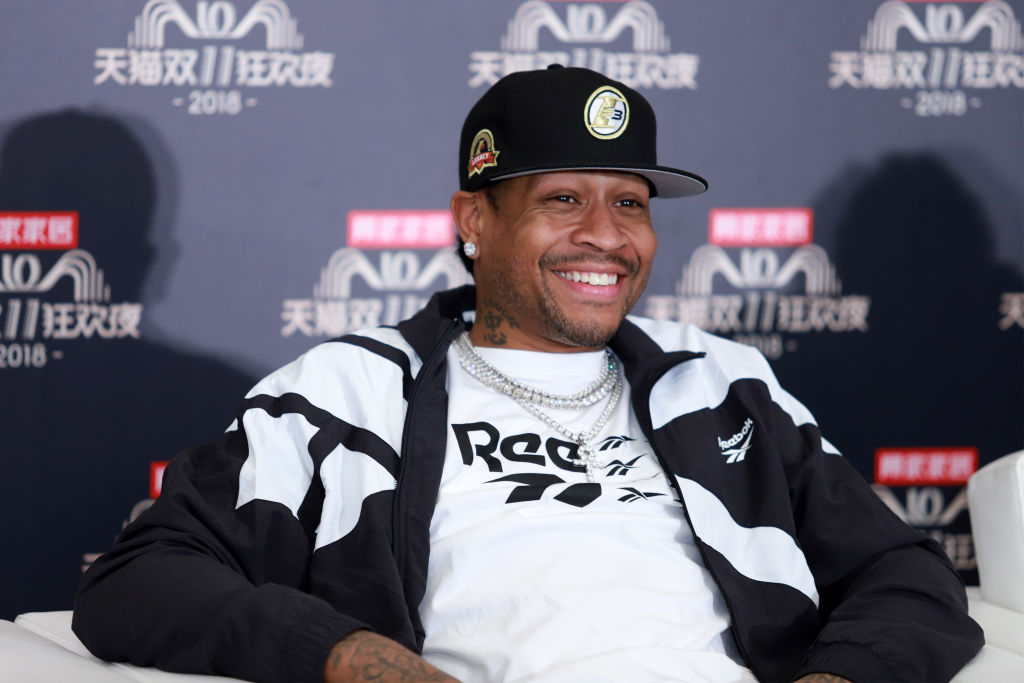 Allen Iverson Must Wait 10 Years to Score $32 Million Payday
Allen Iverson made millions as a superstar for the 76ers, but he'll have to wait another decade to collect a $32 million payday.
AI. The Answer. Whatever you wanted to call him, Allen Iverson definitely made for must-see TV back in the day. The king of the crossover became one of the league's most recognizable stars as the face of the Philadelphia 76ers. Defying his small stature, he dominated during an era where physicality still reigned supreme.
From a financial perspective, Iverson banked due to his ability to score. That made him a marketer's dream. And thanks to Reebok, he earned millions. Like Alex Rodriguez and Manny Ramirez, Iverson will keep getting paid well after his playing days ended. But in order for him to collect a $32 million payday, he has to wait 10 more years.
Allen Iverson's legendary NBA career
Weighing in at 6-feet, 165 pounds, Allen Iverson should have never become an NBA superstar. After all, how could he hang in a league featuring Kobe Bryant, Kevin Garnett, and Shaquille O'Neal? Despite his diminutive frame, Iverson had heart and toughness that allowed him to develop into one of the NBA's most popular stars.
The first overall pick in the 1996 NBA draft proved to be an immediate hit. The former Georgetown star earned NBA Rookie of the Year honors after averaging 23.5 points per game. By his third season, Iverson led the league in scoring. He would earn three more scoring titles, including back-to-back honors to start the new millennium.
More impressively, he led the NBA in minutes seven times—a feat that's even more impressive considering the pounding he took. Proving to be a dynamic force, Iverson earned 11 NBA All-Star selections and the 2001 MVP award. The Answer also capitalized on his star status off the court. And that led to a deal with Reebok that will result in a serious payday.
The Answer will receive a $32 million payday in 2030
He may not have reached Michael Jordan status, but Allen Iverson got into the shoe game, too. According to Bloomberg, he signed a 10-year, $50 million agreement with Reebok in 1996. However, the company inked Iverson to a lifetime endorsement and marketing deal when he won the MVP award just five years later.
The deal pays Iverson $800,000 annually. Yet, that's nothing compared to the huge payday he will collect in 2030. As part of his lifetime Reebok contract, Iverson has a $32 million trust fund. He can only access it when he turns 55, which will occur in 2030.
Even though he hasn't suited up in the NBA for years, Iverson still holds plenty of marketing power. Reebok CEO Matt O'Toole put it into context perfectly.
"He's an iconic personality," O'Toole said. "Let's get on a plane to Shanghai together. You bring Allen Iverson into a market like that. I'll stand firmly that he has a big place in basketball and sports history."
While that $32 million trust fund looms in the distance, let's not forget that Allen Iverson has a shaky past when it comes to money management.
Iverson hasn't managed his money well
Superstardom led to super expensive contracts for Allen Iverson. According to Forbes, he earned more than $154 million in NBA contracts. Factoring in millions more from endorsements, Iverson should have been set for life. Unfortunately, he racked up some major bills and even had to play overseas to stay afloat.
In 2012, he reportedly went broke. Iverson reportedly even owed a Georgia jewelry store $859,000. According to Celebrity Net Worth, Iverson has an estimated net worth of just $1 million. His luxurious lifestyle, divorce, and legal troubles certainly cost him dearly.
With $32 million looming 10 years from now, Allen Iverson has something to look forward to. It turns out that lifetime deal will be even more important than anyone could have expected.