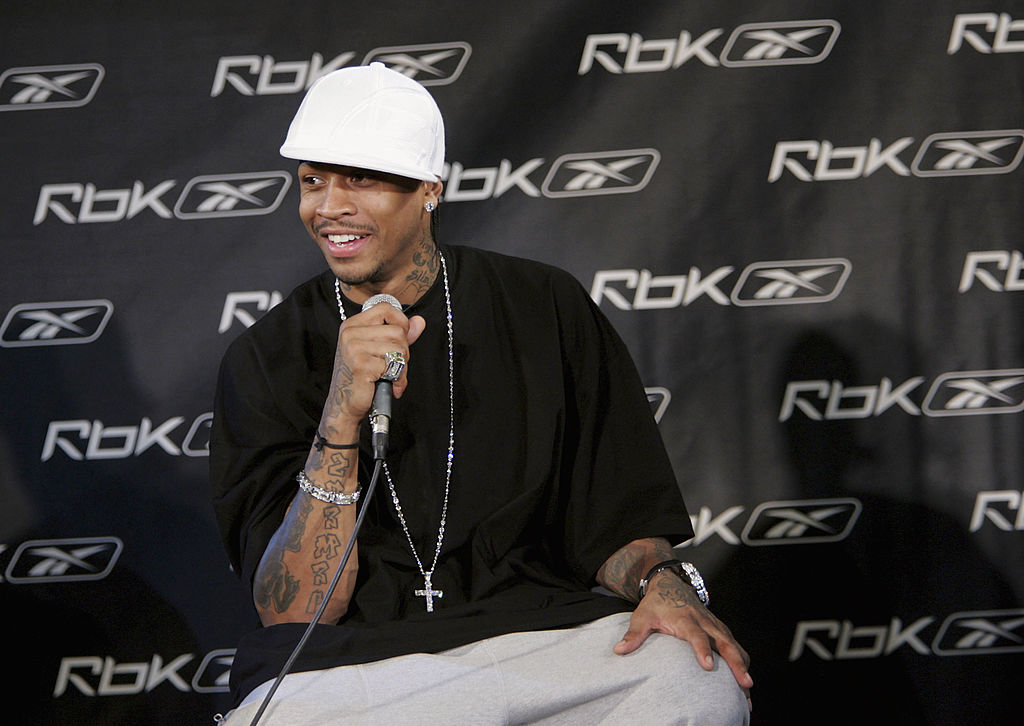 Allen Iverson Made a Rap Album in 2000 but We Never Got to Hear It
Every basketball fan knows who Allen Iverson was on the basketball court, but they probably don't know about his short-lived rap career.
Every NBA fan knows Allen Iverson for his insane handles and elite scoring ability, but they probably don't know about his alter-ego as a rapper. That's right, in 2000 Iverson made a full rap album under the pseudonym "Jewelz." He planned on releasing the album in 2001, but NBA commissioner David Stern shut the idea down after listening to the lyrics. Iverson was always one to speak his mind no matter how controversial, but his rap lyrics were so offensive Stern never let the album see the light of day.
Allen Iverson aka "Jewelz" made a rap album in 2000
In 2000, Allen Iverson was in the prime of his NBA career. He averaged 28.4 points and 4.7 assists per game during the 1999-00 season. Iverson apparently wasn't satisfied with just one career, though, so he branched out into the music industry that summer.
Iverson released a single titled "40 Bars" under his rap name "Jewelz" in 2000. It was meant to be a lead-in to his debut album, "Non Fiction," but the violent and misogynistic lyrics in the single forced the NBA to step in.
The rest of the album was apparently just as offensive. NBA commissioner David Stern had no choice but to deny its release.
David Stern stopped Iverson's album from being released in 2001
Before Iverson was able to drop his debut album, David Stern caught wind of the project and gave it a listen. Suffice it to say he was not thrilled with the lyrics.
"The lyrics that have been attributed to Allen Iverson's soon-to-be-released rap CD are coarse, offensive, and anti-social," Stern said in 2000. "Whatever constitutional rights of free speech an individual may have, there is no constitutional right to participate in the NBA and I have the power… to disqualify players who engage in offensive conduct — including inappropriate speech. Allen Iverson has done a disservice to himself, the Philadelphia 76ers, his teammates, and perhaps all of the NBA."
In October of 2000, Stern and Iverson met with civil rights leaders to discuss the album. Iverson agreed to change the offensive lyrics ahead of the planned 2001 release. He also changed the album title to "Misunderstood," but it never reached the public.
Iverson's rap album never saw the light of day
Iverson still planned on releasing his rap album in 2001 after being told to lighten up the lyrics. He even issued a pre-apology warning listeners of the offensive content.
"If individuals of the gay community and women of the world are offended by any of the material in my upcoming album, let the record show that I wish to extend a profound apology," Iverson said. "If a kid thinks that I promote violence by the lyrics of my songs, I beg them not to buy it or listen to it. I want kids to dream and to develop new dreams."
It was clear Iverson didn't really care who got offended by his lyrics. He just wanted to share his message. Eventually, though, Iverson quit on the album. He said he was tired of the controversy it had caused.
Some tracks on Iverson's album have leaked online throughout the years. "40 Bars" is also still available on YouTube, but the lyrics are just as bad as Stern said. Listen at your own risk.