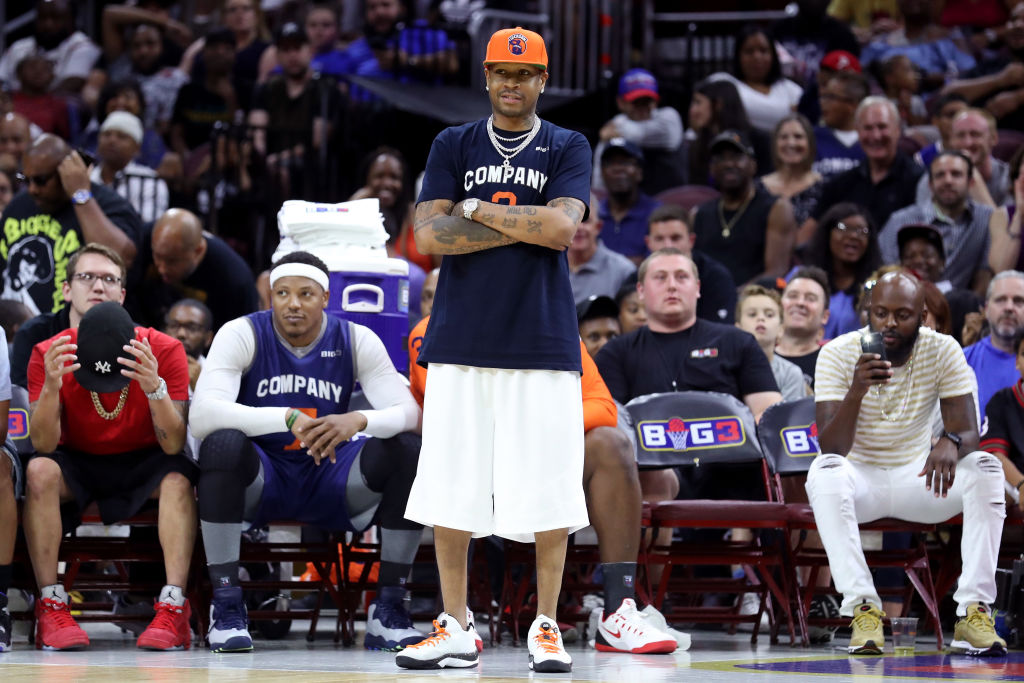 Allen Iverson Wasn't Always Financially Responsible, But He Never Actually Went Broke
While Allen Iverson didn't always make the wisest financial decisions, the Philadelphia 76ers legend never actually went broke.
While The Last Dance may have basketball fans reminiscing about Michael Jordan and Scottie Pippen, the 1990s were a golden age for the NBA. Not only did the decade play host to some of the game's biggest stars, but it also saw the rise of a new generation, highlighted by guys like Kobe Bryant and Allen Iverson. For all of the Philadelphia 76ers guard's on-court ability, though, his personal life has been marred by some irresponsible choices.
Although Iverson's name consistently comes up in discussions of financially irresponsible athletes, AI isn't in that bad of a situation. In reality, he never went broke and has a nice sum of money waiting in the wings.
Allen Iverson's iconic basketball career
While Allen Iverson eventually grew into the NBA's brightest stars, his road to the pros was far from easy. As laid out in an old ESPN piece by Mike Sielski, the guard went "from living in a home where he walked on a floor covered in sewage [and] spending four months in jail" to celebrity's highest heights.
Despite that tough start, Iverson still earned a basketball scholarship to Georgetown. While he only spent two seasons with the Hoyas, his talent was plain to see; he averaged 23 points and 4.6 assists per outing and became a consensus First-Team All-American before entering into the 1996 NBA draft.
The Philadelphia 76ers selected the guard with the first overall pick, and he didn't disappoint. He started 74 games during his first pro campaign, potting 23.5 points and dishing out 7.5 assists per outing en route to the Rookie of the Year title. From there, though, he and the 76ers would only improve. During the 2000-2001 campaign, for example, AI claimed league MVP honors and led the Sixers to the NBA Finals.
Eventually, though, things started to break down, and Iverson left town, joining the Denver Nuggets; he would also spend time with the Pistons and Grizzlies before returning to Philadelphia for a curtain call with the 76ers. In all, AI played 14 seasons in the NBA, establishing himself as a dynamic guard and a prolific scorer.
AI's infamous spending habits
While Allen Iverson wasn't the biggest man on the NBA court, he became a larger than life figure in Philadelphia. Even today, fans remember his iconic crossovers, famous 'Practice' rant, and free-spending ways.
In many ways, Iverson became a caricature of a wealthy athlete having fun with his money. He reportedly dropped tens of thousands of dollars at a time at strip clubs; he spent freely on everything from cars, mansions, and jewelry to trips to his beloved TGI Fridays.
In 2012, TMZ claimed that the guard spent a little less than $360,000 a month on expenses; the outlet also reported that a Georgia judge allowed a jewelry store to collect more than $850,000 from AI's bank account for unpaid debts, interest, and legal fees. Given that the guard's NBA career ended in 2010, many believe Iverson is in dire financial straits.
In reality, Allen Iverson hasn't gone broke
Throughout his career, Allen Iverson wasn't always a model of fiscal responsibility. Despite that reality, however, the former Philadelphia 76er hasn't gone broke.
"That's a myth," Iverson explained on CBS This Morning in 2015 when asked about his potential financial issues. "That's a rumor… the fact that I'm struggling in any part of my life."
While it's impossible to know precisely what Iverson has in his bank account, he does have at least a few lifelines. As laid out by the New York Post, the guard has $32 million in the bank from his lifetime deal with Reebok, which he can't touch until 55th birthday; the Philadelphia Inquirer also reported that the contract still pays out $800,000 per year. He'll also be eligible for an NBA pension when he turns 45 in June 2020.
Even if he loses out on some of the Reebok money—Darren Rovell tweeted that AI's ex-wife will get $16 million of the eventual payout—one thing is clear: for all of his bad habits, Allen Iverson isn't broke.
All stats courtesy of Sports-Reference and Pro-Basketball-Reference