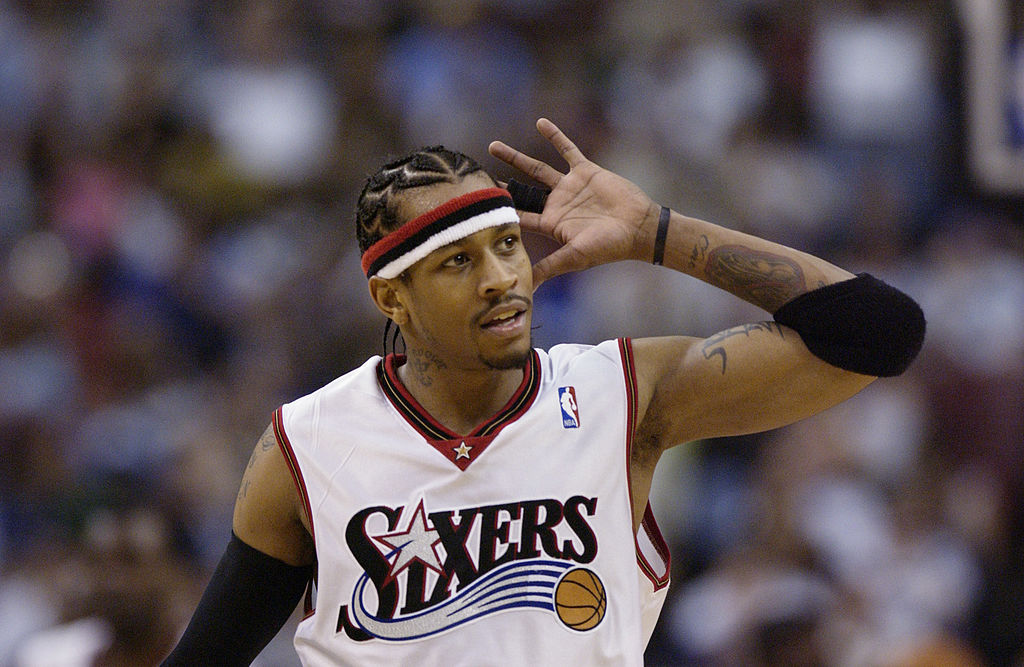 Allen Iverson Let Basketball Get in the Way of His Path to the NFL
Philadelphia 76ers Hall of Fame point guard let basketball get in the way of his path to a career in professional football.
Imagine a life where Allen Iverson was throwing passes for the Philadelphia Eagles instead of scoring points for the Philadelphia 76ers? Iverson had a storied career in the NBA, but his professional athletic career could've been much different had he taken a different route. Iverson was a multi-sport star when in high school and was fielding Division 1 scholarship offers in both football and basketball.
Allen Iverson's storied NBA career
Allen Iverson played 14 seasons in the NBA after being selected first overall in the 1996 NBA draft by the Philadelphia 76ers out of Georgetown. During the 1996-97 season, Iverson was named to the NBA's All-Rookie Team. The 6-foot point guard played in 76 games his first season and averaged 23.5 points and 7.5 assists per game.
Known for his scoring, Iverson led the league in that department four years. In two of those seasons (2000-01, 2001-02), he led the NBA in both scoring average and in steals per game. During that 2000-01 season, Iverson averaged 31.1 points and 4.6 assists per game and he was voted the league's Most Valuable Player. He also guided the Sixers to the NBA Finals where he averaged better than 35 points per game, but his Sixers fell to the Los Angeles Lakers 4-1.
Iverson was an 11-time NBA All-Star. Twice, he was voted the All-Star Game's Most Valuable Player. In December of 2006, Iverson, the league's No. 2 scorer at the time, was traded to the Denver Nuggets where he joined Carmelo Anthony, who was leading the league in scoring.
In 2008, the Nuggets dealt Iverson to the Detroit Pistons. Iverson had brief stints in Detroit and Memphis before returning to Philadelphia, where he played in 25 games. Iverson was inducted into the Naismith Memorial Basketball Hall of Fame in 2016.
Iverson was a Philly fan favorite
Allen Iverson was passionate about the game of basketball. His tenacity, his toughness, and his love for Philadelphia all showed his commitment to his life in the NBA. Iverson was also selected as the franchise's all-time favorite in a poll among Sixers fans.
Some players, including former NBA players, even went out of their way to say Iverson was the best player in the NBA back in his time. "I'd say Allen Iverson is the best player in the NBA, and I don't think it's even close," said former NBA player Stephon Marbury.
In May of 2002, Iverson vented in front of a camera when he was questioned about missing a team's practice. Iverson stressed how intense and how well he played during games that missing a practice was not a big deal. Iverson went on a now-famous rant that has become a running joke throughout the last 18 years.
"If a coach say I missed practice, and y'all hear it, then that's that," Iverson said. "I might've missed one practice this year. But if somebody says, 'He doesn't come to practice — it can be one practice, out of all the practices this year — then that's enough. … But it's easy to talk about, it's easy to sum it up when you just talk about practice. We sittin' in here, I'm supposed to be the franchise player, and we in here talkin' about practice. I mean listen, we talkin' 'bout practice. Not a game, not a game, not a game. We talkin' about practice."
In high school, Iverson had a tough decision to make
Back as a high school athlete at Bethel High School in Virginia, Allen Iverson excelled in both basketball and football. As a sophomore, Iverson was playing both quarterback and defensive back on the football team and was heavily recruited in both sports.
High school recruiter Tom Lemming noticed Iverson's football talents right from the moment he saw him play. "He had terrific reaction, instincts, loose hips, and a great vertical," Lemming told VICE Sports back in 2016. "A lot of people bring it up and ask me how good he was. He was a great player. Not a good player, but a great football player."
Iverson fielded scholarship offers from major college football programs at the same time as he weighed basketball offers. but Lemming believes that Iverson could have made an impact if he'd stuck with the sport that was his first love. "He would've made the NFL," Lemming said.
Bo Henson, who coached against Iverson and Michael Vick in high school, said Iverson was better. "I played against some great ones in 21 years," Henson said. "But he was the best that we played against, no question about it." Former Florida State assistant football coach Chuck Amato said the Seminoles went after Iverson hard. "We were on him hard," Amato told VICE Sports. "He was just a great athlete and a competitor. He would've been the first Michael Vick."
Iverson eventually chose basketball but often wondered what football life would've been like. "Football is always going to be my No. 1 sport," Iverson told Doug Gottlieb of CBS Sports in 2016. "It was my first love. Obviously, if things went another way, I probably would have ended up playing football instead of basketball, but God got his way of doing things."