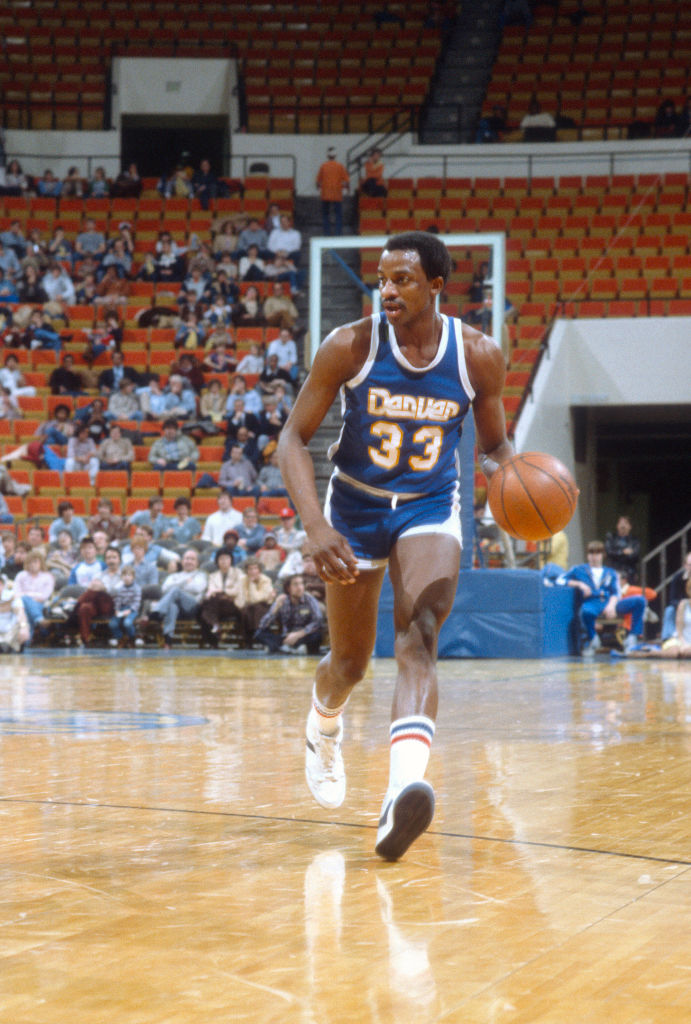 Remembering David Thompson's 73-Point Game for the Denver Nuggets
Behind Wilt Chamberlain (100) and Kobe Bryant (81), David Thompson is next on the list by scoring 73 points in a game against the Detroit Pistons.
Everyone has heard of the NBA game where Wilt Chamberlain scored 100 points, and most everyone remembers Kobe Bryant's 81-point effort. Of the top-five scoring outputs in NBA history, Chamberlain owns three of them, while Kobe's 81 is second of all-time. Chamberlain added games of 78 points (third overall) and 72 (fifth), but does anyone recall who is fourth overall with a 73-point game? That feat belongs to David Thompson, who racked up 73 points in the regular-season finale in 1978 in a 139-137 loss at Detroit.
Who is David Thompson?
Thompson was selected first overall in both the ABA and NBA drafts of 1975. Thompson was selected by the Virginia Squires of the ABA and the Atlanta Hawks of the NBA. The cash-strapped Hawks couldn't afford to sign him so he signed with the Squires, who traded him to the Denver Nuggets of the ABA. The NBA and ABA merged in 1976.

Nicknamed Skywalker for his leaping ability (44-inch vertical leap), Thompson played college ball at North Carolina State, where the Wolfpack won the NCAA title in 1974. The previous year, the team went 27-0 in the regular season but was ineligible for postseason play due to recruiting violations involving Thompson. Thompson was a 6-foot-4 guard who averaged 26.8 points per game over three seasons in college. 

In the NBA, Thompson averaged 25.7 points per game in his first three full seasons in Denver before a foot injury sidelined him, limiting him to 39 games during the 1979-80 season. Thompson attributed that time off to a substance abuse he developed, saying he felt a lot of 'loneliness and isolation' and didn't feel like he was part of the team.

Thompson was eventually traded to the Seattle SuperSonics for Bill Hanzlik and a first-round pick. A combination of injuries and drug use hampered his time in Seattle. After his first season in Seattle, he checked into a treatment center for drugs and alcohol abuse.

The 73-point game
On April 8, 1978, Thompson and the Nuggets were in Detroit for the regular-season finale. Denver was already headed to the postseason, but Thompson found himself in a battle with San Antonio's George Gervin for the league's scoring title.

Before the game, Denver coach Larry Brown asked Thompson if he wanted to "go for it" and Thompson shrugged it off, saying he just wanted to play. Thompson caught fire in the first quarter, making 13 of 14 shots from the field and going 6-for-6 from the line for 32 points, breaking Wilt Chamberlain's record for points in a quarter. Thompson added 21 more points in the second quarter, giving him 53 at halftime.
Thompson was held to six third-quarter points but collected 14 in the fourth quarter to finish with 73. Thompson went 28-for-38 from the floor and made 17 of his 20 free throw attempts in the Nuggets' 139-137 loss to the Pistons.
A Hall-of-Fame career in the NBA
Thompson showed that one game in Detroit was not a mirage as he went on to have himself quite a career in the NBA. Thompson averaged 22.1 points during his NBA career. He played six seasons with the Nuggets before playing his final two in Seattle.
Thompson was a four-time NBA All-Star and twice he was named to the All-NBA team.
Thompson was inducted into the NBA Hall of Fame in 1996.