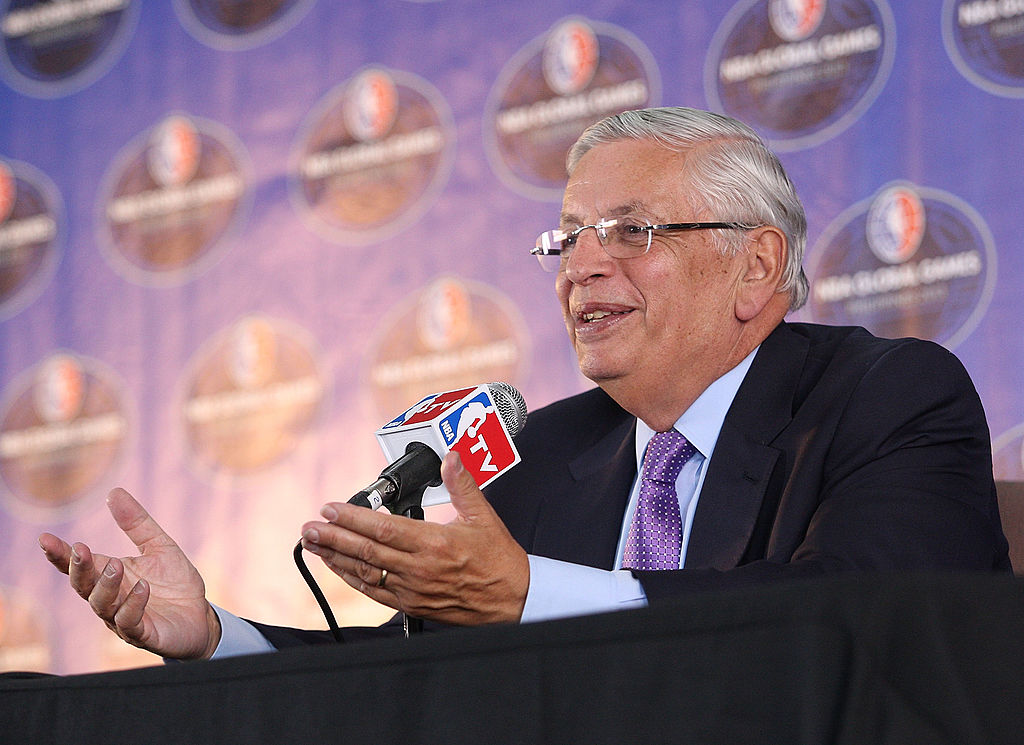 What Was David Stern's Net Worth at the Time of His Death?
David Stern spent 30 years as the commissioner of the NBA. He amassed a substantial net worth before passing away in 2020.
David Stern played an instrumental role in making the NBA so popular. He spent three decades as the NBA commissioner, and the league thrived under his watch. From Michael Jordan to Kobe Bryant to Tim Duncan, a number of star players became rich and powerful figures thanks to Stern's leadership. Unfortunately, David Stern passed away in January 2020, but not before leaving behind an incredible legacy and financial fortune.
David Stern spent 30 years as NBA commissioner
Becoming commissioner of the NBA represented the top of the mountain for David Stern. After all, he first entered the league in 1966 as outside counsel. He worked his way up the corporate ladder, with stops as general counsel and executive vice president of the NBA. Finally, he took over for Larry O'Brien as league commissioner in 1984.
Stern took the role and ran with it. Along the way, he oversaw a league that took a massive leap in popularity thanks to superstars like Magic Johnson and Larry Bird in the '80s. During the next decade, Michael Jordan and the Chicago Bulls provided more than enough entertainment both on and off the court.
Under Stern's watch, the NBA thrived internationally, too. The 1992 Dream Team would have never existed without his blessing. He also established the NBA draft lottery, which has produced both stars and huge busts. When he retired in 2014, David Stern certainly left the game in a much greater position than when he took over.
A league built on star power
One of the biggest takeaways from David Stern's 30-year tenure as NBA commissioner has to be his reliance on star power. Magic and Bird captivated audiences with their unique skillsets and huge personalities. They fueled a highly competitive Celtics-Lakers rivalry that still gets talked about today.
However, the league truly took off once Jordan arrived. The Bulls captured six titles in the '90s on the backs of Jordan and sidekick Scottie Pippen. And once Phil Jackson took over the Lakers, another dynasty took over thanks in large part to the titanic tandem of Shaq and Kobe.
In some respects, Stern deserves some criticism for the fact that a select number of teams achieved championship status during his tenure. However, there's no doubt that the NBA made for electrifying TV thanks to the number of recognizable stars who emerged during Stern's three-decade run as the head of the NBA.
Stern's impressive net worth
Thirty years of running one of the world's most popular professional sports leagues turned out to be a lucrative endeavor for David Stern. According to Celebrity Net Worth, he had a net worth of $135 million when he died on New Year's Day in 2020. He reportedly made $20 million in annual salary. The Manhattan native not only banked personally but he also turned the NBA into a revenue-making machine.
According to Forbes, when Stern came aboard, the NBA's 23 teams had a collective worth of just $400 million. However, when Stern retired in 2012, Forbes valued each NBA franchise at $393 million. He reportedly generated about $12 billion in value for owners during his 30 years as NBA commissioner. Major television contracts have made the league extremely profitable and helped owners line their pockets even more.
Ultimately, David Stern increased the NBA's popularity while also helping many players, coaches and owners become rich in the process. Let's see if Adam Silver can live up to his legacy.