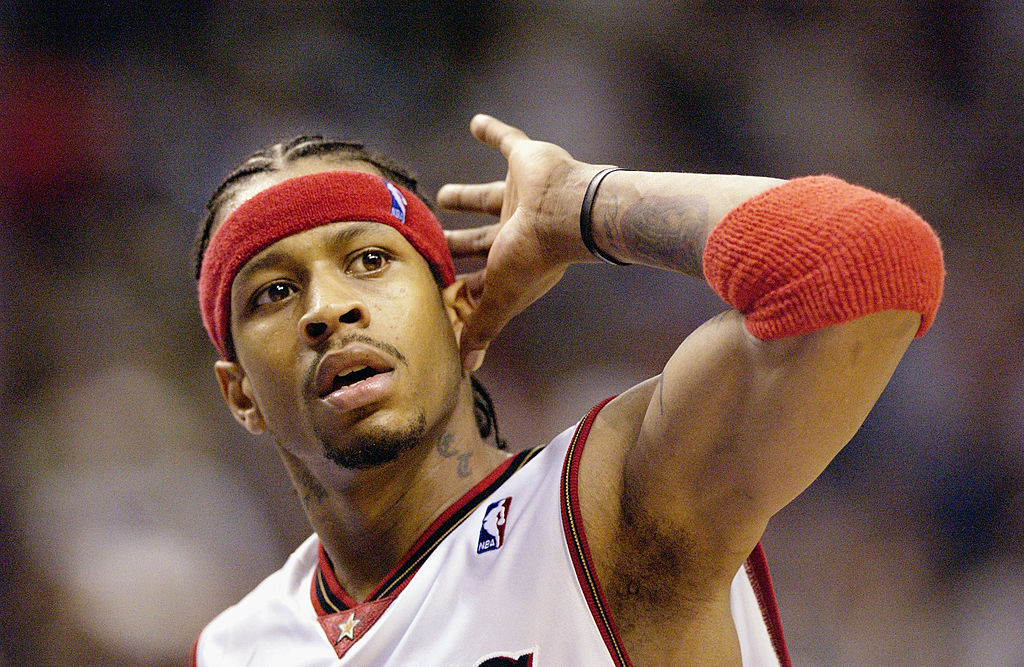 Allen Iverson Got Banned From an Atlantic City Casino for Urinating in a Trash Can
Allen Iverson loves to gamble. One time in Atlantic City he didn't even want to take a bathroom break, so he relieved himself in a trash can.
Sunday, June 7 is Allen Iverson's 45th birthday, and there's no better way to celebrate the 76ers legend than with a hilarious story involving his off-court antics. Iverson had a knack for making a scene in public places during his playing days, especially in casinos. During his career in Philadelphia, Iverson frequented Atlantic City to gamble and party whenever he had the time. In one instance, he was actually thrown out of an Atlantic City casino for urinating in a public trash can.
Allen Iverson has a lengthy history with casinos
During his NBA career, Allen Iverson was elite at two things: crossing over defenders and spending his money. When he wasn't dropping 40 points on a hopeless defender, he was most likely in a casino or a strip club.
Iverson didn't just visit casinos for brief gambling stints. He would spend hours and days at a time playing blackjack and roulette. He even stirred up trouble at numerous casinos he frequented during his career.
During his time with the Detroit Pistons, Iverson actually got banned from two separate casinos. The MGM and Greektown in Detroit both permanently banned Iverson for his actions at the tables. Iverson was constantly rude to dealers and other patrons, and he even threw chips and cards at people when he lost money.
Iverson was banned from an Atlantic City casino in 2004 for a more R-rated instance.
Allen Iverson got banned from Bally's in Atlantic City for urinating in a public trash can
Iverson's antics in casinos gave us so many entertaining stories over the years, but none were more entertaining than when he relieved himself on a casino floor.
In February 2004, Iverson took a trip to Atlantic City and went to play blackjack at Bally's casino. After a few hours at the table, Iverson got the urge to go to the restroom. Most people would take a timeout from the game to properly relieve themselves, but not Iverson.
"The Answer" must've either been on a roll or in desperate need of a win. Instead of leaving the table to visit the bathroom, Iverson turned around and urinated in a public trash can in front of multiple patrons.
Iverson just didn't want to miss a lucky hand, but he offended everyone in his vicinity and was promptly kicked out of Bally's. He was told never to return.
Iverson should be remembered as an all-time great point guard
On Iverson's 45th birthday, it's fun to reminisce on the hilarious moments he gave NBA fans off the court. However, A.I. deserves to be remembered as one of the greatest point guards in NBA history.
Iverson was an 11-time All-Star, four-time scoring champ, seven-time All-NBA honoree, and Hall of Famer. He averaged 26.7 points per game across his 17-year career.
Iverson's 24,368 career points rank 25th all time, and he played fewer games than every player ahead of him on the list.
"The Answer" is equally one of the greatest NBA players of all time and one of the most entertaining ever off the court.
All stats courtesy of Basketball Reference