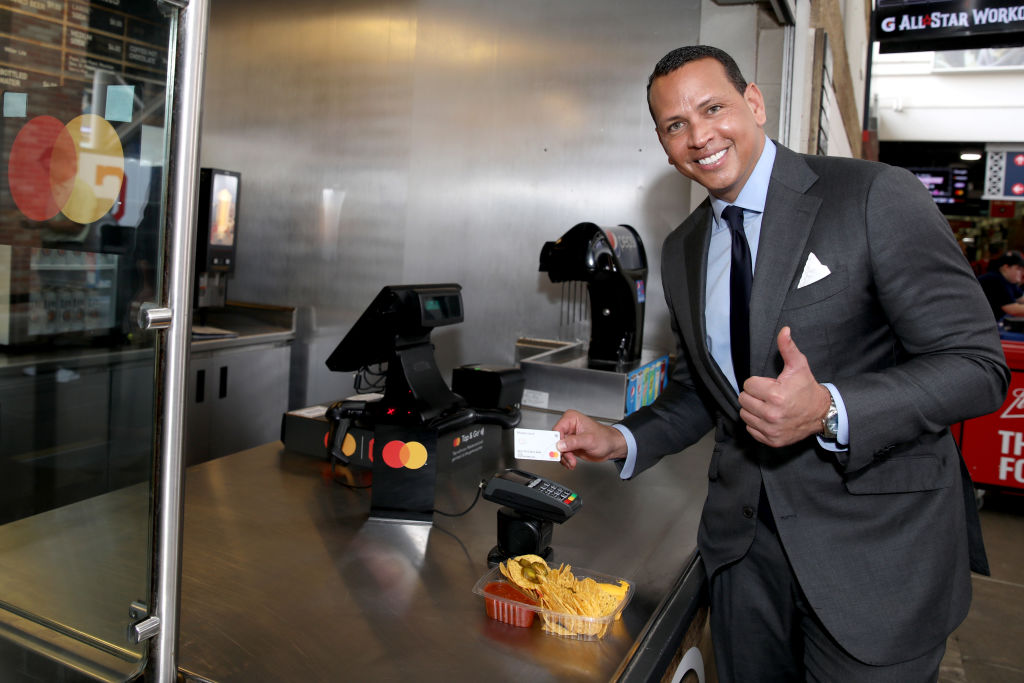 Alex Rodriguez Will be 50 When He Gets His Last MLB Paycheck
Alex Rodriguez will be 50 when he receives his final MLB paycheck as a result of a $26 million deferred payment plan with the Texas Rangers.
When it comes to cashing in, nobody did it better than Alex Rodriguez. The former New York Yankees and Texas Rangers star crushed 696 home runs in his career. But while he wreaked havoc from the batter's box, Rodriguez did his best work at the negotiating table.
The owner of two of the richest contracts in professional sports, A-Rod has nearly $500 million in career earnings. And though he retired from baseball in 2016, he's still collecting paychecks from the Texas Rangers. That won't stop anytime soon. In fact, the Rangers won't stop paying their former slugger until 2025, when A-Rod will be 50 years old.
Alex Rodriguez signed a record-setting $252 million contract with the Texas Rangers in 2000
Alex Rodriguez kickstarted his MLB career in Seattle when he was just 18 years old. By the time he was 20, he finished second in MVP voting. That year, he led the majors in doubles (54), runs (141) and batting average (.358) and earned his first of 14 consecutive All-Star selections. However, once he hit free agency after the 2000 season, the small-market Mariners could not afford to enter into a bidding war for their star slugger's services.
Fresh off a third-place MVP finish, Rodriguez signed an unprecedented 10-year, $252 million with the Rangers. He immediately proved to be a sound investment, at least statistically. The power-hitting shortstop slugged a league-leading 52 home runs in his first year as a Ranger. Unfortunately, his team finished in last place with a 73-89 record.
For all of his individual accomplishments, which included the 2003 MVP award, Rodriguez never helped turn Texas into a contender. And after another last-place finish, the team famously traded the most talented player in baseball to the Yankees for Alfonso Soriano.
Yankees star opted out of original deal and signed new $275 million contract in 2007
Bringing A-Rod to the Bronx couldn't have been a more perfect George Steinbrenner move. The powerful Yankees owner had seen his team post back-to-back 100-plus win seasons before faltering in the playoffs. By acquiring the best all-around player in baseball, New York would boast two icons in Rodriguez and Derek Jeter.
Of course, that trade came with a price. Rodriguez still hit for power, but he struggled under the pressure of playing in New York. Still, that didn't stop him from cashing in again when the opportunity struck.
Already on the wrong side of 30, Rodriguez managed to take home the 2007 MVP award after leading the majors with 54 home runs and 156 RBIs. Just 10 days after the World Series concluded, he opted out of his original $252 million contract and eventually signed another record-setting deal with the Yankees. This time, he signed a $275 million deal that would conceivably allow him to retire with the Yankees. Of course, his steroid-related issues came to light and overshadowed the end of his stellar playing career.
Rangers still owe Alex Rodriguez millions until 2025
So with two contracts totaling over $500 million, how is A-Rod still getting paid by the Rangers? According to Sports Illustrated, "At the time he was traded, he was to receive $36 million in deferred money from that record deal. That was converted to an assignment bonus, which has racked up two percent in interest every year."
The Rangers franchise actually declared bankruptcy in 2010 and still owed their former star about $26 million. However, because Rodriguez got his lawyers involved, they orchestrated a deal in which the money was put into an investment account.
So as it turns out, Rodriguez actually made more money on his deferred payment plan. Chalk that up as another smart move by a guy who has made arguably the greatest turnaround of any athlete in his post-playing career. And by the time the scorned slugger collects his last baseball-related paycheck in 2025, he'll be 50 years old.
Well played, A-Rod. Well played.