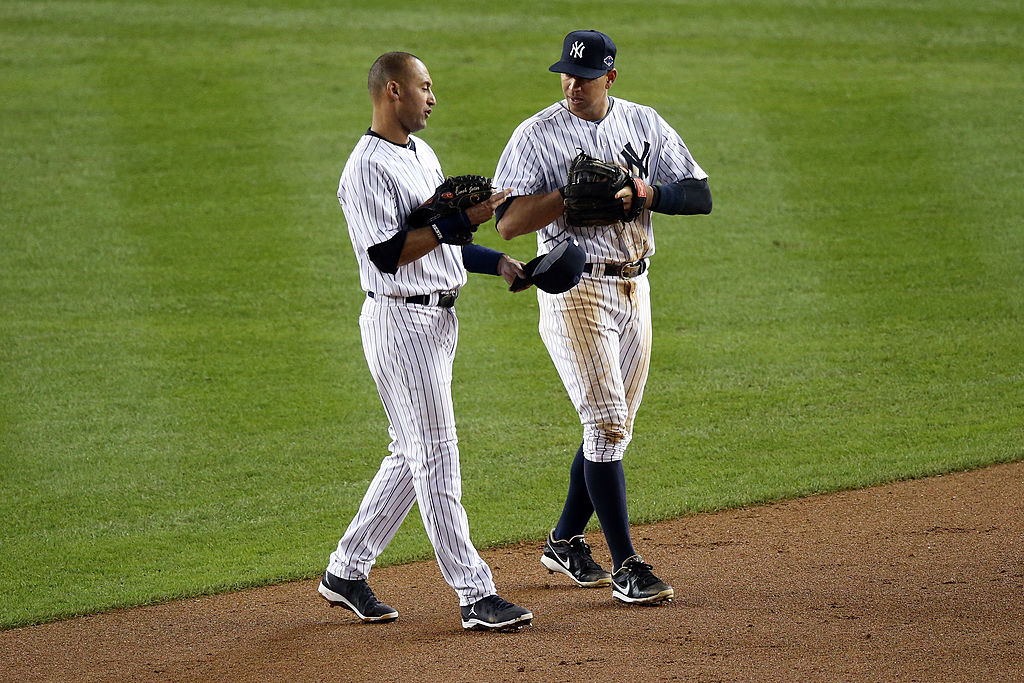 Alex Rodriguez Remembers How He 'Needed' Derek Jeter During Their Time with the New York Yankees
Derek Jeter and Alex Rodriguez didn't always have the smoothest relationship, but A-Rod praised his former captain on Tuesday.
When it comes to modern Major League Baseball legends, Derek Jeter has to be near the top of the list. On Tuesday, though, the New York Yankees shortstop officially earned his place in history, receiving 396 of 397 votes in the 2020 Baseball Hall of Fame election. Understandably tributes to the Yankees' captain started pouring in, including one from Alex Rodriguez.
A-Rod and Jeter spent 10 seasons together with the Yankees, winning one World Series title in the process. On Tuesday, though, Rodriguez remembered how much he "needed" Jeter during his career.
Derek Jeter's Hall of Fame career
As a child, Derek Jeter watched the New York Yankees during visits to his grandparents' house in New Jersey. He fell in love with the team's signature uniform and took a liking to Dave Winfield; from that moment on, Jeter wanted to be a baseball player.
The shortstop started working on his craft and, before long, was shining for Kalamazoo Central High School. While he eventually received a scholarship offers from both Michigan and Michigan State, fate had something else in store for Jeter. In the 1992 MLB draft, the Houston Astros passed on the shortstop; the Yankees snapped him up with the sixth overall pick.
Things didn't initially click for Jeter, however. The scrawny young shortstop struggled at the plate; things in the field weren't much better. With each passing season, though, Jeter managed to improve. He climbed through the minor league ranks and, in 1995, finally got his shot at the big time.
When the next season began, Jeter was the starting shortstop; he promptly claimed the AL Rookie of the Year Award as the Yankees won the World Series. From then on, the story becomes the stuff of legends. Jeter, of course, would play his entire Hall of Fame career in the Bronx, piling up 3,465 hits, batting .310, and winning five World Series.
Derek Jeter and Alex Rodriguez's relationship
Derek Jeter and Alex Rodriguez officially became teammates in February 2004. Their relationship, however, existed long before A-Rod donned pinstripes.
During the early days of their career, Jeter and Rodrigeuz formed quite a friendship. The two apparently bonded over their status as up-and-coming shortstops; they even appeared on the cover of Sports Illustrated together. When the Yankees and Mariners met on the field, the pair would even spend the night at the local player's house, palling around like childhood friends.
Over time, however, jealousy seemed to get the best of A-Rod. After signing a massive contract with the Texas Rangers, the shortstop took a shot at Jeter's all-around game; he threw more gas on the fire in an Esquire interview, saying that Jeter never had to be the main man in New York.
When the two became teammates, the rift didn't miraculously disappear. The pair did manage to somewhat bury the hatchet, however, following Rodriguez's year-long suspension.
Alex Rodriguez pays tribute to his teammate
After Jeter's election to the Hall of Fame, Alex Rodriguez took to social media to hail his former teammate. "To The Captain Derek Jeter" A-Rod wrote, "congratulations on taking your rightful place in the Baseball Hall of Fame where you will be, for eternity, as one of history's greatest players, at any position, in any era."
Rodriguez also shared an anecdote from the early days of their career, before taking a moment to thank Jeter. "I was lucky to be by your side on the left side of the infield for so many years," he wrote in another tweet. "I needed you more than you needed me. You were our #tablesetter on our magical 2009 run and I can't thank you enough. #RE2PECT"
While there's a lot going on in those tweets, A-Rod's final message touches on what made Jeter so special. For all of his on-field success, he never threw his status around or called out a teammate; barring one on-field glare, he refused to bash Rodriguez. Jeter didn't need to hold his tongue—he had the public acceptance that A-Rod couldn't find and could have easily won any PR warfare—but that was just how the Yankees captain did things.
At the end of the day, that's why Derek Jeter secured 396 Hall of Fame votes. Not only did he shine on the field, but he led by example under a media microscope.