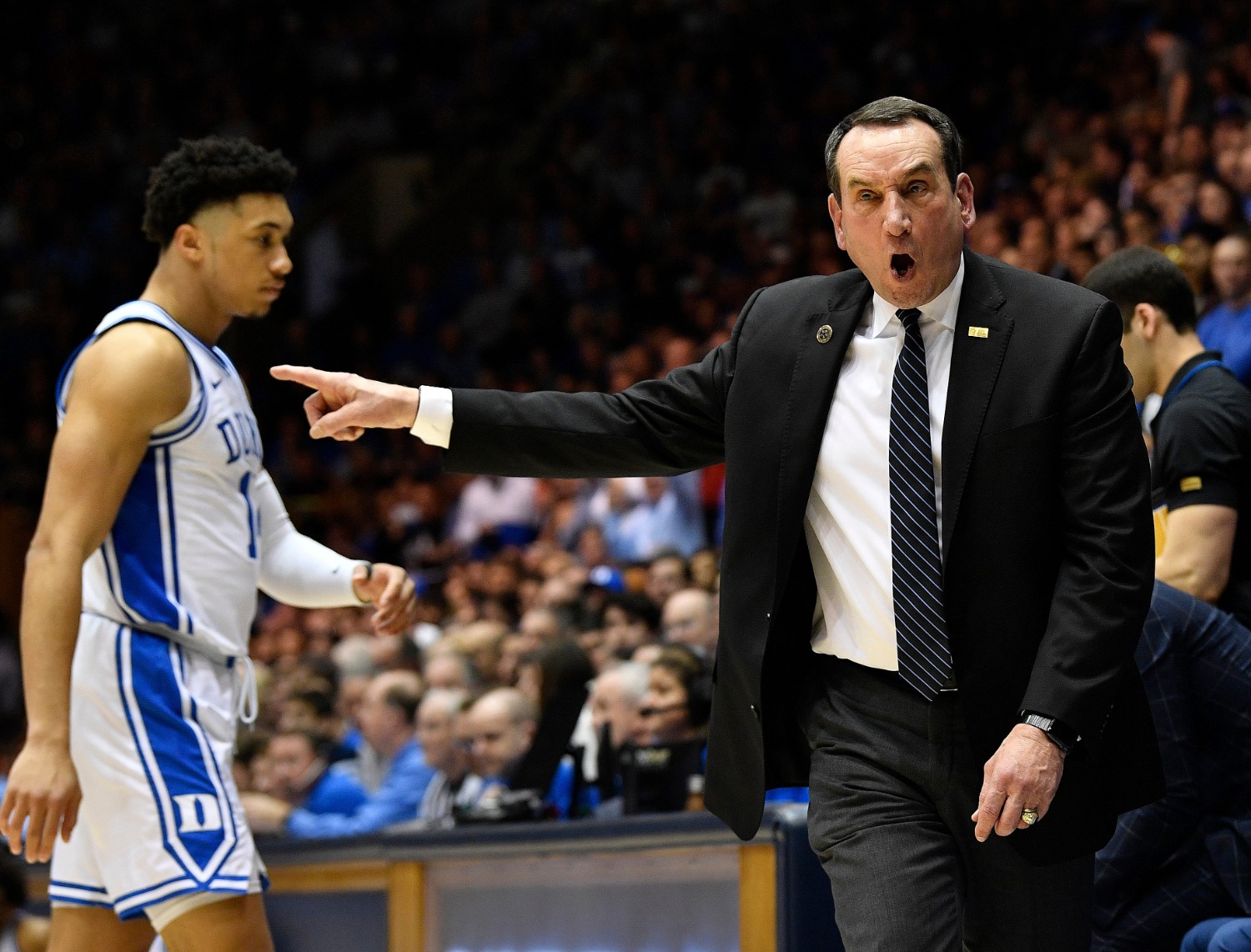 Duke Coach Mike Krzyzewski Just Proved Why He's the Leader America Needs
Duke basketball coach Mike Krzyzewski showed tremendous leadership in his powerful video message about the Black Lives Matter statement.
For four decades, Mike Krzyzewski has helped countless players achieve their NBA dreams. Along the way, he's captured national championships, coached Team USA, and made millions of dollars. But the face of Duke University also deserves praise for his incredible leadership skills. So it should be no surprise that Coach K stood up to say "Black Lives Matter."
Mike Krzyzewski ranks as one of the best leaders in sports
Bring up Duke basketball and the first face you think of is Mike Krzyzewski. Since taking over as head coach in 1980, he has carved out a reputation as an all-time great. Of course, he had a great basketball background dating back to his days as both a player and later as a coach at Army.
For the last 40 years, no college coach has put more expectations on his players than Coach K. In return, he has produced a number of future NBA stars, including Grant Hill, Elton Brand, J.J. Reddick, and most recently, Zion Williamson. Duke's star-studded program annually ranks as one of the best in the country.
While players ultimately make the difference on the floor, they wouldn't be as successful without Krzyzewski's guidance. His principles of discipline and respect resonate throughout his program. By establishing a strong culture, he's won three Naismith College Coach of the Year honors and five NCAA titles.

Coach K also proved to be an effective leader by revitalizing the U.S. Men's Olympic Basketball program. Following an embarrassing showing at the 2004 Summer Olympics, he took over as head coach and has since led the squad to three straight gold medal finishes.
A true leader in every sense of the word, Krzyzewski recently showed why he's so well-respected by lending his voice to the Black Lives Matter movement.
Coach K delivered a powerful Black Lives Matter message on video
As one of the most prominent figures in college sports, Mike Krzyzewski carries tremendous influence. Let's just say that when he talks, people listen. And through a video message released on Twitter Friday afternoon, the coaching legend sent out a powerful message about the Black Lives Matter movement.
In the impassioned speech, Krzyzewski said that Black Lives Matter should be viewed as a human rights statement rather than a political one. He delved into the heart of the problem that exists in America.
"Do we not see the problem, the disease, the plague that has been with our country for four centuries? Do we not see systemic racism and social injustice? Come on. We all see that. It's manifested in so many ways: criminal justice, the killings that we have seen and we haven't seen, the denial of economic opportunities for our Black community, educational opportunities, healthcare. It's manifested in so many ways and has been there for four centuries.

Krzyzewski also alluded to his time as a cadet at West Point and reflected on a prayer that holds special meaning during these trying times.
"In the cadet prayer one of the segments of the prayer says, Lord help me choose the harder right. Help me choose the harder right instead of the easier wrong. We as a country have chosen the easier wrong for four centuries. It is time to choose the harder right. It is time to end systemic racism and social injustice. It's time. Black Lives Matter."
Krzyzewski isn't the only prominent basketball figure to speak up
If there's an NBA equivalent of Mike Krzyzewski, it has to be Gregg Popovich. Like his college contemporary, the San Antonio Spurs head coach has been the face of a "program" for decades. And like Krzyzewski, Popovich has never been afraid to speak his mind on tough topics.
Recently, the five-time NBA champion coach called out Donald Trump for his lack of leadership in the wake of George Floyd's death. In fact, he offered a clear-cut path for the president to show he actually cares.
"It's so clear what needs to be done. We need a president to come out and say simply that black lives matter. Just say those three words. But he won't, and he can't. He can't because it's more important to him to mollify the small group of followers who validate his insanity. But it's more than just Trump. The system has to change. I'll do whatever I can do to help, because that's what leaders do. But he can't do anything to put us on a positive path, because he's not a leader. (H/T The Nation)

While Trump may never say Black Lives Matter, at least Gregg Popovich and Mike Krzyzewski continue to use their platforms to stand up for what's right.