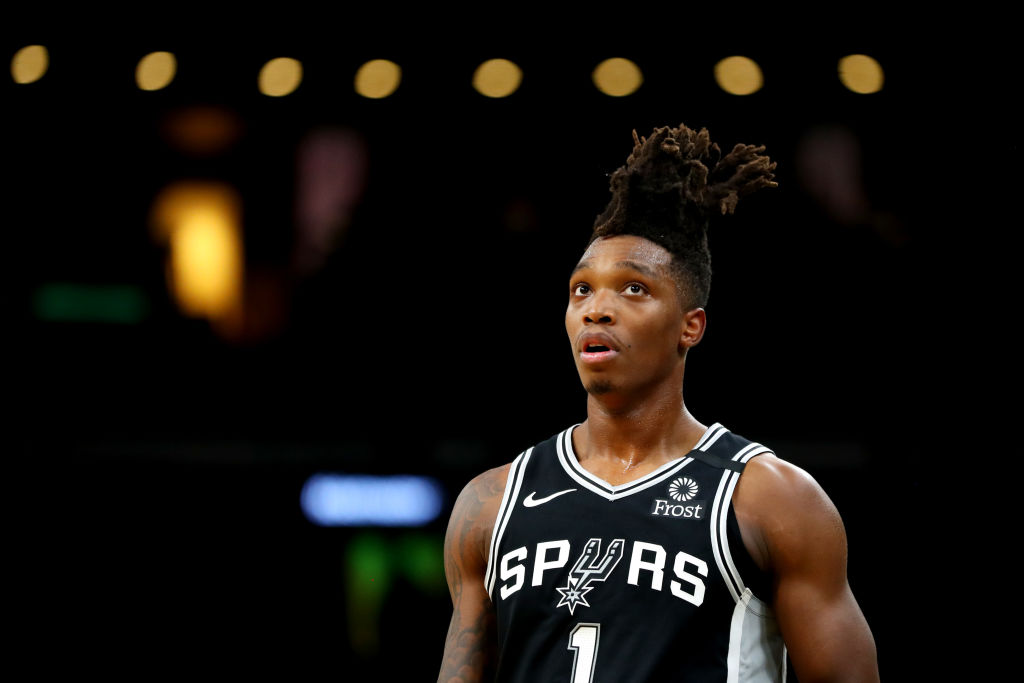 Lonnie Walker Wasn't the First NBA Player to Rock a Unique Hairdo
Spurs guard Lonnie Walker has become known for his unique hairstyle. What other NBA players have rocked signature hairdos over the years?
Lonnie Walker hasn't developed into an NBA star quite yet. However, the San Antonio Spurs guard has become a household name due to his signature hairstyle. Of course, he's far from the only NBA player to rock a unique hairdo. And while luscious locks or strange styles don't have a direct impact on the game, many NBA fans associate certain players with particular haircuts.
Dennis Rodman and Iman Shumpert captivated NBA fans with their hair
The NBA is full of big personalities and some even crazier hairstyles. While Walker's signature look has captivated today's audience, older NBA fans can recall the days of Dennis Rodman unveiling a new look on an annual basis. The Chicago Bulls legend changed up his look constantly. You could tune in one night and see him with a bleach blonde buzz cut. Rodman also displayed different symbols on the back of his head.
Of course, other NBA players have unveiled unique hairstyles besides Michael Jordan's former teammate. Iman Shumpert became a fan favorite with the New York Knicks due in large part to his perfectly manicured flat top. Unfortunately for Knicks fans, Shumpert's hair delivered more entertainment than he ever could on the court.
Veteran center Joakim Noah doesn't take quite the same approach, but his long, flowing hair has been part of his look dating back to his days at the University of Florida. The longtime Bulls big man didn't let his luscious locks slow him down on the glass, as he ranked as one of the best rebounders in the league earlier in his career.
Lonnie Walker has rocked his own unique hairstyle in the NBA
In a stacked 2018 NBA draft class headlined by Luka Doncic, Trae Young, and Deandre Ayton, Lonnie Walker fell out of the lottery. The Spurs scooped him up with the 18th pick. The 6-foot-5, 205-pound shooting guard barely saw the floor as a rookie. Walker didn't earn a single start and made just 17 appearances all while rocking one of the most unique hairstyles in the league.
Playing with what looks to be a pineapple-shaped haircut, Walker developed into a decent bench option for Gregg Popovich this season. Walker shot 40.8 percent from 3-point territory in 53 games. He increased his shooting percentage from 34.8 as a rookie to 43.4 before the NBA season got put on pause.
With the league moving to resume play, Walker surprisingly cut his signature hair. Initially, it may have seemed innocuous. Deep down, though, he did it for a much more meaningful reason.
Walker boasts new look as the Spurs return to action
With Lonnie Walker moving on from his signature hairstyle, the budding star finally got back on the court as the NBA season resumed in Orlando. San Antonio has shown little rust since returning from a long layoff. The Spurs slugged it out against the Sacramento Kings in their first game back.
Walker, who looks unrecognizable without his trademark hairstyle, scored 16 points in his first game back. He followed up with 12 points in a narrow 108-106 victory against the Memphis Grizzlies.
On Monday, the Spurs couldn't quite complete a valiant comeback effort against the Philadelphia 76ers. Despite scoring 43 points in the fourth quarter alone, San Antonio fell to Philadelphia by a final score of 132-130. Lonnie Walker attempted just five shots in 19 minutes and finished with five points and two turnovers.
The Spurs and their 21-year-old shooting guard will look to get back on track when they take on the Denver Nuggets on Wednesday.