Dennis Rodman Wants to Jump Out of a Plane With No Parachute to See if There is a God
Former NBA star Dennis Rodman said he wants to jump out of an airplane with no parachute to see if there is a higher power.
Dennis Rodman has been through a lot in his life. He's experienced the good and the bad. He's won five NBA championships, but has lost marriages and nearly lost his life. During a conversation with Mike Tyson and co-host Eben Britton on last Monday's Hotboxin' With Mike Tyson podcast, the conversation turned to wondering if there was a god. Rodman said for the last two months he's been thinking of a crazy way to find out.
Dennis Rodman is an intriguing athlete
Say what you want about Dennis Rodman, but he has that will to win. He has that drive. If he's told he can't do something, he'll get it done. Nothing proved that more as he used his skinny 6-foot-7, 210-pound frame to battle the boards with the big boys in the NBA. For seven straight seasons, Rodman led the NBA in rebounding.
The fact Rodman made the NBA is another story. He played his college basketball at little-known Southeastern Oklahoma State University and became the first player from that school to play in the NBA. Rodman was drafted by the Detroit Pistons in the second round of the 1986 NBA draft and played 14 seasons in the league.
Rodman went on to win five NBA titles. He did all the dirty work for his teams, playing tough defense and fighting for loose balls. His all-out effort helped him become a two-time NBA All-Star. He was also named the league's Defensive Player of the Year for two seasons. He was named to the NBA All-Defensive Team for eight seasons. In 2011, Rodman was elected to the Naismith Memorial Basketball Hall of Fame.
Rodman spills his guts on Mike Tyson's podcast
Off the court, Dennis Rodman has admittedly had some down times. He has struggled to find himself and he and Mike Tyson spoke candidly about their issues on the Hotboxin' With Mike Tyson podcast last Monday. The two talked about their lives outside of sports.
"I'm going back in my life and trying to figure out what went wrong," Rodman said. "I think about all the things that were so fu***ing bad and why does it still haunt me today? It keeps coming back in my face. Since I'm not playing basketball anymore, I have so much time to think."
Rodman's off-the-court issues included three failed marriages and a time when he drove off with a plan to take his own life while he was still in the NBA. ESPN's docuseries The Last Dance featured Rodman during an early episode and showed how he asked coach Phil Jackson if he could get away for 48 hours to clear his head. He went to Las Vegas and partied for those two days.
Rodman and Tyson wondered if there was a higher power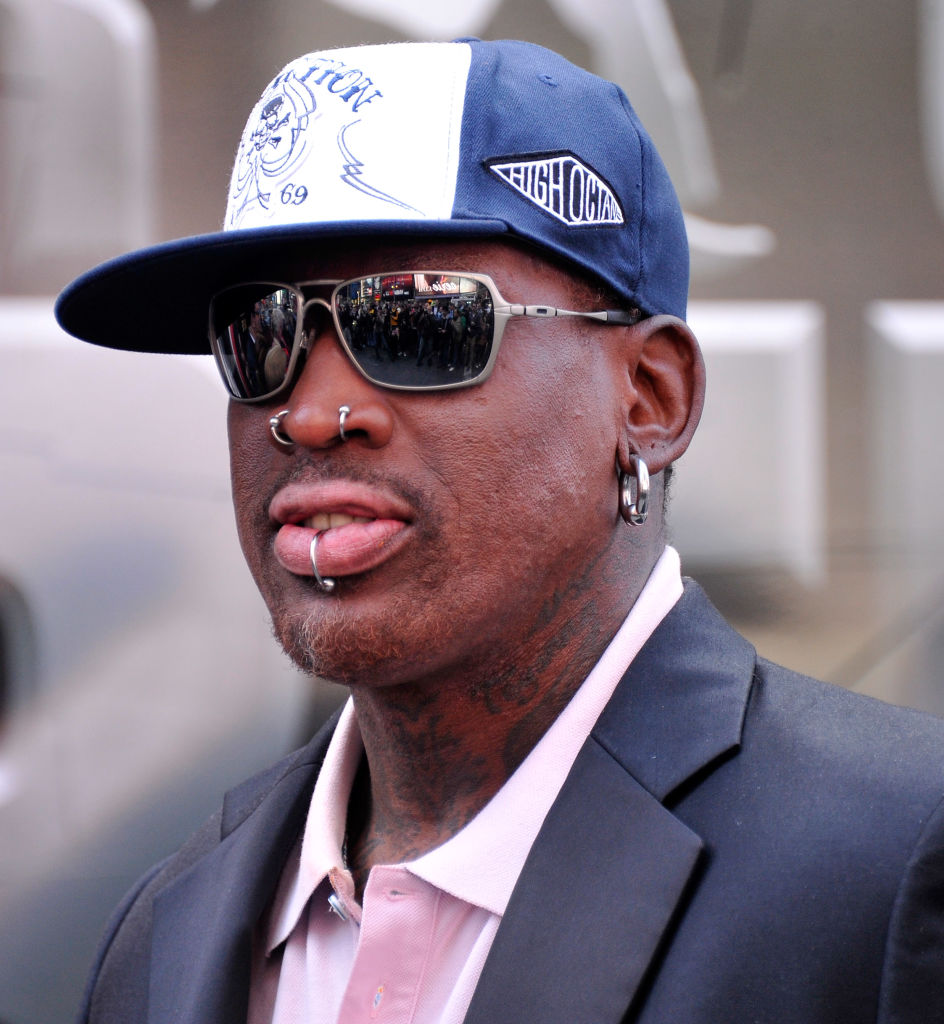 During the Hotboxin' With Mike Tyson podcast, Tyson said that eventually his past was going to catch up with him. "God's gonna get me for all that s**t that I think I got away with," Tyson said. "God's gonna get me when I die. If I go meet God in heaven, I'm gonna be like 'F**k, I shouldn't have done that.'"
After co-host Eben Britton, a former NFL offensive lineman who also experienced some off-the-field issues, talked about his past, Dennis Rodman chimed in with his thoughts. "I'm a visionary. I don't read books, I read people. Sometimes I wonder does Mike (Tyson) ever just go to the beach and visualize, just sit there and watch his life in front of him?
"My vision is this," Rodman continued. "It's kinda crazy but I was thinking of going to John Wayne Airport, rent a plane, get like 10,000 feet in the air, and dive out the plane – no parachute…" At that point, Tyson cut Rodman off, saying "That's some bulls**t." Rodman then continued, "This is true s**t. I've been talking about this for two months. I'd dive out the plane and face up to God and look at everything in my life flash before me. If there is a fu***ng god, somebody's gonna put a hand out there and hold me and say, 'Dennis, you've got something left for the world to see. You ain't dying today.'"