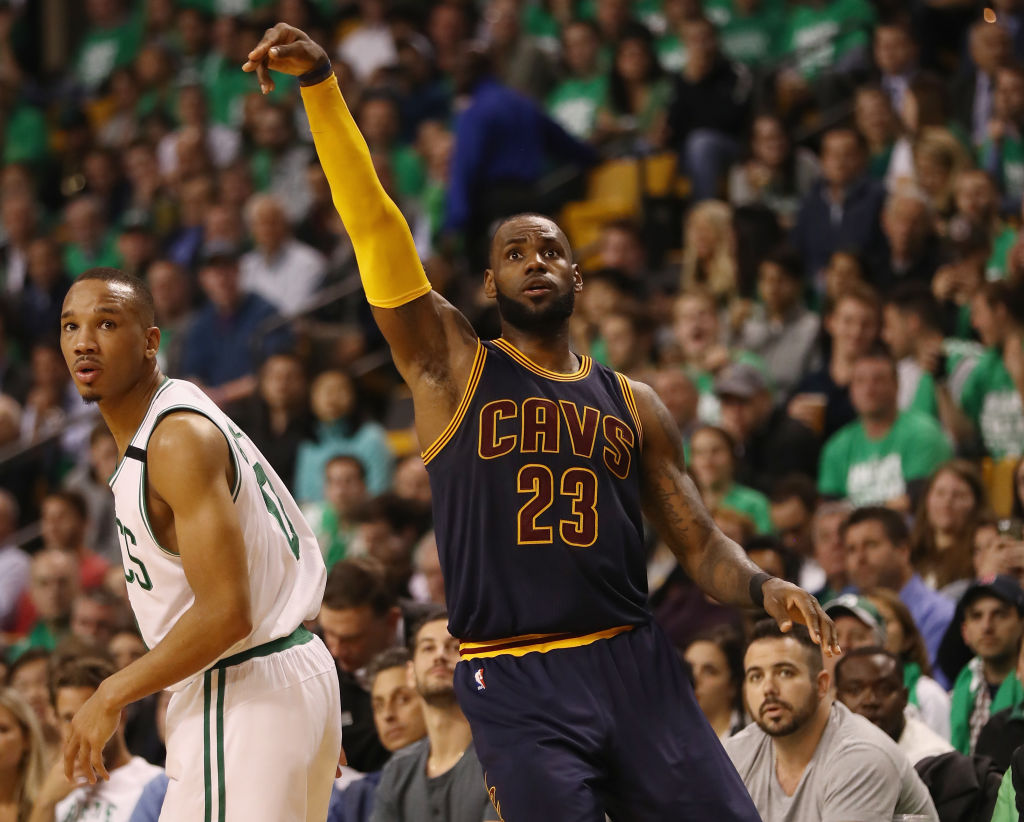 Dennis Rodman Says LeBron James Wouldn't Be the Same in the Michael Jordan Era
Dennis Rodman, who played for the Chicago Bulls and the Detroit Pistons in the 90s, said LeBron James wouldn't be as successful in that era.
The biggest NBA debate over the last few years has been who's the better player, Michael Jordan or LeBron James? The question has been asked millions of times. The two players never played against each other, both playing in different eras. When asked by Eben Britton, co-host of Hotboxin' With Mike Tyson, if LeBron James could've played in the Michael Jordan era, Jordan's former teammate Dennis Rodman offered a very quick and decisive answer.
The case for Michael Jordan
Michael Jordan is a winner. Not only is he the owner of six NBA championships but he's also a 10-time scoring champion. Jordan is a 14-time NBA All-Star who played 15 seasons in the league. The only time he wasn't an all-star was the year he came back from playing professional baseball. He played 17 regular-season games that season, re-joining the Chicago Bulls near the end of the season.
Since being drafted with the third overall pick in the 1984 NBA draft, Jordan has dominated. Not only did Jordan average 30.1 points per game over his 15-year career, but he also played some serious defense. Jordan was the NBA's Defensive Player of the Year during the 1987-88 season and nine times he made the NBA's All-Defensive Team.
Jordan led the league in steals for three seasons. He was named the league's Most Valuable Player five times. In all six of the Bulls' championships, Jordan was named the MVP of the NBA Finals all six times. He has all the numbers to back up how good he was as a player, but it's his six championship rings that set him apart from the rest of the group.
The case for LeBron James
LeBron James has played 17 seasons in the NBA and, like Michael Jordan, has only missed one season as an NBA All-Star. James was not named as an all-star in his rookie year after he was selected first overall by the Cleveland Cavaliers in the 2003 NBA draft. In that rookie season, however, he put up all-star-like numbers, averaging 20.4 points, 5.9 assists, and 5.5 rebounds per game.
Despite the fact he's played in 17 NBA seasons, LeBron James is still only 35 years old. James came into the league right out of high school and is still playing at a very high level. When the NBA suspended its season on March 11, James was a co-favorite to be the league's MVP. Through 60 games, he was averaging 25.7 points and had dished out a league-leading 10.6 assists per game.
James is fourth on the NBA's all-time scoring list after having passed Kobe Bryant earlier this season. He remains 4,300 points from tying Kareem Abdul-Jabbar for tops on the scoring list. Barring injury, James is expected to be the game's all-time leader in points when his career is finished. He is also a three-time NBA champion. James has also averaged 7.4 rebounds and 7.4 assists per game in his career, besting Jordan's 6.2 rebounds and 5.3 assists. James is averaging 27.1 points for his career.
Dennis Rodman says James couldn't play during his era
During a recent Hotboxin' With Mike Tyson podcast, former Chicago Bulls and Detroit Pistons player Dennis Rodman was a guest. Rodman and Mike Tyson were talking about their upbringings and their careers before co-host Eben Britton chimed in. Britton asked Rodman if LeBron James would be the same player he is now if he played in the late 1980s-early 1990s, an era when basketball was very physical.
"No," Rodman answered very quickly, while Tyson shook his head and uttered an expletive as if to agree with Rodman. "I don't think so because he wasn't brought up that way. He wasn't brought up that way. You know how it is, right?"
Rodman and Tyson had been discussing how difficult their lives were growing up. Rodman said it was that tough upbringing that helped them both get to where they were in the sports world. He said that tough childhood helped bring out "that fire" for him that was needed back in his era.