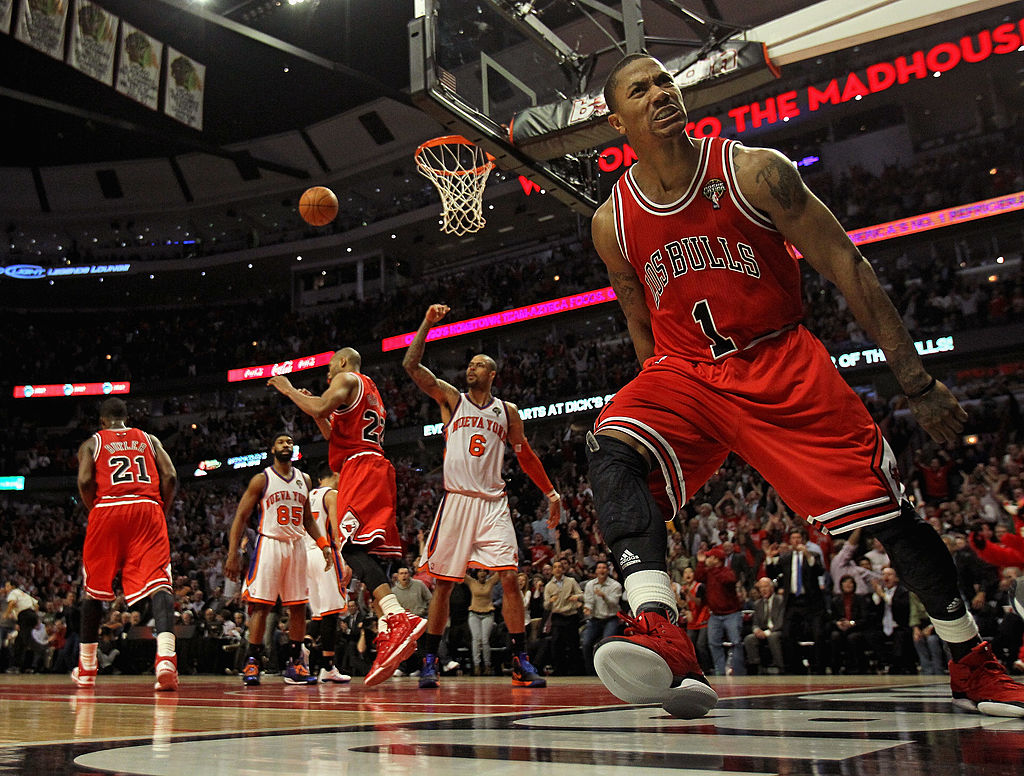 A Derrick Rose Reunion With the Chicago Bulls Isn't out of the Question
A Derrick Rose reunion with the Chicago Bulls isn't out of the question, but it might have to wait a little while.
Chicago Bulls fans might have to wait two years, but the end result could be having their MVP back. No, Michael Jordan won't be returning to play for the Bulls. If things fall into place, however, Derrick Rose could possibly return to wear the Red & Black once again.
Derrick Rose's Chicago Bulls career
Drafted out of Memphis by the Chicago Bulls with the first pick in the 2008 NBA draft, Derrick Rose didn't disappoint. Rose's immediate impact with the team was evident from the get-go when he started 80 games as a rookie. Rose, a 6-foot-2 point guard who should shoot as well as he could handle the ball, averaged 16.8 points and took over as the floor general in his first NBA season.
Rose went on to win the 2008-09 Rookie of the Year Award and also captured the hearts of Chicago Bulls fans. He was already a known commodity in the city as he played his high school ball at Chicago's Simeon Career Academy. He was on his way to superstar level until an ugly ACL injury forced him to miss the 2012-13 season and derailed a promising career.
In the 2010-11 season, Rose compiled his best season as a pro. He averaged 25 points and 7.7 assists and played in 81 games that season. Rose took home MVP honors that year and was named an NBA All-Star for the second of his three straight seasons. In his seven seasons with the Bulls, Rose averaged 19.7 points and 6.2 assists per game.
John Wall said Derrick Rose was the toughest player he's ever faced
Two years after Derrick Rose was drafted No. 1 overall by the Chicago Bulls, another point guard was selected first overall. John Wall, out of Kentucky, was taken by the Washington Wizards with the first pick. Wall, a 6-foot-4 point guard, also had some big-time success in his career. He was an NBA All-Star for five seasons.
Like Rose, injuries have gotten the best of Wall. During the 2018-19 season, Wall suffered a heel injury and then he ruptured his Achilles in a fall at his house. He has been out of action ever since. Wall has averaged 19 points and 9.2 assists per game in his nine-year run with the Wizards. While Wall was one of the more unstoppable point guards in the league, he said there was nobody tougher than Rose on the basketball court.
"Toughest player I ever played in my life," Wall said in a chat with former NBA players Stephen Jackson and Matt Barnes. "Coming in my rookie year was the year he won MVP. Man, when I tell you there was nothing you could do. I don't care how fast you was or how quick you was. He was one of those guys that we never seen a guy be that fast and that athletic, but have one of the best floaters we've ever seen. His floater was impeccable."
Could Rose return to Chicago?
After Derrick Rose's injury, he was never what he once was. He has since played for four teams but has been very productive. In is last two seasons, he averaged 18.0 points per game with the Minnesota Timberwolves, and this year he was averaging 18.1 with the Detroit Pistons.
Rose is in the midst of a two-year deal with the Pistons. Next season will be the end of his contract and he will become a free agent. There might not be a better time for him to return home and play with the Bulls. That question was recently brought up to him and he didn't shut the door on the opportunity of returning to Chicago.
In an interview with Chicago sports talk radio station 670 The Score during the NBA's All-Star Weekend in February, Rose gave as honest an answer without flirting with any tampering charges. "I'm open to anything after that season is up," he said.