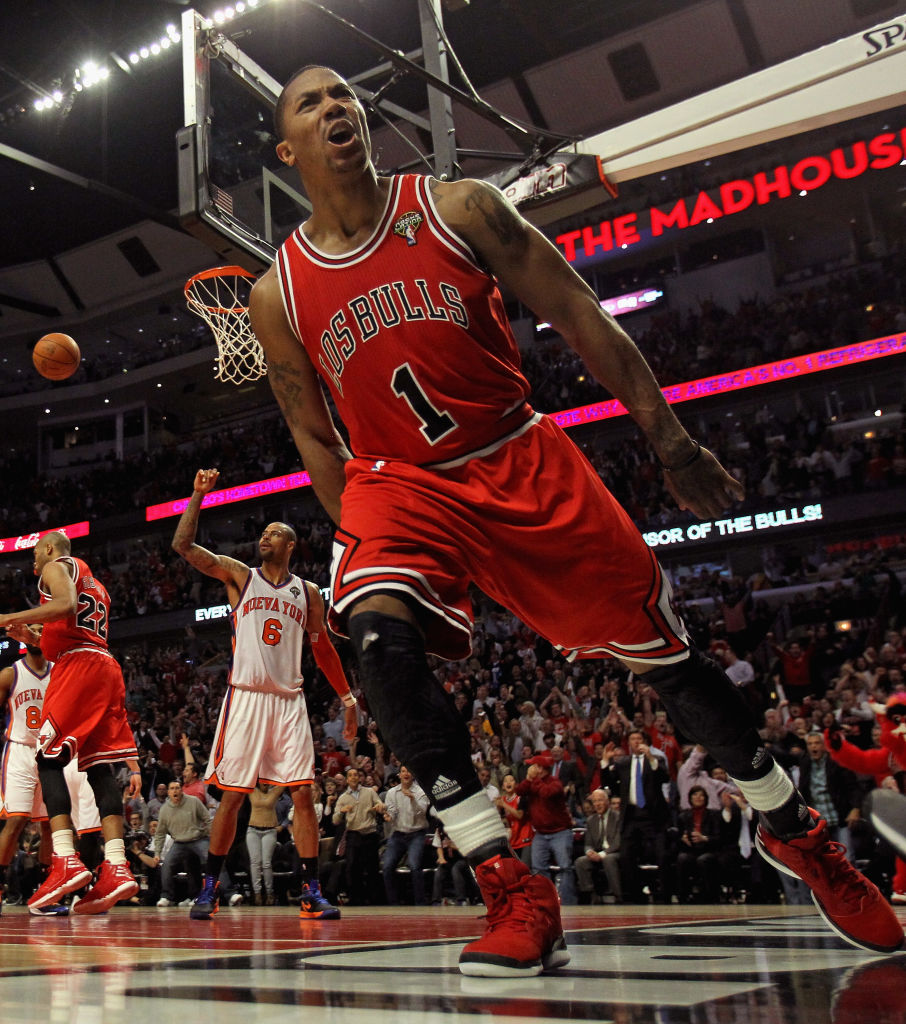 Derrick Rose May Have Prevented Anthony Davis From Quitting Basketball
Detroit Pistons guard Derrick Rose may have prevented Los Angeles Lakers all-star Anthony Davis from quitting basketball in high school.
If it wasn't for Derrick Rose, Anthony Davis may have quit basketball a while ago. Davis and Rose were both No. 1 overall draft picks in the NBA with Davis being selected by the New Orleans Hornets in the 2012 draft, while Rose was taken by his hometown Chicago Bulls back in 2008. Davis and Rose may have similar professional qualities, but they were much different prior to their illustrious NBA careers.
Derrick Rose was a high-school basketball phenom
Rose was a high-profiled high school basketball player, who attended Simeon Career Academy. Rose has been highly regarded since the seventh grade, and when the freshman guard was asked to join the varsity for his team's run as a Class AA state title, he politely declined because he didn't want to take media attention from the players who had gotten them there.
In high school, the accolades continued to roll in. Rose went on to become Illinois' Mr. Basketball in 2007 and was also Class AA Tournament MVP, 2007 McDonald's All-American, and 2007 Parade First-Team All-American in his senior year. In his junior year, he was also the Class AA Tournament MVP.
Rose eventually went on to accept a scholarship to play for John Calipari at the University of Memphis, where he averaged nearly 15 points per game and helped guide the Tigers to a 33-1 record and a top seed in the NCAA Tournament. Memphis fell to Kansas in the NCAA title game and Rose elected to forego his final three seasons of college basketball for the opportunity to play in the NBA.

Anthony Davis nearly quit basketball
Anthony Davis was hardly a household name early in his high school career. He attended Perspectives Charter School, a school not known for developing big-time basketball talent, since the sixth grade. At one point, he considered transferring to Simeon Career Academy because that's where Rose, his hometown hero, played.

"Rose is still one of my favorites to watch. Even when I was considering — well, I wouldn't say consider, but I had the thought of leaving Perspectives — it was actually probably going to be (for) Simeon because of Derrick Rose. He's one of the guys who I think every guy underneath him looked up to because of the things he did for the city."

Anthony Davis
Davis said he wasn't even ranked in Chicago heading into his senior year but then blossomed into becoming the nation's top recruit as a 12th-grader. He committed to play at the next level at Kentucky, where he, like Rose, played one season before joining the NBA.
Both Rose and Davis have had successful NBA careers
Derrick Rose wasted no time making his mark in the NBA, securing Rookie of the Year honors in 2009.
He followed up his rookie campaign with all-star seasons in 2010, 2011, and 2012 and was named the league's MVP in 2011 when he averaged 25 points and 7.7 assists per game. He played in 81 games that season and averaged 37.4 minutes per game.
Rose suffered a devastating knee injury the following season during the playoffs, tearing his ACL while attempting to jump. He missed the rest of the playoffs and the entire following season. The rest of his time with the Bulls was marred by injuries, including a meniscus tear and a left orbital bone fracture that saw his miss significant time. In 2016, he was traded to the New York Knicks and has played for three teams since, including his current team, the Detroit Pistons.
Davis, in his sophomore season in the NBA, was an NBA All-Star selection as he averaged 20.8 points and 10 rebounds per game. He also had a .519 shooting percentage from the floor.  Davis is a seven-time NBA All-Star and has also made a huge impact on the defensive side of the ball as he made NBA All-Defensive First Team in 2018. He was All-Defensive Second Team in both 2015 and 2017.
In June of 2019, Davis was traded to the Los Angeles Lakers for Lonzo Ball, Brandon Ingram, Josh Hart, and three first-round draft picks. It has been reported that the Lakers tried to trade for Rose at this year's trade deadline, offering Alex Caruso and draft compensation, but the Pistons declined.