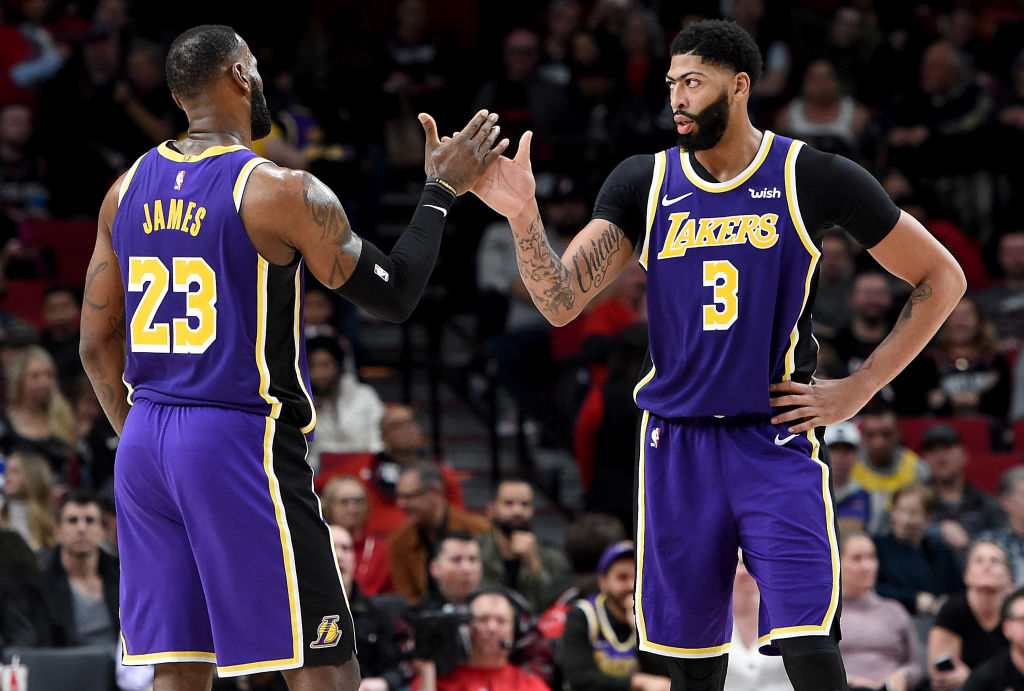 LeBron James Already Believes Anthony Davis Is a Future Hall of Famer
When LeBron retires, he'll be guaranteed entry into the Basketball Hall of Fame. The forward thinks Anthony Davis will be joining him.
While it might rub old school fans the wrong way, the modern NBA is all about super teams. These days, a star player can't win a championship on his own; he needs at least one, if not two, comparable talents to lift the Larry O'Brien Trophy. The Los Angeles Lakers definitely have that on their roster, with LeBron James and Anthony Davis playing together.
While the two stars have apparently hit it off, James is also impressed by his new teammate's on-court ability. In fact, he even went as far as saying Davis would be heading for the Basketball Hall of Fame one day.
Anthony Davis' basketball career
After playing high school and AAU ball in Chicago, Anthony Davis enrolled at the University of Kentucky. Like most John Calipari recruits, he spent one season in college, averaging 14.2 points and 10.4 rebounds per game and earning National Player of the Year, before heading to the pros.
The New Orleans Hornets saw Davis as a can't-miss prospect and selected him with the first overall pick of the 2012 NBA draft. While the forward dealt with knee and shoulder issues, he still posted a strong season; he proved to be a force on both ends of the floor, averaged 13.5 points per outing, and finished second in Rookie of the Year voting.
With each passing season, Davis continued to evolve. Although he couldn't quite get over nagging shoulder injuries, he made the rebranded New Orleans Pelicans relevant as a playoff team. Below the surface, however, problems were brewing.
Eventually, Davis grew tired of making cameo appearances in the postseason and asked to be traded to a contender. While it took some time to hammer out a deal, the big man got his wish; at the end of the 2019 NBA season, the Pelicans traded their star to the Los Angeles Lakers.
LeBron James is already impressed with his new teammate
While adjusting to a new team isn't always easy, Anthony Davis handled his move to Hollywood without missing a beat. The Lakers are sitting atop the Western Conference standings, and the forward has already formed a formidable one-two punch with LeBron James.
James, of course, has played alongside plenty of talent during his NBA career. The veteran forward isn't afraid to sing Davis' praises, however, and place him in an elite tier of players from one of basketball's best cities.
"Listen, man, Chicago is right up there with one of the top cities in the world with producing some of the greatest basketball players to ever play the game," James said at the NBA All-Star Game. "If you just even step outside, some of the best basketball players that played the game. So you have some of the greatest, some very good, some very talented."
"K.G. is about to go into the Hall of Fame soon," James continued. "I seen his name on the ballot, and he's from Chicago. The great Isiah Thomas. D-Wade at some point will go into the Hall of Fame. My teammate Anthony Davis right now will go in the Hall of Fame. This city is right up there as one of the best cities in the world as far as producing the best players we've ever seen."
Is LeBron right about Anthony Davis' Hall of Fame chances?
While it's impossible to predict the course of an athlete's career, LeBron James is probably right. Barring any unforeseen circumstances or freak injuries, Anthony Davis should cruise into the Basketball Hall of Fame.
The Los Angeles Lakers big man is in the midst of his eighth professional season. He's currently averaging 24 points, 10.4 rebounds, and 2.4 blocks per game; while there's obviously the issue of sample size, Shaquille O'Neal posted an average of 23.7, 10.9, and 2.3 for his career. As of now, Basketball-Reference gives Davis a 91% chance of making it to Springfield. That percentage is already impressive, but it will only go up if he continues to excel—and potentially wins some silverware—with the Lakers.
At this point in his career, Anthony Davis has established himself as a legitimate NBA star and convinced LeBron James of his Hall of Fame credentials. Not too bad for a 26-year old.