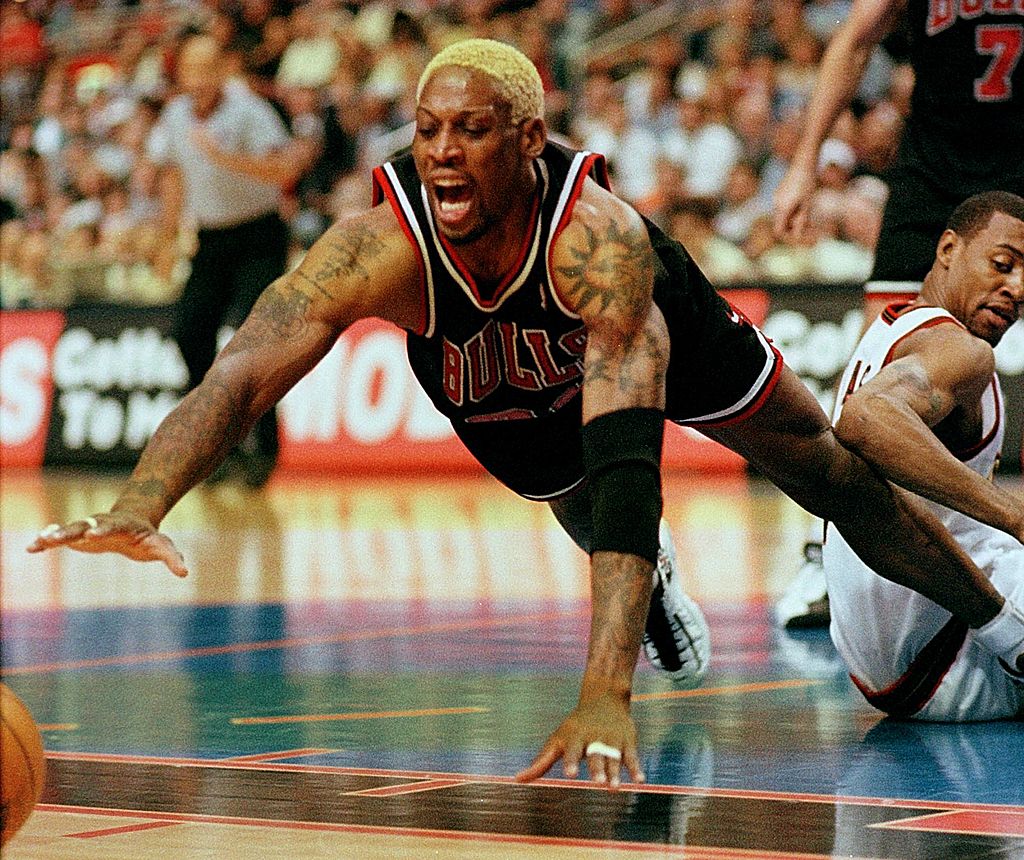 Dennis Rodman's Drive to Becoming One of the Greatest Defenders and Rebounders in NBA History
Off the court Dennis Rodman made headlines for his eccentric behavior. On the court he became one of the best defenders and rebounders in NBA history. Here's how he did it.
While Dennis Rodman made headlines for his behavior on and off the court, he will go down as one of the greatest defensive players and rebounders in NBA history. What most don't realize is the guy who was known for his eccentric lifestyle and dating Madonna was a student of the game and one of the hardest-working players ever to don an NBA jersey. 
Rodman bursts on the scene out of nowhere
When the Detroit Pistons selected an unknown 25-year-old out of Southeastern Oklahoma State named Dennis Rodman in the second round of the 1986 NBA draft, most of the NBA community was left scratching their heads. Dennis who?
Dennis Rodman quickly answered any questions and established himself as one of the game's top defenders and rebounders as a member of a Pistons squad that won back-to-back titles in 1989 and 1990. Both seasons Rodman earned all-defensive first-team honors, and in 1990, he was named the Defensive Player of the Year.
Rodman's numbers over his 14-year career are impressive. But from 1991-1998, you would be hard-pressed to find any player in NBA history who dominated defensively for a sustained period as Rodman did during that stretch. He led the league each season in rebounding, where he pulled down an amazing 16.64 rebounds per game and was named to seven all-defensive teams. He also earned his second Defensive Player of the Year award in 1992.
Rodman was a student of the game 
When Dennis Rodman arrived in Chicago for the 1995-96 season and joined forces with Michael Jordan and Scottie Pippen, his work ethic fit right in. Rodman would lift weights before each game just like Jordan and the rest of his teammates. After each game, he would get on the exercise bike and ride it for an hour as fast as he possibly could.
When not working out, Rodman was an intense student of the game and went above and beyond what most players were doing at the time. Unlike most players who would focus on their offense and want to study details like the best way to get off a shot around a screen, Rodman always focused his efforts on studying the opposing team's offense.
According to Tom Dore, who was the Bulls television announcer for Rodman's tenure in Chicago, he never saw another player focus so intently on the defensive side of the ball as Rodman. Through shot charts and film, Rodman took his game study to the next level.
"He was looking at the opponent and where they were trying to get the shot from. Then he would look at where did it go. Now, there are computer programs for all of this. This was Dennis on his own. He would ask staff for a shot chart of Reggie Miller, left side, top of the circle, right side, and he wanted to see all his misses. He didn't care about the makes. He wanted to know where the ball went when they missed."
Dennis Rodman implements plans
Once the game started, with all of his pre-game knowledge, Rodman always had a plan once the opposing team put up a shot. Dore said Rodman also had another secret weapon that took his game to a completely different level—the tip. Rodman, who was 6-foot-7 and often shorter than many of the bigger men in the game, wouldn't try to grab the rebound. 
"He was a genius at tipping it away from the other player and tipping it toward himself so he could go get it," Dore said. "Everybody is up there getting it. Instead of trying to grab it, he would just tip it his way and go and get it."
Dore said sometimes he would tip it far away from the basket because Rodman knew he could outrace the bigger guys. "He would routinely give up his body to save a ball from going out of bounds," Dore recalled. 
The news headlines may show an eccentric man who lived a different lifestyle than most of society. The record books will show a basketball player who worked harder than most, became one of the greatest defensive players the game has ever seen, and earned a spot in the Hall of Fame.