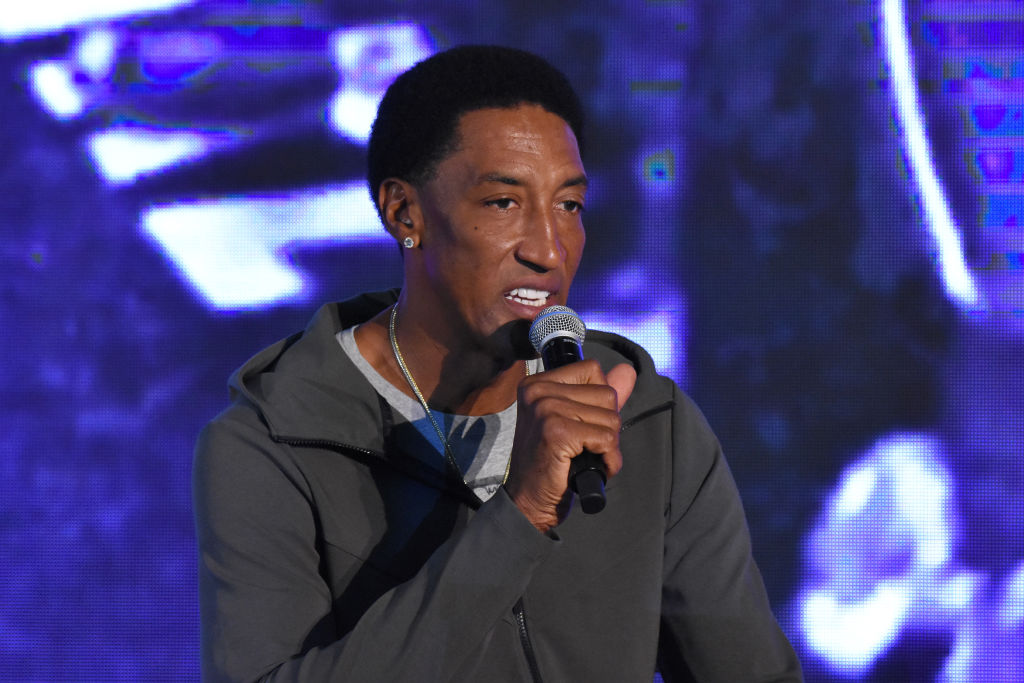 Scottie Pippen Suing 5-Year-Old For Vandalizing Mansion With Crayons
NBA Hall of Famer Scottie Pippen is suing a 5-year-old for damages she caused with markers and crayons in a house her parents rented from the former Bulls superstar.
In Scottie Pippen's 17-year Hall of Fame career in the NBA, he made millions of dollars. With that accumulated wealth, he was able to purchase numerous nice cars and several expensive homes. One of those homes is now the subject of a lawsuit where Pippen is suing the former tenant of the property, including the five-year-old daughter for damages done to the property while the family lived there.
Scottie Pippen earned more than $100 million in career
From 1987 to 1997 Scottie Pippen was part of one of the greatest dynasties in sports as a member of the Chicago Bulls. Pippen teamed up with Michael Jordan to lead the Bulls to six NBA titles in nine seasons in the 1990s. In that time, he made seven All-Star game appearances.
In the final six years of his career, Pippen played for Houston and Portland before finally concluding his career with one final season back where it all started in Chicago. In 2004, he retired.
After his career, he was named one of the top 50 all-time players in NBA history and was inducted into the Hall of Fame in 2010. Over the course of his career, Pippen earned more than $100 million and was able to purchase multiple homes including one in South Florida.
Pippen's troubles with South Florida mansion
According to real estate records, Scottie Pippen owned a six-bedroom mansion in Fort Lauderdale. In 2010, he decided to sell the property. He listed it at $16 million.
In 2017, after not receiving a single offer on the home for years, Pippen dropped the price to $10 million. Several months later after no offers, Pippen decided to change his approach. He opted to lease out the property as a luxury rental for $30,000 a month.
That year comedian Lindsay Glazer Woloshin, and her husband Jacob Woloshin, were looking for temporary housing after Hurricane Irma had severely damaged their home. The couple put down a $50,000 deposit on Pippen's property and moved in with their young daughter, a cat, a dog, and their nanny. It was the perfect place to stay until their home was repaired.
Pippen sues couple and 5-year-old for damages exceeding $100,000
In December 2018, Scottie Pippen filed a lawsuit against the couple after their seven-month stay in the house. In the suit he alleged the couple allowed their pets to urinate inside the house, damaged the front gate, damaged the home entertainment system, damaged countless cabinets and drawers, and stole a set of knives. It also said the couple failed to pay rent when it was due.
The comedian responded by jokingly creating a GoFundMe page to raise $14 for the set of knives Pippen claims was stolen. Glazer donated the raised funds to a military veterans fund.
"With all of the publicity this ridiculous case was getting, we thought it was good to use it as an opportunity to raise funds for the Fisher House Foundation, which assists military and veterans' families," Glazer told the Broward Palm Beach New Times.
In May 2019, Pippen surprisingly filed an update to the lawsuit that included the couple's five-year-old daughter. The amended lawsuit alleged that the child damaged his property with crayons and markers and that vandalization revealed her parents failed in their responsibilities.
When Pippen added Glazer's daughter to the lawsuit, the comedian couldn't help herself.
"All jokes aside, who would have ever thought that Dennis Rodman would be strengthening relations with North Korea, and Scottie 'no tippin' Pippen would be the crazy one suing little girls?"
The case is still pending.