Massive Dennis Rodman Mural Upset Teammates and Disrupted Chicago Traffic
Dennis Rodman has always been known for his outrageous side and turning heads. He wore a wedding dress to a book signing-wedding where he was marrying himself. He painted his nails, accumulated numerous piercings, and regularly altered his hair color. In 1996, the Bulls player turned the heads of a large number of Chicago commuters through no fault of his own when a clothing company painted a 32-foot Dennis Rodman mural on the side of a building that caused traffic headaches for weeks.
Making headlines for the wrong reasons
In Dennis Rodman's 14-year NBA career, he had more than his share of head-scratching incidents both on and off the court. A year before joining the Chicago Bulls, the San Antonio Spurs benched him during Game 4 of the Western Conference semifinals for arguing with the coach and refusing to join team huddles.
When Rodman joined the Bulls, his uniform changed; his behavior did not. In one game he kicked a cameraman, which the NBA suspended him for 11 games, and fined him $25,000. Rodman was sued and settled out of court for $200,000. The whole incident cost him more than $1 million.
His most notorious off-the-court incident came in 1996, when Rodman went on a promotional tour for his autobiography Bad As I Wanna Be. Rodman arrived at the bookstore in a horse-drawn carriage wearing a wedding dress and announced to the media and onlookers he was going to be marrying himself.
Dennis Rodman mural creates massive traffic delays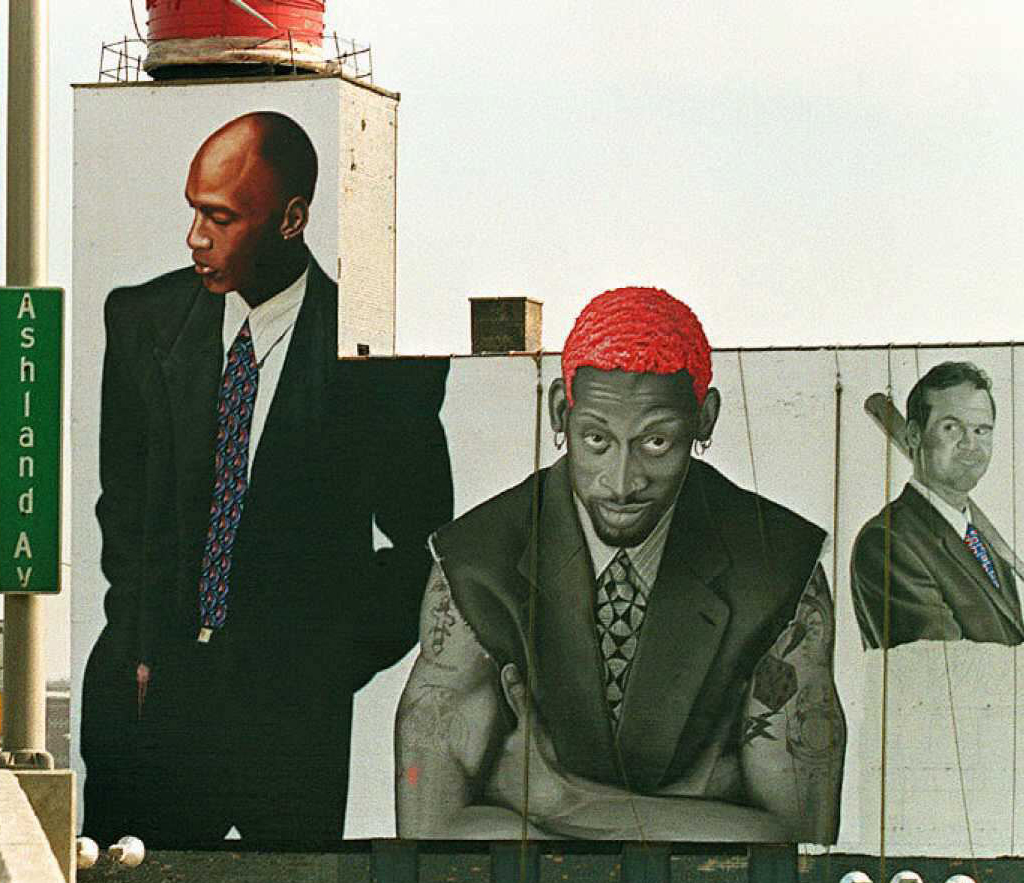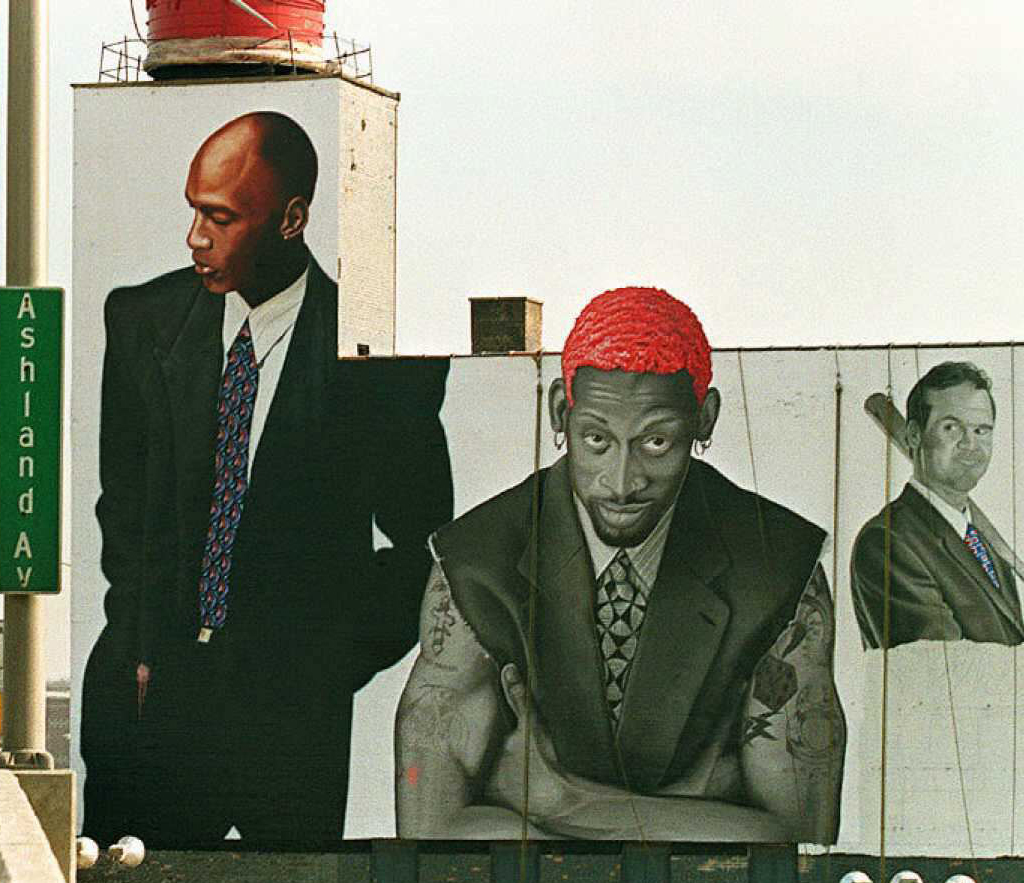 In 1996, Rodman took turning heads to an entirely new level, and he had absolutely nothing to do with it. Rodman appeared as a 32-foot high black and white mural on the side of a building on the Kennedy Expressway, a main highway in Chicago.
The Dennis Rodman mural featured the Bulls players wearing his trademark earrings, nose ring, and a suit with ripped-off sleeves exposing his tattoos and muscular arms. The focal point of Rodman's likeness was his hair, which was the only color component of the oversized image, and the artist updated the color whenever the star changed his hairstyle.
Interestingly, Rodman's portrait was sandwiched between Michael Jordan and Chicago Cubs star Ryne Sandberg. Jordan's portrait had been up for years and never caused traffic problems.
According to city transportation officials, once Rodman's likeness went up, the roads in the area began to experience an immediate delay, as motorists would sometimes stop and snap photos of Rodman and his latest do.
While some complained about the traffic, Chicago City Alderman Brian Doherty kept it in perspective. "I don't care what he does as long as he gets 16 rebounds a game, plays good defense, and doesn't commit any felonies."
Rodman laughed when Bulls players begged him to have mural removed
Members of the Bulls organization couldn't help but notice the mural as it affected their commute times to the United Center. According to Tom Dore, who was the team's television announcer during five of the championship seasons, everyone thought it was humorous at first but noticed it backed up traffic for miles.
"They started painting that new hairstyle on the side of the building and it would be backed up from the start. A drive with rush-hour traffic would normally take 45 minutes, and then it would take an hour and 15 minutes," Dore recalled.
Dore said he and other players, including Michael Jordan, approached Rodman about getting the mural removed. Those requests fell on deaf ears.
"We got on the plane one time, and I told him, 'You have to tell them to take that down.' Michael chimed right in. 'It's a killer. I hate that thing.' The more we got upset, the more Dennis laughed, and the more he liked it," Dore laughed.
The mural stayed up for several weeks, but after multiple accidents and numerous citations by police to distracted motorists, Rodman, just like an NBA game, was ejected off the side of the building so traffic could resume as normal.