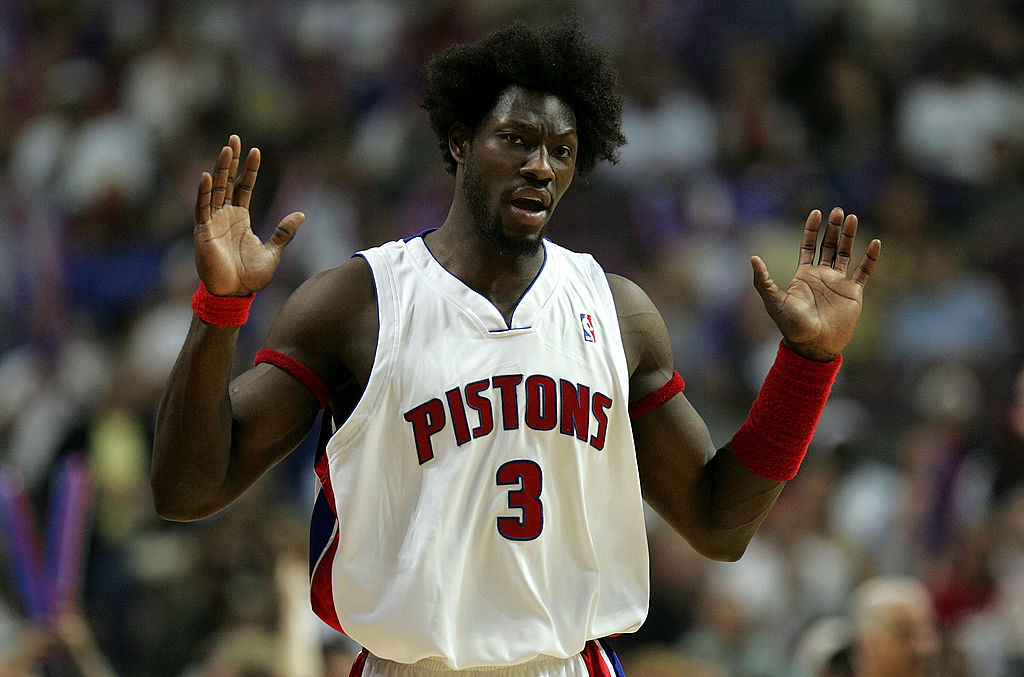 Ben Wallace is Still Grinding for the Detroit Pistons, Even in Retirement
For years, Ben Wallace did the dirty work for the Detroit Pistons. Even in retirement, he's still helping the organization out.
When you think of elite NBA players, certain guys probably stick out in your mind. It's easy to remember dominant scorers like Michael Jordan and LeBron James; players who do the dirty work, however, can get overlooked. During the early 2000s, though, no one could overlook Detroit Pistons big man Ben Wallace.
While it's been almost a decade since the forward stepped on the court, he can't stay away from the game he loves. Even in retirement, Ben Wallace returned to the Detroit Pistons organization.
Ben Wallace's unlikely road to the NBA
In his prime, Ben Wallace was earning more than $10 million per season. His basketball career, however, started in much different circumstances.
Wallace grew up White Hall as the tenth of eleven children. Life wasn't easy—Ben would cut hair and do farm work to bring home some extra cash—but he also showed plenty of athletic potential. He eventually earned a football scholarship to Auburn, hoping that he could also join the basketball team.
The football program, however, wasn't having it, and Wallace wasn't ready to leave basketball behind. With some help from Charles Oakley, who the teenager had impressed at a basketball camp, Ben landed a roster spot on the Cuyahoga Community College team. It might not have been glamorous, but it was a step in the right direction.
While the official stats aren't available, Wallace apparently excelled in junior college. No big-time programs came calling, though. Thanks to another assist from Oakley, however, Ben transferred to Virginia Union University. There, he earned a spot on the Division II All-American Team as a senior.
Finding eventual success with the Detroit Pistons
Despite his college success, Ben Wallace went undrafted in 1996. He played summer league ball for the Boston Celtics but failed to earn a contract; the big man was on the verge of heading to Italy, but one NBA team was interested.
Wes Unseld saw some of himself in Wallace and signed the rookie to an NBA deal. While the young forward didn't see much playing time for the Washington Bullets, he was finally an NBA player. Everything would change, however, in the year 2000.
Wallace was traded to Orlando and then shipped to Detroit as part of the Grant Hill deal. While he seemed like a throw-away inclusion, the forward blossomed in Michigan. He emerged as a dominant rebounder and shot-blocker, taking home the NBA Defensive Player of the Year award in 2002, 2003, 2005, and 2006; the Pistons, of course, also won the 2004 NBA title.
Wallace would spend some time with the Bulls and Cavaliers, before returning to Detroit for the final few seasons of his career. While the big man was never a dominant scorer—he averaged less than six points each night, but pulled down 9.6 rebounds and blocked two shots per outing—he was a key part of the Pistons' rise to dominance in the early 2000s.
Even in retirement, Ben Wallace couldn't leave the Detroit Pistons
While some people may dream of retirement, it didn't suit Ben Wallace. After years of fighting for every ball on the basketball court, the former Detroit Piston felt lost; left without his routine, he struggled with depression and lost 35 pounds.
Eventually, however, Wallace started reaching out to some of his old basketball contacts. One, in particular, Rick Carlisle, was able to help come up with a game plan. That came to fruition in 2018, when Wallace returned to his beloved Detroit Pistons organization; he joined the Grand Rapids Drive, the club's G-League affiliate, as an ownership partner.
As someone who took an unconventional road to the NBA, Wallace now gets to help others take a shot at their basketball dreams. He's living proof that you can grind your way to the top.
"It ain't just laying down and dreaming of a happy ending," Wallace told Beau Troutman of the Holland Sentinel. "It's about putting that work in and then you go rest and have that dream. I just tell [Drive players] the NBA, it's amazing. It's a childhood dream come true. You step on that floor — you could play on any court in the world, when you step on that NBA court, it's a difference.
"I just try to encourage them to work hard and tell them I'm glad they're here, but don't get used to being out here," Wallace continued. "Work your way to the top."