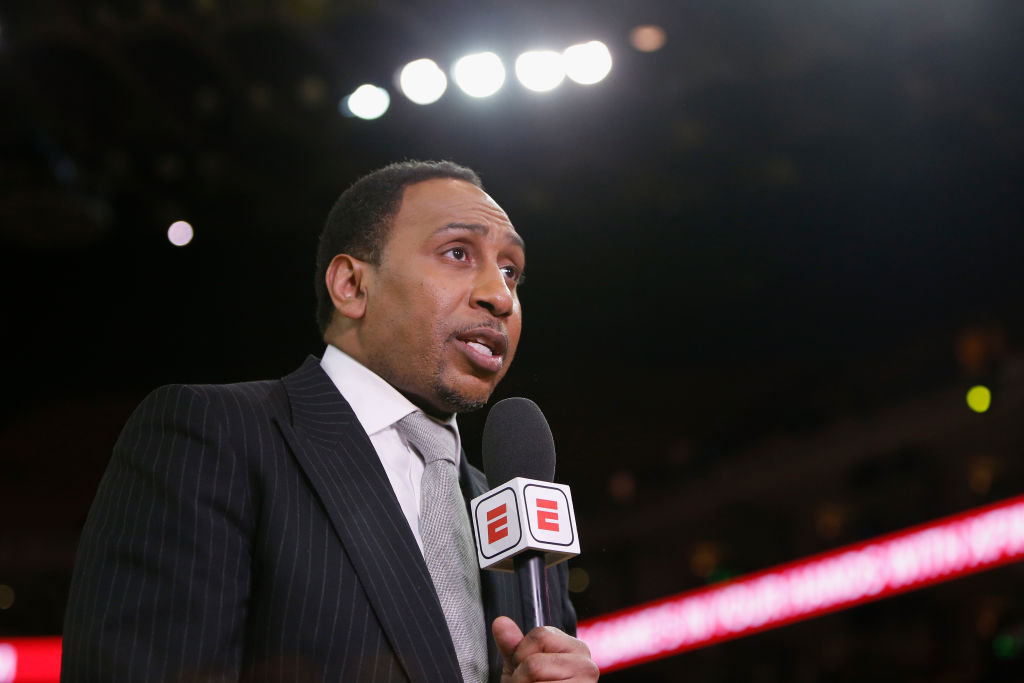 Stephen A. Smith Thinks That Kawhi Leonard Is 'the Closest Athlete to Michael Jordan Right Now'
Why did Stephen A. Smith recently claim that Kawhi Leonard was the modern athlete most like Michael Jordan?
As any sports fan can tell you, Stephen A. Smith is never shy about sharing his opinion. Whether he's appearing on TV for ESPN, hitting the radio airwaves, or doing anything else, the New York City native doesn't hold back. In fact, he recently made a bold comparison between Kawhi Leonard of the Los Angeles Clippers and Michael Jordan.
Jordan, of course, occupies a rarified place in the NBA pantheon; for all of Leonard's success, he's not at that legendary level just yet. So how did Stephen A. Smith place those two men in the same sentence?
Michael Jordan's rightful status as a basketball legend
When you think of a legendary athlete, Michael Jordan is rightfully at the top of the list. Upon retrospection, however, his career may be even more impressive.
Jordan's career, however, began with an infamous low point, as he failed to make his high school's varsity team at the first attempt. He dominated at the JV level, however, and had a timely growth spurt; those factors combined to earn him a spot on the top squad for the next season.
MJ would go on to become a McDonald's All-American and headed to the University of North Carolina, where he won a National Championship with Dean Smith. When it came time to enter the NBA draft, though, not everyone was convinced that Jordan was poised for greatness.
At the professional level, however, His Airness dispelled any doubts. Although there were some hiccups along the way, Jordan became a dominant force. He played 15 NBA seasons, averaging 30.1 points per game; he scored over 30,000 total points, won six championships, six MVP awards, and became a fixture in popular culture.
Stephen A. Smith compares Kawhi Leonard to Michael Jordan
Anytime a player is compared to Michael Jordan, it's a high compliment. While there were some caveats, Stephen A. Smith put Kawhi Leonard in the same sentence as MJ.
On a recent episode of First Take, the cast debated which modern athlete is the closest to Michael Jordan. Smith nominated the Clippers forward for that honor.
"I'm not naming this player, trying to imply he's the best because he's not," Smith explained. "I'm only looking at style, in terms of you're an assassin scoring, plus you defend. I would say that player is Kawhi Leonard. That is the closest athlete to Michael Jordan right now, in terms of how he plays."
Stephen A., however, was sure to note that he doesn't think Leonard is the top player in the NBA. That honor belongs to someone else in Los Angeles.
"I am not saying he's the best because you know I don't feel he is," Smith continued. "I think it's LeBron. But LeBron is a different kind of player than Michael Jordan was. … Kawhi Leonard either scores or he defends. He doesn't necessarily make players around him better, he's just about putting the ball in the hole. And as I watch him, from a style perspective solely, how he approaches the game and what he does on the basketball court, I think right now he's a lot like Michael Jordan."
Stephen A. Smith isn't the first one to compare Kawhi Leonard to the NBA legend
While Stephen A. Smith's comparison may seem bold, he's not the first one to compare Kawhi Leonard to Michael Jordan.
During the 2019 NBA Finals, Doc Rivers made a similar claim on Sportscenter, citing Leonard's versatility and physical tools. Rivers, of course, now coaches the forward with the Clippers.
No matter how well anyone plays, there won't be another Michael Jordan. If Kawhi Leonard can lead the Clippers to a title, after elevating the Toronto Raptors to the next level, we'll hear more and more comparisons between the two stars.