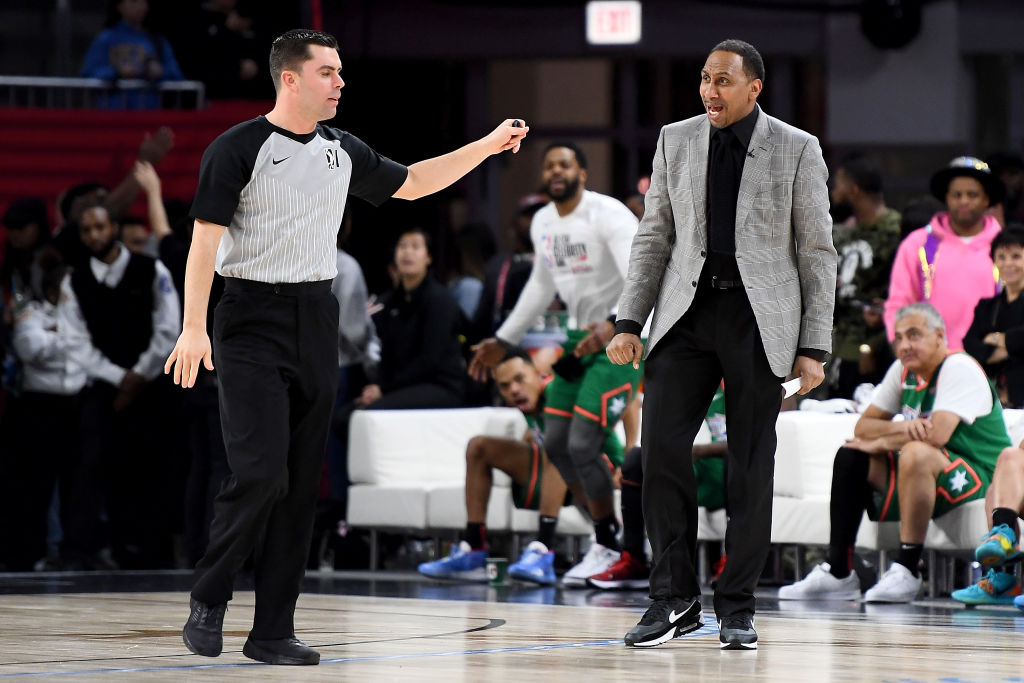 How Did ESPN's Stephen A. Smith Just Make NBA History?
Stephen A. Smith earns his living by expressing his opinions on TV. He ran into a bit of trouble for something he said on NBA All-Star Game weekend.
Television personality Stephen A. Smith earns a lot of money for telling people what's on his mind. Perhaps he forgot that he was on the sideline rather than on one of his numerous shows Friday because the ESPN analyst earned something other than money.
Smith earned a place in NBA history for one of his trademark rants during NBA All-Star Game weekend.
A rowdy start to NBA All-Star Game weekend
The annual NBA All-Star Game weekend is a beehive of activity aimed at both entertaining basketball fans and stirring up interest in the league in the United States and internationally.
Opening night of the three-day hoops celebration was capped by the NBA Rising Stars Game that showcased Zion Williamson, R.J. Barrett, and a host of other young greats.
Before that contest came the NBA All-Star Celebrity Game. The celebrity affair is generally low-key in terms of competitiveness. Hollywood and music industry performers will play hard, but they understand that their primary role is to entertain the fans watching in person or on TV as the weekend gets rolling.
In that respect, Stephen A. Smith did not disappoint.
Stephen A. Smith gets hit with a technical foul
You can't hold an NBA All-Star Celebrity Game without celebrity coaches. With ESPN owning the rights to show the game, that honor went to Michael Wilbon, co-host of "Pardon The Interruption," and Stephen A. Smith, a fixture on "ESPN First Take."
With comedian Carlos Stanford, better known as Famous Los, leading the way with a game-high 25 points to top the 22 he scored in the game a year ago, Wilbon's team ran past Smith's squad, 62-47.
The frustration of trailing most of the way finally got to Smith, paving the way for a bit of NBA history. Playing to the crowd but also showing his competitive nature, Smith rode one of the officials a little too hard and too long. He was hit with a technical foul, making him the first player or coach in the 18-year history of the celebrity contest to feel the wrath of a referee.
The moment was a perfect mesh with Smith's on-air persona, which earns him nearly $8 million a year from ESPN. Regarded as personable in his free time, the 52-year-old New York City native is fiery and at times combative while making his points on TV talk shows.
And recognizing that there was no way that the referees were going to eject him via a second technical foul, Smith kept right on chirping at them through much of the rest of the game.
Friday's tirade and the ensuing technical foul will surely give him something to talk about from this weekend besides the actual NBA All-Star Game.
Who else made headlines in the celebrity contest?
Chicago-born rap artist Common had a big night in front of the home crowd, serving as captain of Michael Wilbon's team and earning the MVP award. Common scored 10 points and made four steals. Teammate Quentin Richardson, a former NBA player, had 12 points and 12 rebounds.
WNBA player A'ja Wilson paced Stephen A. Smith's team with 11 points. Rapper Quavo and retired NBA player Darius Miles scored nine apiece.