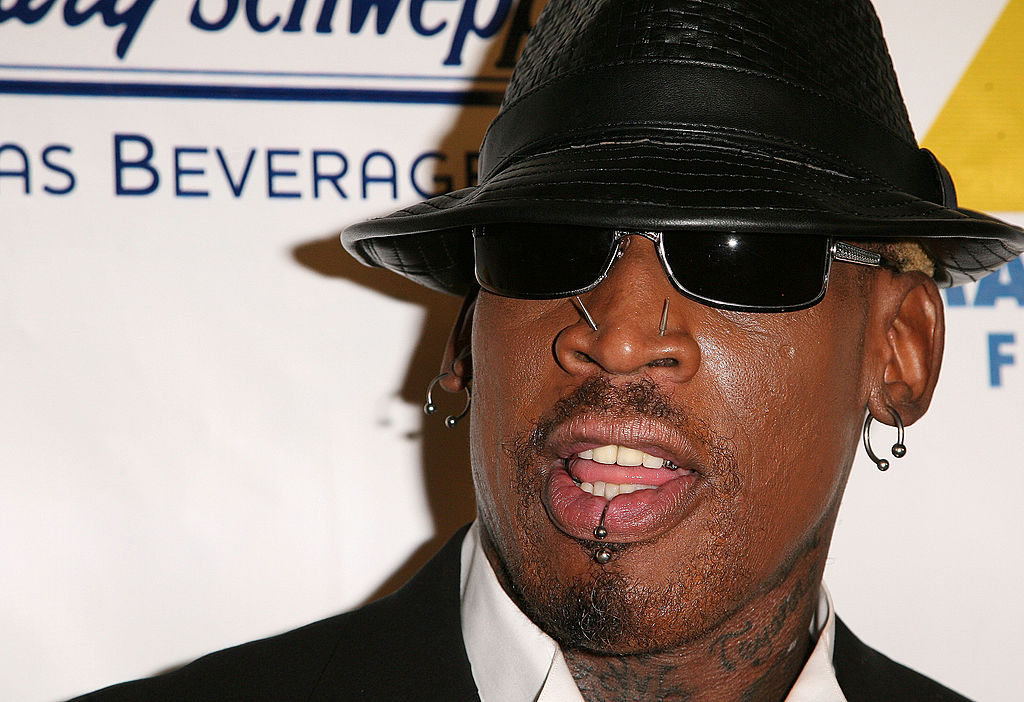 Dennis Rodman Won't Watch 'The Last Dance" Because He's Already Lived It
NBA Hall of Famer and five-time champion Dennis Rodman won't watch ESPN's 'The Last Dance' because he's already lived it.
ESPN's The Last Dance has been a big hit, giving sports fans an inside look at Michael Jordan and the Chicago Bulls during their final run together as a championship team. The series has highlighted the key points during their last season together and has focused on some of the behind-the-scenes drama. Dennis Rodman was a key piece to the Bulls' championship runs and has been heavily featured in the series. Rodman, however, says he won't watch it because those were some dark times in his personal life and doesn't want to relive it.
Dennis Rodman a key figure on and off the court in 'The Last Dance'
Dennis Rodman's do-anything-to-win attitude on the court, combined with his eccentric behavior off the court, made him a key figure in The Last Dance. Rodman was only 6-foot-7 and 210 pounds during his playing days, yet he was the NBA's leading rebounder for eight straight seasons.
Rodman did all the dirty work for the Bulls. While Michael Jordan and Scottie Pippen were given much of the credit for the team's success, Rodman was busy fighting giants for rebounds and diving for loose balls. Rodman didn't care about the glory. He cared about winning and winning only.
Away from the court, Rodman needed his space. He left in the middle of the season to take a mini-vacation to Las Vegas. He was a different breed. Rodman would dye his hair different colors for different games. He once wore a wedding dress and said he was marrying himself to promote his book. He even planned on taking his own life.
Rodman won't watch 'The Last Dance'
It was because of Dennis Rodman's dark times off the court that the eight-time NBA rebounding champion said he wasn't watching The Last Dance. During Monday's Hotboxin' With Mike Tyson podcast, Tyson asked Rodman was he thought of the series.
"Oh man, I couldn't watch it," Rodman said. "I lived it. I couldn't watch it. Can't watch s**t like that. I can't watch myself, especially when I'm in an emotional state. I think now, since time has changed in my life as far as… I'm still doing Dennis Rodman little stuff, but it's more like I'm going back in my life and trying to figure out what went wrong. Now I think about all the things that were so fu**ing bad and why does it haunt me today?"
Tyson chimed in and asked Rodman how is it haunting him today. Rodman responded, "Because I'm still thinking about it." Tyson told Rodman that's happening because Rodman is allowing it to haunt him. "I'm trying not to let it, but it keeps flying back into my face," Rodman said. "Now that I'm not playing basketball, I have a lot of time to think and I don't want to think about that s**t, but it hits me almost every day."
While Rodman won't watch, his son has been watching
During the third episode of The Last Dance, Dennis Rodman was heavily featured. The man they call "The Worm" was a key piece of the series, especially when the focus was on Rodman's getaway to Las Vegas. Rodman told coach Phil Jackson he needed to get away for a little bit. He asked for, and was granted, permission to go away for 48 hours.
While in Vegas, Rodman partied it up. It was his way of getting away from the personal issues he was experiencing. While watching The Last Dance, Rodman's son DJ, a freshman at Washington State, said he knew about his father's past. The one thing he didn't know was the trip to Las Vegas, not the partying part, but how he was able to get there.
DJ Rodman recently spoke about that episode on an Instagram Live chat.
"I knew about everything else but not that," DJ said. "I didn't know that you could do that. I didn't know that you could go up to your coach and be like, 'Hey, I need a vacation.'"