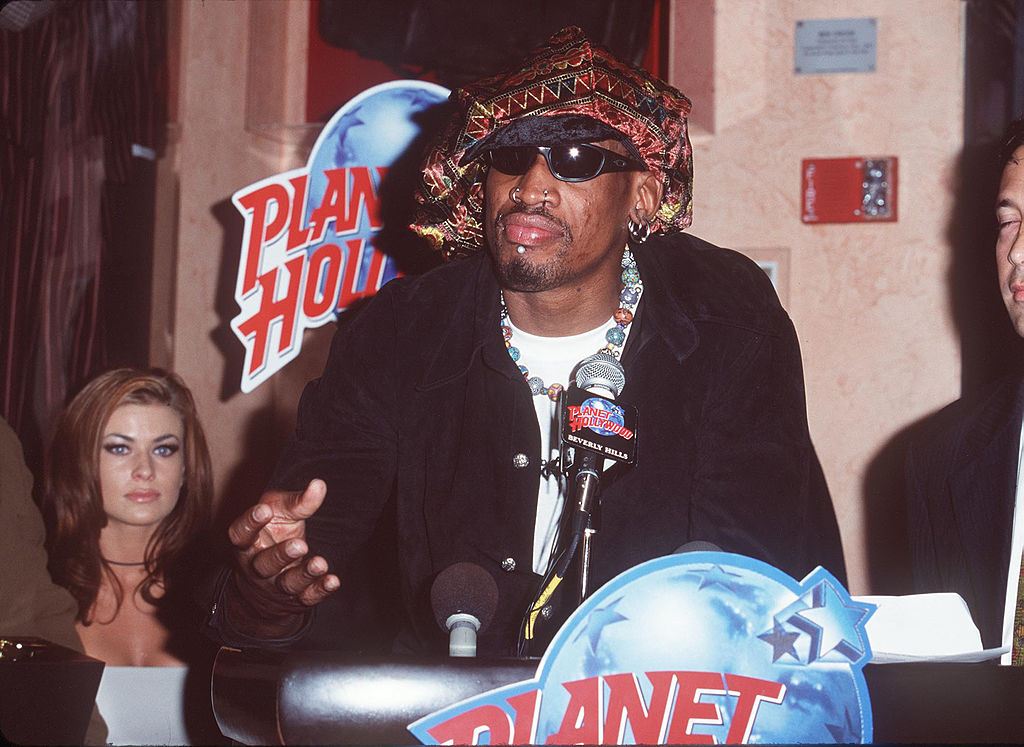 Dennis Rodman's Son Learns of Father's Wild Vegas Vacay Watching 'The Last Dance'
Dennis Rodman's son, D.J., a freshman basketball player at Washington State, learned about his father's trip to Vegas for the first time while watching The Last Dance.
What happens in Vegas stays in Vegas. Dennis Rodman took that mantra to heart after his impromptu vacation to Sin City during the 1997-98 season with the Chicago Bulls. Dennis Rodman's son, D.J., who is a freshman basketball player at Washington State, first learned of his father's partying trip to Las Vegas while watching recent episodes of The Last Dance.
Dennis Rodman's son D.J. starting college career at Washington State
Dennis Rodman's son, D.J., was a star high school basketball player in California where he averaged 24.2 points, 8.9 rebounds, and 1.2 assists per game his senior year at JSerra Catholic High School. 
Unlike his father, who received very limited attention from any college programs, the 6-foot-6-inch forward had multiple opportunities and opted to play at Washington State. His freshman year, Rodman played in 26 games, making his debut during the team's season-opener, in which he scored five points and grabbed a couple of rebounds.
His freshman season highlight came when he scored a season-high eight points for the Cougars in their upset win over No. 8 Oregon. Rodman drained a late three that sealed the victory. For the year, he averaged 1.7 points, 1.9 rebounds, and 0.3 assists per game.  
Dennis Rodman takes vacation in Vegas
Dennis Rodman was prominently featured in the most recent episodes of The Last Dance documentary on ESPN. Viewers got a behind-the-scenes look at Rodman and his commitment to working hard on the court and his penchant to playing harder off of it.
In the 1997-98 season, Rodman stepped up his game in the absence of an injured Scottie Pippen. Upon Pippen's return, Rodman needed a break and asked for a vacation. After negotiating with head coach Phil Jackson, it was agreed that Rodman could take 48 hours for an impromptu trip to Las Vegas.
Documentary footage then shows Rodman grabbing a beer, hopping on his motorcycle, and riding into the dark night. The next scene shows Rodman partying and doing shots in Vegas. And then there are multiple accounts of Rodman's vacation from then-girlfriend Carmen Electra as well as Michael Jordan, who literally pulled Rodman out of his Vegas hotel bed and brought him back to Chicago beyond the agreed 48-hour time limit.
D.J. Rodman reacts to Las Vegas story on Instagram
In Arizona, just a few hours drive from Las Vegas, Dennis Rodman's son, D.J, was spending the weekend with his sister and mother Michelle, who finalized her divorce from Dennis in 2012. After a day celebrating his mother's birthday, D.J. made sure he was in front of the television to watch the episodes that featured his father, with whom he talks to on a sporadic basis.
While his father has detailed many things about his career, through the years the younger Rodman has assembled the missing pieces of his father's puzzle through Google searches and watching numerous YouTube clips. The Las Vegas vacation story was a mystery. He offered up his reaction in an Instagram live session.
"The only thing I didn't know was when he took that vacation. I didn't know you could do that. I didn't know you could go up to your coach and be like 'Hey, I need a vacation.'"

D.J. Rodman
Rodman laughed when talking about his father not returning within the 48-hour window, but he said the clip also revealed his father's unique relationship with Jackson. 
"It was all about the team with him (Jackson)," Rodman said.
It was all about the team, and Dennis Rodman, despite all his eccentric behavior off the court, came back following his little mid-season respite in Vegas and helped the Bulls go on to win the NBA championship. And earned himself another vacation.