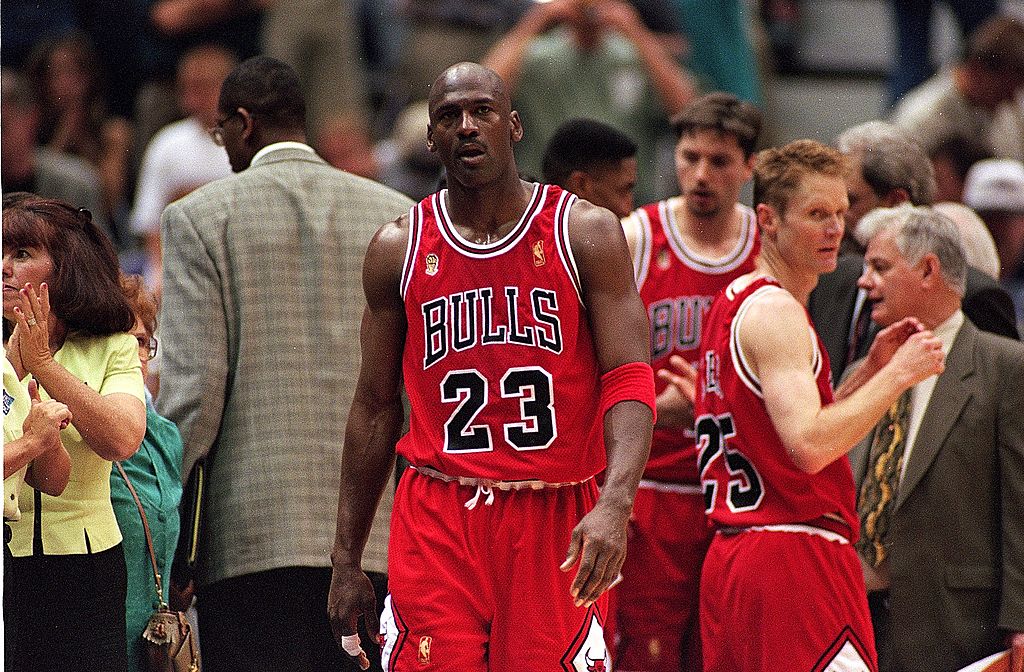 New Details From Michael Jordan-Steve Kerr Brawl Offer Preview of ESPN's Last Dance Documentary
New details on a fight between Michael Jordan and Steve Kerr offer up a preview of what fans can expect to see in upcoming documentary series on Chicago Bulls.
When The Last Dance documentary series starts airing on ESPN in a few weeks, we'll see a side of the Chicago Bulls never seen before. For a clue what viewers might expect, you can go back to 1995 when a fight between Michael Jordan and teammate Steve Kerr broke out in practice. New details have emerged about the incident that made sports headlines and provided a behind-the-scenes glimpse at the team, Jordan's ultra-competitive nature, and how he demanded the same of his teammates.
Michael Jordan returns from hiatus
After taking an almost two-year hiatus from basketball, including a stint in minor-league baseball, Michael Jordan announced his return to basketball in March 1995. He had one goal in mind that season: another NBA championship. Despite the team hovering around the .500 mark most of the season, Jordan believed his offense and leadership would be able to push the team to another title.
His return made an immediate impact. In the 17 games he played during the final stretch of the season, Jordan averaged 26.9 points per game. The Bulls won 13 of the 17 games and made the playoffs. Jordan was pleased but he wasn't satisfied. He wanted more.
Jordan made his intentions clear that first game of the playoffs against Charlotte, lighting up the Hornets for 48 points. The Bulls won the series 3-1 and advanced to face Shaquille O'Neal and the Orlando Magic in the next round.
In the Eastern Conference Finals, Jordan and the Bulls battled, but it wasn't enough and the Magic won the series in six games. Jordan had been denied. And he wasn't happy. Jordan's foul mood from that season's final result lingered into the following year.
Jordan's competitive side turns violent
When the Bulls opened training camp that fall, Jordan had heard the media reports the entire off-season. He had lost a step. He wasn't good enough to lead the Bulls to another title.
That was the first preseason for Jordan and Steve Kerr together. Kerr had joined the club before the 1994-95 season when Jordan was exploring life as a baseball player.
In camp, Kerr got an early lesson on Jordan's competitive nature and how he hated to lose, even if it was to his teammate in practice.
During that day's practice, Kerr and Jordan were on opposing sides. Head Coach Phil Jackson had tasked Jordan with guarding the sharpshooting Kerr, who had led the NBA the previous season in three-point percentage at a better than 50 percent clip. During one stretch of practice, Kerr made one three-pointer after another, and Jordan was getting noticeably irritated. As the trash-talking escalated, Jordan told Kerr he better not make another three, or he would pay for it.
It's well documented how other Bulls players in the past have responded and cratered under Jordan's pressure. Not this time. Not Kerr. On the next possession, Kerr got the ball and pulled up for a three. He drained it. Moments later, Jordan and Kerr were throwing punches.
The fight aftermath
The fight lasted a matter of seconds before players and coaches intervened. Jordan landed a few blows, enough to give Kerr a black eye, and Kerr landed one or two as well. The former Bulls guard and current Golden State Warriors head coach recalled the incident in an interview with ESPN. 
"I don't know what the hell I was thinking. It's Michael Jordan, it's the greatest player ever, but I was pretty competitive and I kind of played with a chip on my shoulder. I had to, or I wouldn't have made it."
The fight made sports headlines. What happened next never did. After the dust-up, Jordan told Kerr he better not take another three, much less make it. Next possession, Kerr got the ball, pulled up behind the arc, and buried it. 
Jordan didn't say a word. He didn't have to. Kerr had proven himself. Jordan knew at that moment Kerr was exactly the kind of teammate he wanted to have beside him when it mattered most.
After winning the title that season, the Bulls repeated the next year, and it was none other than Steve Kerr hitting the clutch shot that clinched the game and the NBA title. Jordan and Kerr celebrated together that night. They reminisced about the incredible run that they had been on the last two seasons. And how it all started in a preseason training camp where Kerr proved he wouldn't back down from a challenge from anyone, including Michael Jordan.