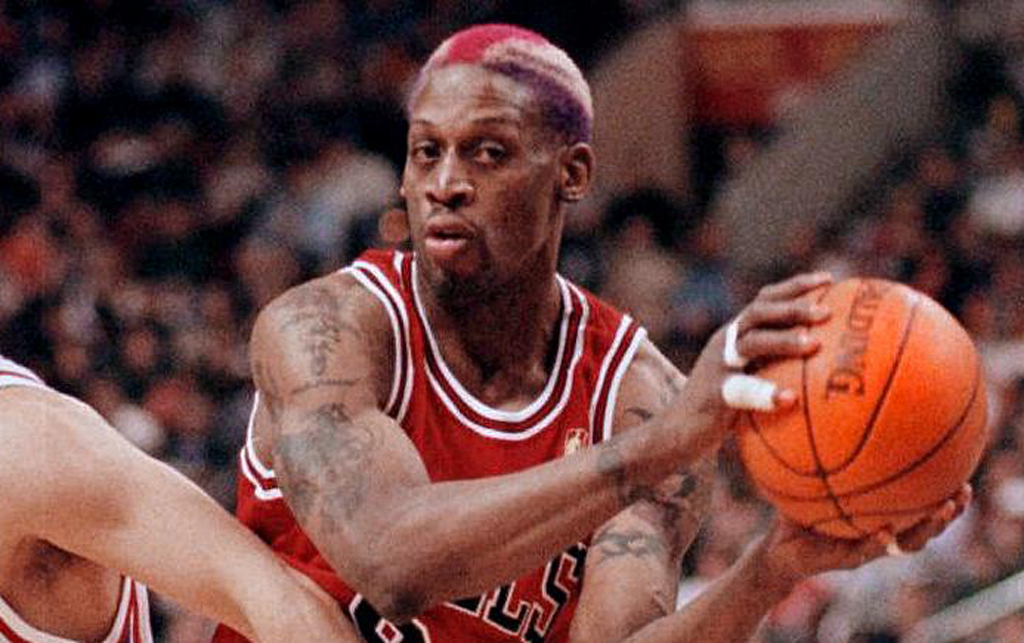 Dennis Rodman Made a Quirky Demand Before His Interview for 'The Last Dance'
Dennis Rodman was as eccentric as basketball fans would expect when the director of 'The Last Dance' tried to interview the retired NBA star.
The crew working on The Last Dance had it easier than Chicago Bulls coach Phil Jackson when it came to getting cooperation out of Dennis Rodman, but the eccentric NBA star doesn't make life simple for anyone around him.
Rodman may be one of the great rebounders in NBA history, but he is also a high-maintenance human being.
Dennis Rodman gets his way
ESPN's documentary series on the Chicago Bulls dynasty has given basketball fans unprecedented access to what took place behind the scenes of the team's run to six NBA championships in eight seasons. Episode 3 of The Last Dance, a 10-part series, was largely about Dennis Rodman's life and career.
Probably the most discussed aspect of the Rodman episode was how he talked Bulls coach Phil Jackson into allowing him to take a 48-hour vacation in Las Vegas in the midst of the 1997-98 season, which concluded with the last of Chicago's six titles during the Michael Jordan and Scottie Pippen era.
As ill-advised as the decision was to let Rodman go, Jackson's decision – against Jordan's advice – made sense since the muscular forward had generally been on his best behavior while picking up the slack for Pippen, who missed most of the first half of the season recovering from foot surgery.
Carmen Electra, Rodman's significant other, knew partying hard was the player's way of keeping what passed for his sanity. "It was definitely an occupational hazard to be Dennis's girlfriend," she said. "He was wild."
Dennis Rodman agrees to an interview … eventually
Director Jason Hehir did dozens of interviews for The Last Dance documentary series in order to piece together the story. His sit-downs with Michael Jordan have been prominent thus far, but even face-to-face time with the superstar of the Chicago Bulls dynasty can't produce all the answers necessary to make such an elaborate production successful.
That's where people like Dennis Rodman come in. Rodman played three seasons with Chicago beginning in 1995 and is a central figure in their story on and off the court. Appearing on the Jalen & Jacoby show this week, Hehir explained just how difficult it was to get Rodman to sit down for a one-on-one, though the results were quite good once the pieces came together.
Hehir said it took months to get Rodman to agree to participate. Predictably, the player nicknamed "The Worm" wasn't in prime interview form once he did agree to go on camera. According to the director, Rodman showed up two hours late and with hazy eyes. He was also confused, thinking the interview was about North Korean dictator Kim Jong-un.
"Interviewing Dennis Rodman is like trying to interview a feral cat," Hehir said. "He's not looking in the same place; he's got those big shades on. Every other sentence was going back to Kim Jong-un and how he was gonna be in the history books."
The director cuts an easy deal with his interview subject
Jason Hehir, who directed The Last Dance, had page after page of questions prepared for Denis Rodman when the interview finally took place, explaining to the player that the series would run for 10 hours on ESPN.
"He's like, 'Ten hours, huh?' I was like, 'Yeah.' He's like, 'Alright, I'll give you 10 minutes,'" Hehir remembered. "Every page of questions I have is an hour. I have 11 pages for this guy, and he's saying 10 minutes."
Hehir was making small talk with his interview subject in preparation for the taping when Rodman suddenly had a request. He wanted a tuna sub from Subway and chamomile tea.
"It was like Chappelle sending the guys for a sugar cookie in Queens. Unless you pass this test, you cannot do this interview. So we got him the tuna sub, we got him the chamomile tea, and he sat down for three hours."

Jason Hehir, director of The Last Dance