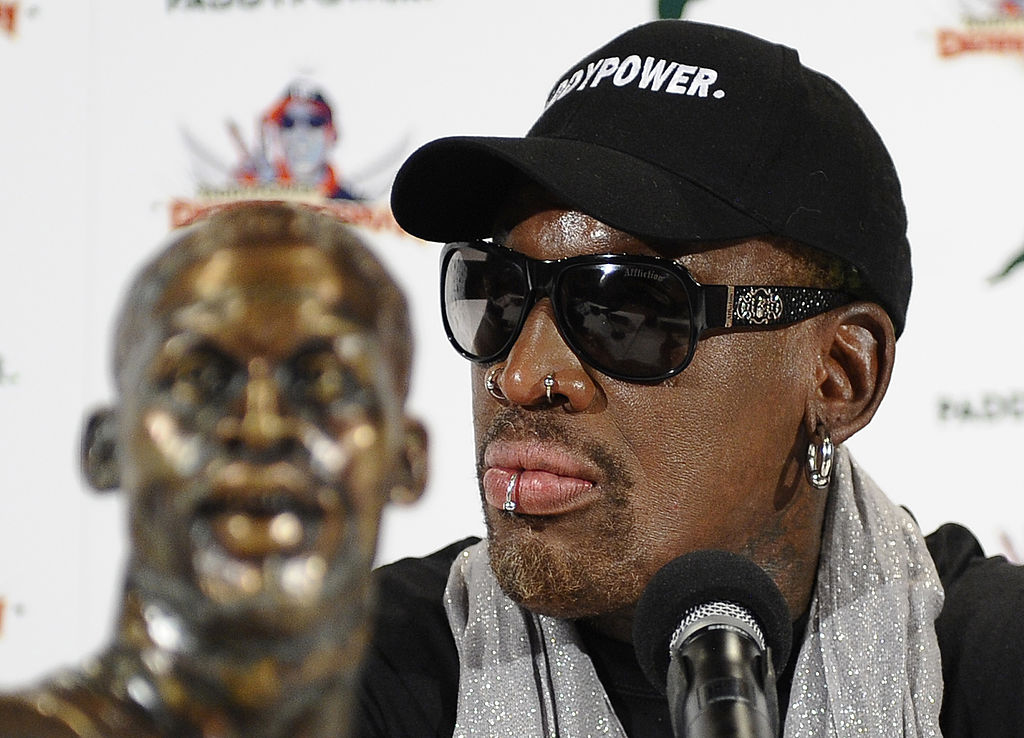 Dennis Rodman Could Be in Danger of Losing His Dear Friend Kim Jong Un
Dennis Rodman is a strange soul, but the craziest part about him might be his friendship with North Korea dictator Kim Jong Un.
Dennis Rodman was a character unlike any other on the basketball court. Since retiring from the NBA in 2000, nothing has changed for the Detroit Pistons and Chicago Bulls' star. His flamboyant personality has made Rodman some interesting friends in the last couple of years, and none more interesting than North Korea dictator Kim Jong Un. With Kim's uncertain health at this time, Rodman might soon lose one of his most peculiar companions.
How did Dennis Rodman and Kim Jong Un become friends?
Not many people outside of North Korea get to interact with Kim Jong Un. He's a protected man in an isolated country, completely shut off from the outside world. Only other world leaders get to meet Kim and rarely do they even come in contact with him.
President Donald Trump is one of the only Americans to meet Kim in recent years. Well, he and Dennis Rodman, of course.
Rodman first visited North Korea in 2013. He went to train the North Korean basketball team, but a friendship with Kim blossomed along the way. Rodman returned to visit his new buddy multiple times throughout 2013. During one trip, the two sat next to each other to watch a basketball exhibition game.
Rodman told Kim "you have a friend for life." This didn't sit well for most Americans who know Kim to be a brutal dictator and enemy to the United States, but Rodman believed he was the olive branch to bring the two countries together.
Kim Jong Un grew up watching the Chicago Bulls
Rodman wasn't just a random ambassador to signal a peace treaty between the U.S. and North Korea. He was actually one of Kim Jong Un's favorite basketball players growing up.
Kim was apparently a huge fan of the 1990s Chicago Bulls as a child. His babysitter at the time snuck in VHS tapes of Bulls playoff games for Kim to watch. He became infatuated with Jordan, Rodman, and the rest of the team.
So, Rodman's friendship with Kim didn't come randomly. It started as admiration for a great basketball player, something we all experienced growing up. The only difference is we would simply buy their jersey or put a poster on our bedroom wall. Kim went so far as to invite his hero to North Korea to teach the nation's basketball team a thing or two about rebounding.
Rodman's dear friend Kim Jong Un reportedly could be dead
It's still uncertain at this time, but reports have come out stating Kim Jong Un might be dead. The North Korean leader hasn't been seen in public since April 11. He missed his grandfather's birthday celebration four days later, which is an event Kim's never skipped.
There is no evidence of Kim's death, but his disappearance from the public eye has raised plenty of questions around the world. Even Rodman chimed in to offer his friend some prayers.
"I hope it's just a rumor that Marshal Kim Jong Un is sick," Rodman told TMZ Sports. "Hopefully I will find out more soon."
If Kim is still in good health, there's no doubt he'll find a way to watch his friend Dennis Rodman highlight the newest episode of ESPN's "The Last Dance" Sunday night.