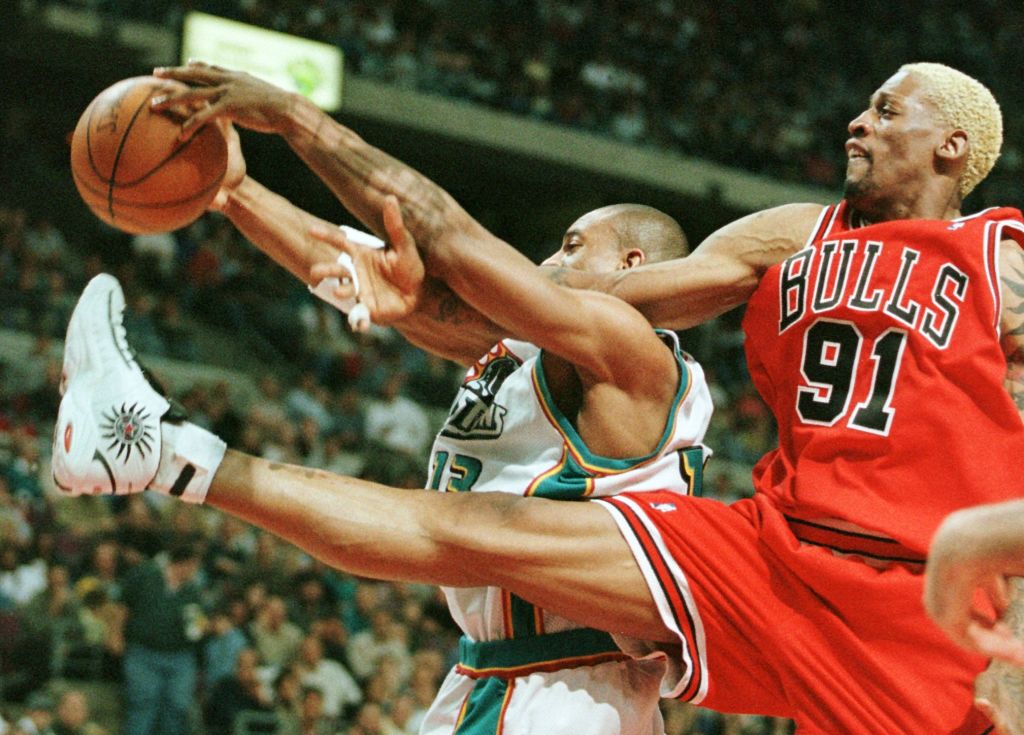 Dennis Rodman's Secret to Rebounding Success Revealed
Despite being a skinny 6-foot-7 forward in the NBA, Dennis Rodman was one of the league's biggest rebounders and had a unique reason why.
At 6-foot-7 and 210 pounds, Dennis Rodman wasn't the most feared physical specimen during his NBA playing days. Rodman's aggressiveness with the Chicago Bulls and the Detroit Pistons, along with the ability to get position, made him one of the league's best rebounders. His impressive rebounding success, however, is a result of more than just pure hustle, grit, and determination.
Dennis Rodman's Hall-of-Fame career
Dennis Rodman came into the NBA without the hype. He left with tons of it. Selected in the second round of the 1986 NBA draft out of little-known Southeastern Oklahoma State University, Rodman went on to be the league's best rebounder. Combine that with his colorful hair and flamboyance, Rodman turned himself into an NBA legend.
Rodman spent the first seven seasons of his NBA career with the Detroit Pistons. After a ho-hum first season, Rodman turned things up a notch in Year 2, averaging 11.6 points and 8.7 rebounds per game. That sophomore season was the lone time in his 14-year professional career when he averaged double figures in points scored.
Rodman was known for being a fierce rebounder despite his skinny frame and relative lack of height. Beginning in the 1991-92 season, Rodman led the league in rebounding average for seven straight seasons. The first two of those years, he averaged better than 18 rebounds per game. A tenacious defender, Rodman was on the NBA All-Defensive Team for eight seasons. He is a five-time NBA champion and was inducted into the Naismith Memorial Basketball Hall of Fame in 2011.
Rodman's off-the-court life
As much as Dennis Rodman made headlines on the basketball court, he was always in the news when off it. He took up professional wrestling when his basketball days were over. He also had his own MTV reality show called "The Rodman World Tour" back in 1996 when he was still a member of the Chicago Bulls. Rodman even wore a wedding dress one day, saying he was marrying himself.
In 2008, Rodman had legal and alcohol issues and checked himself into a rehab center. "Yes, Dennis checked into an outpatient rehab center in Fort Lauderdale today," Darren Prince said in 2008. "His life has not been going smoothly for the last few months since his divorce. He has not been able to see his kids. And he has been drinking too much."
In 2012, Rodman faced jail time after it was reported he had owed more than $850,000 in child and spousal support. "In all honesty, Dennis, although a very sweet person, is an alcoholic," said Peggy Williams, his financial advisor. "His sickness impacts his ability to get work."
Rodman's unique secret to successful rebounding
Former Detroit Pistons teammate Isiah Thomas once caught Dennis Rodman slacking (or so he thought) during pregame warmups. Thomas, Detroit's Hall-of-Fame point guard confronted Rodman, telling him he needed to participate.
"I said 'Hey, come on, you have to participate," Thomas recalled. "Everybody's shooting lay-ups, you have to shoot lay-ups too.' And he said, 'I'm just watching the rotations on the basketball.'
"I said, 'Excuse me?' He said 'Like, when you shoot, your ball spins three times in the air. Joe's sometimes has three-and-a-half or four times.' That's how far Rodman had taken rebounding, to a totally different level, like off the charts. He knew the rotation of every person that shot on our team – if it spins sideways, where it would bounce, how often it would bounce left or right. He had rebounding down to a science, and I never heard anyone think or talk about rebounding and defense the way he could break it down." Thomas later went on to say that when it came to basketball IQ, he would label Rodman a genius.