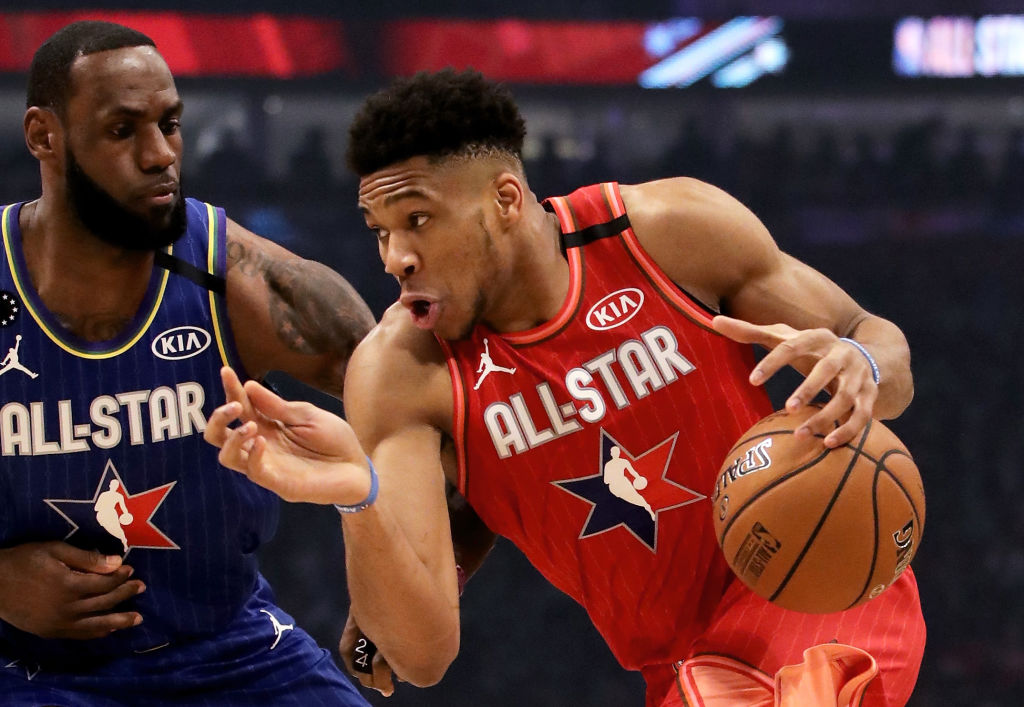 LeBron James or Giannis Antetokounmpo for MVP? HOF Guard Isiah Thomas Weighs In
LeBron James or Giannis Antetokounmpo for MVP? Former Detroit Pistons Hall of Fame guard Isiah Thomas gives his thoughts.
If the NBA season ended today, the race for the league's Most Valuable Player would likely be down to two players. Giannis Antetokounmpo of the Milwaukee Bucks, the reigning MVP, has his team with the league's best record. LeBron James of the Los Angeles Lakers is having another monster season and has his team atop the Western Conference. In this tight race, former Hall of Fame guard Isiah Thomas offered his take on how it might go down.
The case for Giannis Antetokounmpo
Giannis Antetokounmpo is shooting for his second straight MVP and would be seen by many as the frontrunner this season as well. Antetokounmpo and the Milwaukee Bucks boast the league's best record at 53-12.
Antetokounmpo, in 57 games, is averaging 29.6 points and 13.7 rebounds this season. Both of those numbers are higher than when he won the award last season, despite playing almost two fewer minutes per game. A year ago, the Greek Freak finished the season with a 27.7 points-per-game average, while pulling down 12.5 rebounds per contest.
Milwaukee Bucks beat writer, Matt Velasquez of the Milwaukee Journal Sentinel, said it's tough to overlook Antetokounmpo's better numbers and he believes his supporting cast is better than last year which should translate into more wins.
" It was hard to believe Giannis Antetokounmpo when he said this summer that he's only 60% of what he can be," Velasquez said. "And yet, here we are with him putting up even better numbers than his MVP season. His incredible work ethic and unrelenting style of play have led to greater dominance, improved playmaking and now a confident midrange jumper and – more importantly – 3-point shot. It also helps that the Bucks have assembled a deep roster of players who fit well around him."
The case for LeBron James
LeBron James is an MVP candidate every season. James already has four Most Valuable Player Awards under his belt and is knocking on the door to secure his fifth.
James, a 16-time NBA All-Star, is in his second season with the Los Angeles Lakers and is having yet another stellar season while showing off his versatility. Through 60 games this year, James is averaging 25.7 points per game despite being the team's best playmaker. James leads the entire NBA in assists per game at 10.6.
James' teammate Jared Dudley has seen an up-close view of James' performance this year and he believes his game is more well-rounded than Antetokounmpo's.
"LeBron where he's at now, leading the league in assists. Getting challenged by Anthony Davis defensively and not only holding the challenge but taking the challenge to a whole other level," Dudley said. "Going toward the end, he's guarding the second- or third-best players in the league, in my opinion, in Giannis and Kawhi. He's guarding them at 35. He's guarding them the majority of the game, fourth quarter, with his reputation on the line defensively."
Detroit Pistons legendary guard Isiah Thomas gives his thoughts
Former Detroit point guard and Hall of Famer Isiah Thomas knows a thing or two about basketball. He admitted the race for MVP between LeBron James and Giannis Antetokounmpo was a tight one and said it would come right down to the wire.
Thomas said the numbers are so close between the two players and the only thing separating them was the fact the Bucks had a better record than the Lakers. He went on to say the right before the season was suspended, the Lakers seemed to be peaking, while the Bucks were coming off three straight losses.
"It was going to be a fantastic finish down to the end because 'Bron had definitely been making his move and you know, stating his case for being the MVP this year," Thomas said on the latest episode of the Scoop B Radio Podcast. "Giannis has been the frontrunner the whole year, but I thought before the season was suspended LeBron and the Lakers, they were making their move. And they were only two games in the loss column behind the Milwaukee Bucks. And Milwaukee and Giannis at that time — Giannis was a little banged up and Milwaukee wasn't playing as well and I made the point that if the Lakers finish even or with a better record than the Milwaukee Bucks then you have to say LeBron James is the MVP of the League.
"The only reason now is that we're saying Giannis still the MVP and the best player is because the only thing that's separating them is that the Milwaukee Bucks currently have a better record than the Lakers. But if the Lakers end up with a better record, then there's no doubt about it. LeBron James is the MVP of the League."