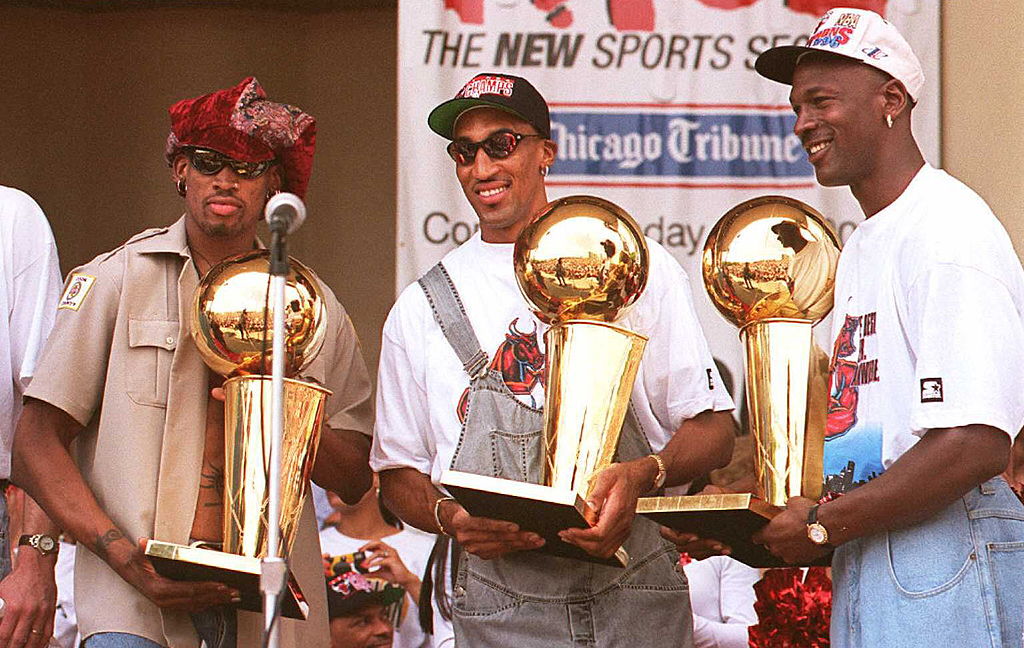 Dennis Rodman Says Scottie Pippen Was the Best Player in the World When Michael Jordan Retired
Dennis Rodman appeared on ESPN's First Take Monday and presented a bold take about Scottie Pippen in the 1993-94 season.
The premiere of ESPN's documentary "The Last Dance" aired Sunday night, and it sparked plenty of conversation about the 1990s Chicago Bulls. One of the most fascinating topics that arose was whether or not Scottie Pippen was underrated. Dennis Rodman appeared on ESPN's First Take Monday to give his opinion on the debate. Rodman didn't mince words, claiming Pippen was the best player in the world when Jordan briefly retired.
Scottie Pippen was a No. 2 before the 1993-94 season
Ever since Pippen was drafted in 1987, he played the role of second fiddle to Michael Jordan. That's obviously no knock on Pippen. Anyone in the world would've been Jordan's No. 2 at the time.
In a sense, Pippen was underappreciated because of his status on the Bulls. No matter how well he played or how important he was to the team, Jordan would get most of the credit.
Even as Chicago's No. 2 Pippen averaged over 16 points in four straight seasons leading up to 1993-94. He also averaged more than 6.7 rebounds and 5.4 assists in each of those four seasons. Pippen was a pivotal piece of a team that won three consecutive NBA titles from 1991-93.
The NBA world always regarded Pippen as a top player, but maybe not an elite one on par with Jordan, Charles Barkley, or Hakeem Olajuwon at the time. In 1993, everyone finally got a glimpse of what Pippen would look like as the star of his own team.
Pippen became the Bulls' No. 1 when Jordan retired in 1993
In one of the most shocking announcements in professional sports history, Michael Jordan left the NBA at the height of his powers to play baseball. He left Pippen as the Bulls new No. 1 for nearly two full years.
Pippen did not disappoint. In the first season without Jordan, he scored a career-high 22 points per game. Pippen also set career highs in rebounds (8.7) and steals (2.9) per game.
Pippen became a dominant force on both ends of the floor without Jordan. Before 1993-94 he was a great second option. Now, he was a star.
He led the Bulls to a 55-27 regular season record in his lone season as the top dog. Pippen was one game away from leading Chicago to an Eastern Conference Finals appearance, but the Knicks took them out in seven games.
Dennis Rodman said Scottie Pippen was the best player in the world
Rodman didn't mince words when asked about Pippen on First Take Monday morning. He said that Pippen was underappreciated as a Bull and that he was the best player in the world when Jordan retired.
"When Michael left, Scottie took over, and the next thing you know he was the best player in the world and people don't know that," Rodman told First Take.
Pippen didn't get much time to prove he could be the best player in the NBA. Jordan returned at the end of the 1994-95 season and assumed his position as the Bulls' star again. Whatever your opinion on Pippen is, his teammates clearly felt he was a superstar, with or without Jordan.