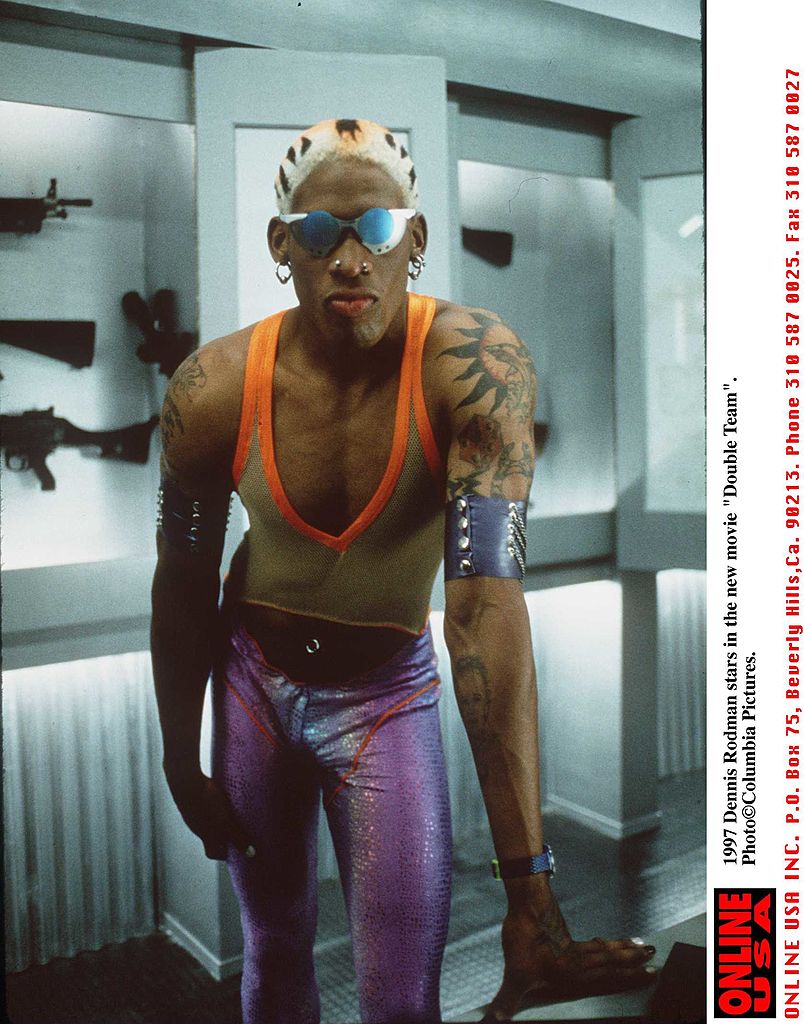 Dennis Rodman Got Great Career Advice From a Critic
Former Chicago Bulls star Dennis Rodman made movies during his NBA career, including "Double Team" with some well-known Hollywood names.
Dennis Rodman may have pulled down 11,954 rebounds in his 14-year NBA career, but there was little chance he was going to rebound from his movie debut. It isn't so much that the former Chicago Bulls defensive stalwart was awful on the screen but rather that he associated himself with a turkey of a script that resulted in a box-office bomb.
Dennis Rodman expands his horizons in Hollywood
For a guy who didn't score a lot of points in his career, Dennis Rodman certainly earned a lot of attention on and off the basketball court. At one time or another, Rodman was been front-page tabloid fodder for his marriage to actress/model Carmen Electra and association with Madonna, his visits with North Korean dictator Kim Jong Un, and wearing a wedding gown to an appearance to promote his autobiography.
Rodman managed to weave in a Hollywood career during basketball's offseason, beginning with appearances in Baywatch, 3rd Rock from the Sun and a few other TV series. Rodman's first movie role was as a sidekick in the 1997 picture Double Team.
Double Team had well-known names associated with it including actors Jean-Claude Van Damme and Mickey Rourke as well as respected Asian director Tsui Hark, who was making his American debut behind the camera. Those names did not translate into critical or commercial success.
The plot explains why this Dennis Rodman movie bombed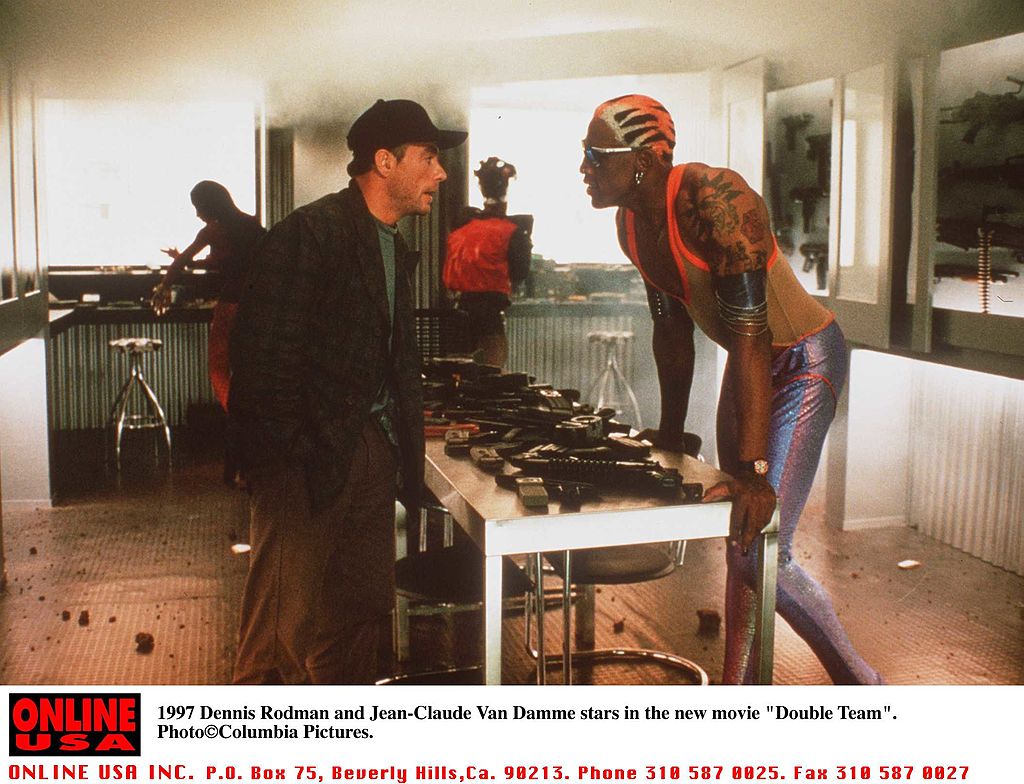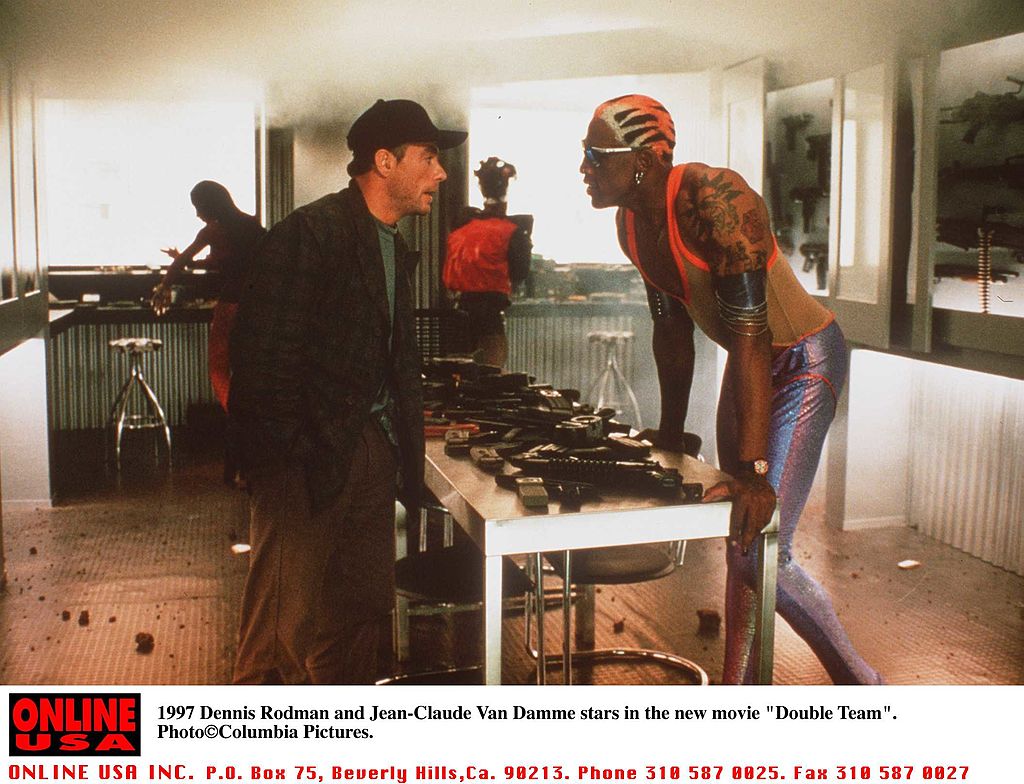 One need not dig deeply into the plot to understand why Double Team was destined to be savaged by critics and largely ignored in theaters. Billed as an action-comedy, it received an 11% score on Rotten Tomatoes and grossed a little better than $11.4 million at the box office – well under the reported $30 million cost to make it.
Van Damme portrayed counter-terrorism agent Jack Quinn, who was assigned to bring Rourke's character to justice. Rourke's character kidnapped Quinn's pregnant wife and somehow placed the newborn son on the arena floor of the Roman Coliseum, which was rigged with land mines and guarded by a tiger.
Rodman's role was that of eccentric weapons dealer Yaz, Quinn's sidekick in the rescue attempt. Chicago-based film critic Roger Ebert's review noted that the quirky character didn't some like much of a creative stretch for Rodman and offered advice that he had already embraced to a degree in his NBA career:
"He looks like he's having fun, and that's crucial for a movie actor. His agent should have told him, though, that if you can't be the hero, be the villain. That's always a better role than the best friend."
Ebert also contributed this gem: "It will give you some notion of this movie's strangeness if I tell you that Dennis Rodman does not play the most peculiar character."
One red carpet that no actor wants to walk
Double Team and Dennis Rodman did not come within a mile of winning any coveted awards. Rather, Rodman was set up as the fall guy in the annual Razzies, "awards" that are meant to be 180 degrees opposite what the Academy Awards represent.
Rodman swept the Razzies for Worst New Star, Worst Supporting Actor, and Worst Screen Couple alongside Jean Claude Van Damme.
Luckily, Rodman has other honors to fall back on. He averaged only 7.3 points a game in 911 regular-season contests, but Rodman led the NBA in rebounding seven straight years beginning in the 1991-92 season. He played a huge role in the Chicago Bulls winning six championships in eight years and was selected to the NBA All-Defensive First Team seven times and was the Defensive Player of the Year twice.