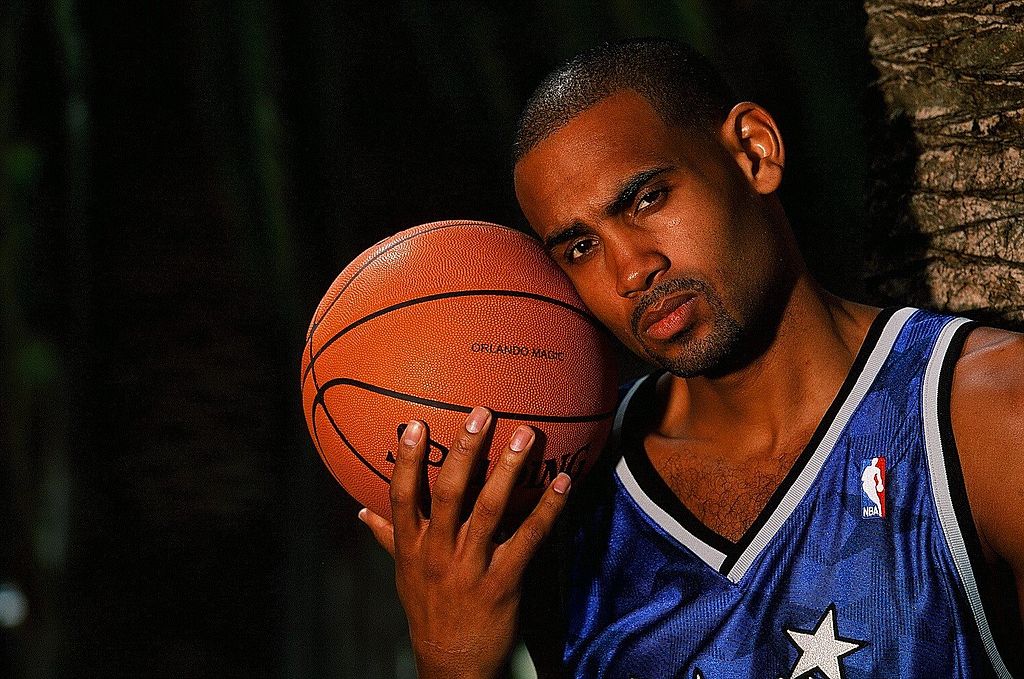 Grant Hill's Stunning Net Worth Helped Him Buy an NBA Team
Grant Hill assembled such significant net worth from his NBA career that he helped buy the Atlanta Hawks.
Before his body broke down, Grant Hill was well on his way to becoming one of the best players in NBA history. The uber-talented wing dominated at Duke before getting drafted third overall by the Detroit Pistons in 1994. And for the first six years of his NBA career, Hill torched opposing teams with his unique blend of size, strength and craftiness.
Unfortunately, Hill's stardom faded fast due to a nasty ankle injury. Despite never regaining his top form, Hill has experienced tremendous financial success off the court. In fact, his net worth is so ridiculous that it allowed him to help purchase the Atlanta Hawks in 2015.
Grant Hill was one of NBA's top stars before injuries took over
From a basketball standpoint, few players have ever possessed Hill's complete skill set. Tipping the scales at 6-foot-8, 225 pounds, the Dallas native became a household name during his collegiate days at Duke. The College Basketball Hall of Famer famously threw a 75-foot pass to Christian Laettner, who drilled the game-winning shot against Kentucky. Hill averaged 14.9 points and won two national titles for the Blue Devils.
From the day the Detroit Pistons drafted him, Hill wasted no time asserting himself as one of the NBA's best young talents. As a rookie, he averaged 19.9 points on 47.7 percent shooting. Over the next four years, he averaged about 21 points per game and made the NBA All-Star team every year. Hill enjoyed his best campaign in 1999-2000 when he finished third in the league in scoring with 25.8 points per game. Some of the names behind him that year included Karl Malone, Jerry Stackhouse, Tim Duncan, Kevin Garnett and 21-year-old Kobe Bryant.
Unfortunately, Hill injured his ankle at the end of the 2000 season and he never fully recovered. The one-time superstar joined the Orlando Magic but not even surgery could fix his recurring ankle issues. The one-time dynamic playmaker did manage to stick around as a role player until he retired after his age-40 season in 2012-13.
Hall of Famer transitioned to TV after retirement
After retiring from the NBA, Hill embarked on a career path many ex-athletes do: television. The seven-time All-Star became a host for NBA TV's NBA Inside Stuff and also became a broadcaster for CBS. Hill's insight and high-level experience provided a unique view into the game he once dominated:
"I'm fired up and excited. One of the sort of neat ways you stay around the game and tell the stories of the best basketball players in the world. It's quite an honor to do so," Hill said of his latest endeavor. "Ahmad really put his stamp on the show and made the show hugely successful. Those are giant shoes to fill. I know a thing or two about coming after greatness, being called 'The Next' or whatever."

Besides his work covering the NBA, Hill also became involved in other aspects of film. He starred in several TV series, including Mike and Mike and Open Court. The former No. 3 overall pick even produced several documentaries.
Grant Hill helped purchase the Atlanta Hawks in 2015
In 18 years in the NBA, Hill managed to build quite a fortune. He earned nearly $143 million playing for the Pistons, Magic, Suns and Clippers. Hill's highest NBA salary came in 2006-07 when he got paid $16.9 million from the Magic.
Besides his NBA and television earnings, Hill made sound financial decisions that have paid off massively. In 2018, he signed a lifetime deal with Fila that pays him about $10 million annually. He also has a private company called Hill Ventures, which invests in commercial real estate ventures.
Hill's financial dominance off the court set him up to take over the NBA once again. However, this time it came from a different perspective. In 2015, Hill was part of a group that purchased the Atlanta Hawks for $850 million. Currently, the NBA Hall of Famer holds the title of Vice Chair of the Board. According to Celebrity Net Worth, the father of two has a net worth of $250 million.