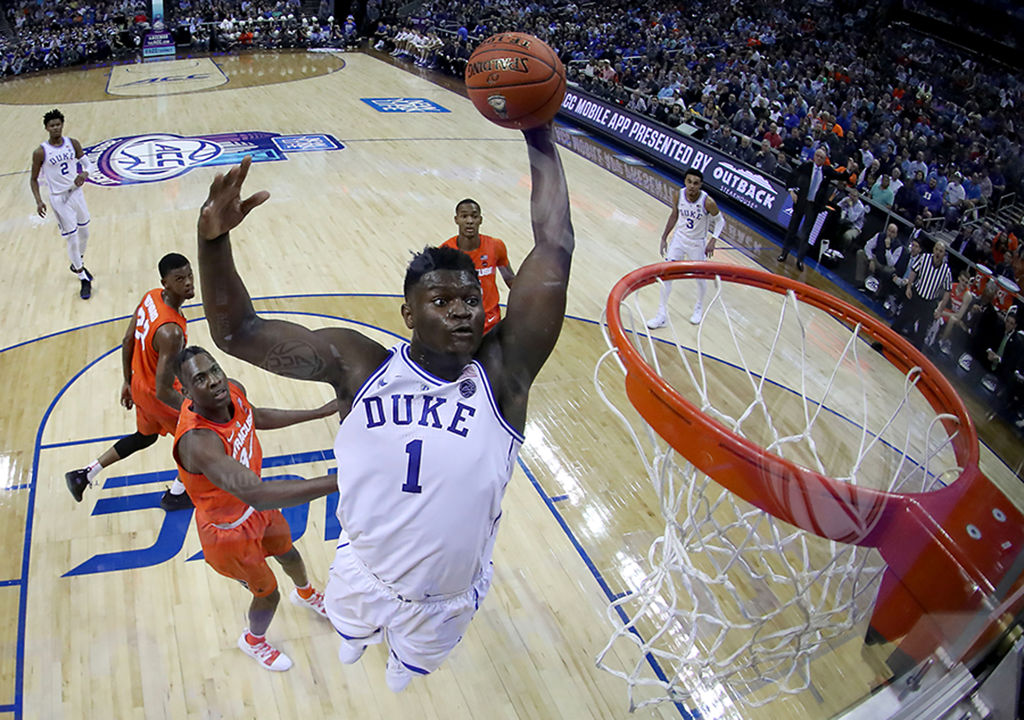 Zion Williamson Is Quickly Erasing the Stigma That Duke Players Can't Survive in the NBA
New Orleans Pelicans rookie Zion Williamson is helping erase the stigma that Duke players can't survive in the NBA.
There was a time not so long ago when the knock on the Duke men's basketball team was that not many of their players went on to have successful NBA careers. Sure, the Blue Devils were always in the mix when it came to the NCAA tourney, but when it came to playing at the next level, Duke players were mediocre at best. Today, the stigma of those Blue Devils struggling for life in the NBA no longer exists thanks to a rookie named Zion Williamson.
Duke has had so many first-round busts in the NBA

What happened to guys like Trajan Langdon, Cherokee Parks, Bobby Hurley, and Jabari Parker?
All were all highly successful players at Duke, who were high first-round selections in the NBA and failed to live up to their expectations. Throw in Jahlil Okafor, Shane Battier, Gerald Henderson, and Shelden Williams and you still only have a fraction of Blue Devils who went on to be NBA busts.
Guys like Mike Dunleavy, Danny Ferry, Mark Alarie, and, Kyle Singler have spent time in the NBA only as role players when it appeared they would be stars after what they accomplished in college. The list is endless.
Even Duke hero Christian Laettner struggled. Although he did participate in one NBA All-Star Game in 1997 and lasted 15 seasons in the league, he bounced around to play for six different teams and averaged 12.8 points in his career.

Grant Hill and Kyrie Irving bucked the trend
While Bobby Hurley and Jay Williams, both Duke guards selected in the top 7 of their respective NBA drafts, had their professional careers cut short because of motor vehicle accidents, many of the Duke draft busts fell short because of performance. 
One of the many Duke graduates who wasn't an NBA bust was Grant Hill, drafted by the Detroit Pistons with the third pick in the 1994 draft.
Hill blossomed from the beginning, averaging 19.9 points in his rookie season. He went on to become a seven-time NBA All-Star and play 18 seasons before injuries caught up to him. Kyrie Irving is another former Duke player to go on and have a highly successful NBA career. Irving, however, didn't play very long under Mike Krzyzewski at Duke. Irving played in just 11 games and averaged 17.5 points per game. Irving went on to win the NBA Rookie of the Year in 2012 and has been a six-time NBA All-Star.
Zion Williamson leading the way for young Duke grads in the NBA
Yes, it's still early, but former Duke star  Zion Williamson is making some noise in his first season in the NBA.
Williamson, selected first overall by the New Orleans Pelicans, appeared to be heading toward the bust label as he missed the first three months of the season, but has since proven he was worth being the top selection in the 2020 NBA draft.
In his 19 games with the Pelicans, Williamson is averaging 23.6 points and 6.8 rebounds per game. He became the first teenager in the NBA to score 20-plus points in 10 straight games in the NBA.
Boston Celtics star Jayson Tatum is another Duke grad lighting it up in the NBA. In the month of February, Tatum caught fire, averaging better than 30 points per game.
Other Duke graduates making some noise in the NBA today are Brandon Ingram, Justise Winslow, and J.J. Redick.