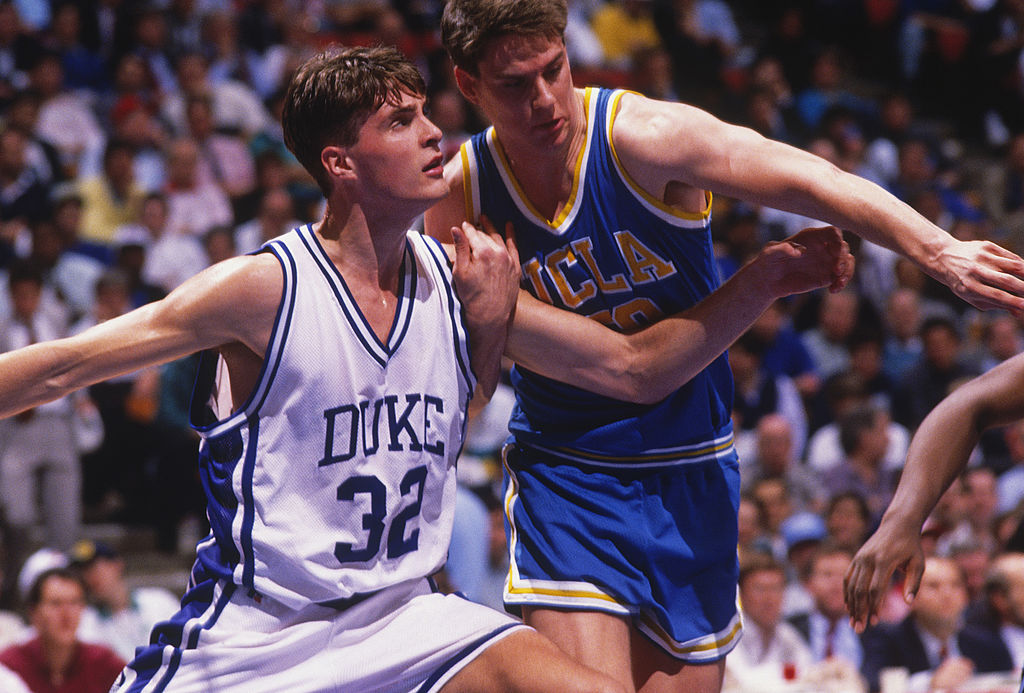 Where is Duke's Most-Hated Man, Christian Laettner Now?
During his time at Duke, Christian Laettner became the most hated man in college basketball. Where is the forward now?
When it comes to certain sports teams, there's no middle ground. If you're a New York Yankees fan, for example, you love the team; if you're not, you probably hate them with a passion. The same goes for Coach K and his Duke Blue Devils, but, in their ranks, one man stands alone: Christian Laettner.
During his NCAA career, Laettner established himself as one of college basketball's best, and most hated, players. It's been almost 15 years, however, since the forward hit the hardwood. So, where is Christian Laettner now?
Christian Laettner's impressive time at Duke
During high school, Christian Laettner started making a name for himself on the basketball court. He received his first college recruiting letter as a freshman; before long, the nation's biggest programs came calling.
Laettner eventually narrowed his options down to 11 schools; he decided that he wanted to play in the ACC and eventually settled on Duke. That decision would go on to change the course of college basketball history.
While his numbers weren't eye-popping as a freshman, Laettner developed into a legitimate star. In his sophomore season, the big man averaged 16.3 points and 9.6 rebounds as a sophomore; the next season, he scored almost 20 points per night as the Blue Devils captured their first NCAA title in program history. In his senior campaign, he managed to take things even further, knocking down one of the biggest shots in sports history en route to a second consecutive National Championship.
When his college career was done, Christian Laettner had piled up 2,460 points, 1,149 rebounds, two National Championships, and every major player of the year award; the big man even earned a spot on the Dream Team but didn't see much playing time. He had become emblematic of Duke basketball; he was incredibly talented and successful, but also hated by those outside of Durham.
Failing to find a home at the NBA level
Based on his success in college, Christian Laettner seemed like a can't miss NBA prospect. The Minnesota Timberwolves agreed, selecting the forward third overall in the 1992 NBA draft; the only players taken before him were Shaquille O'Neal and Alonzo Mourning.
Laettner's NBA career started brightly in Minnesota, as he averaged 18.2 points and 6.6 rebounds per game and earned a spot on the league's All-Rookie Team. After that season, however, he'd never reach the same statistical heights.
The big man spent four total seasons with the Timberwolves, averaging 17.2 points, 8.1 rebounds, and 3.2 assists in Minnesota. Laettner then started bouncing around the league, spending time in Atlanta, Detroit, Washington, Dallas, and Miami.
When everything was said and done, Christian Laettner played 868 NBA games over 13 seasons and averaged 12.8 points, 6.7 rebounds, and 2.6 assists per night. He was solid enough but didn't exactly mold of a 1990s big man, who was expected to bang on the low block; if anything, he might have fared better in today's NBA, where could stretch the floor more easily. On the whole, Christian Laettner wasn't a total bust, his time in the pros was a disappointment after dominance on the NCAA's biggest stage.
Where is Christian Laettner now?
Despite his status as one of college basketball's most hated players, Christian Laettner has kept a pretty low profile since retiring from the NBA.
The former Duke Blue Devils big man briefly served as an assistant coach of the Fort Wayne Mad Ants in the NBA D-League; he also tried to help turn around a struggling high school team on an Olympic Channel TV series. He also runs his own series of basketball camps and clinics through the Christian Laettner Basketball Academy.
While your feelings about Christian Laettner will vary depending on your college basketball fandom, there's one thing we can all agree on: he made one heck of a shot all those years ago against Kentucky.