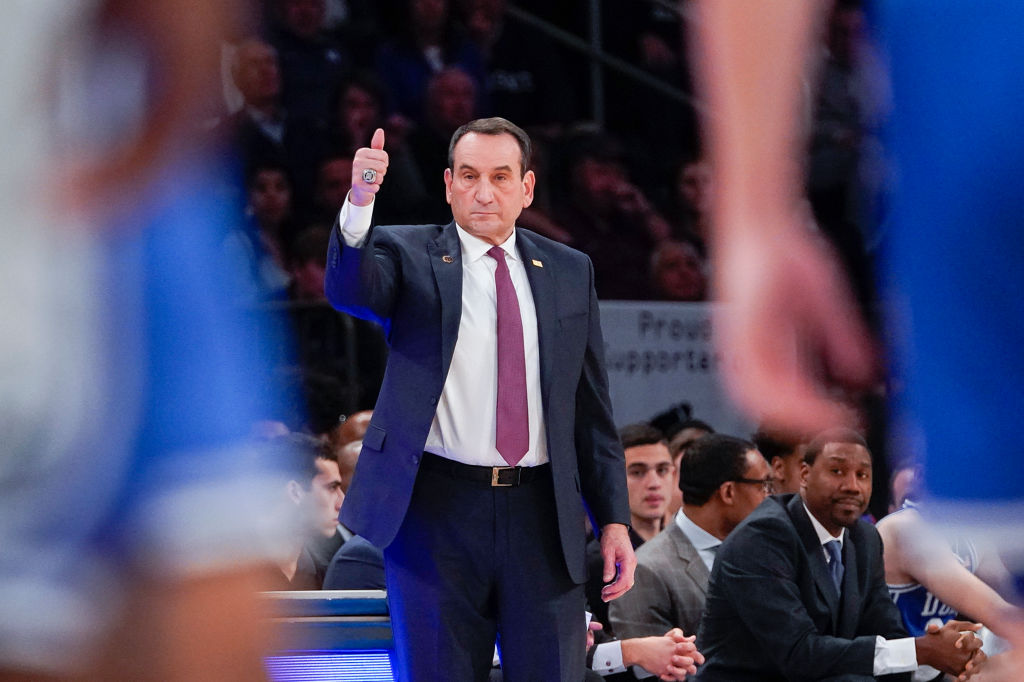 What is Coach K's Net Worth?
Coach K is readying his team for a March Madness run, but what does the winningest college coach ever make and what is his net worth?
Duke head coach Mike Krzyzewski is one of the greatest and most famous coaches in the history of sports, not just college basketball. Coach K is renowned not only for his coaching successes but for his mentorship of young men to become the best people they can be on and off the court.
Coach K's coaching career has spanned over four decades, and he makes more money per year than any coach in college basketball at 73 years old. So how much money does Coach K make and what is his net worth today?
Coach K's Duke coaching career
Krzyzewski has been the head coach at Duke since 1980. In his 40 years at the helm, Coach K has built a dynasty unlike anything else ever seen in college sports. Coach K has won five national championships with Duke (1991, 1992, 2001, 2010, 2015). His 1,157 wins as a head coach are the most of any coach in Division I men's basketball history.
Coach K has achieved an incredible .789 winning percentage at Duke in 40 seasons. Duke has failed to make the NCAA Tournament just once in the last 36 seasons. Krzyzewski has the most Final Four appearances (12), NCAA Tournament wins (97), ACC Tournament championships (15), and weeks ranked No. 1 in AP Poll (124) of any coach in NCAA history.
Coach K's NCAA coaching accomplishments are beyond comprehension. It would be easier to list the NCAA records that he doesn't own.
Coach K's coaching career outside of Duke
Coach K is most well-known for his success at Duke, but he didn't start there. Krzyzewski's first collegiate coaching job was at his alma mater, Army. He spent five seasons as the head coach in West Point, where he led Army to one NIT berth and a 73-59 overall record.
On the professional level, Coach K also served as the head coach of USA Basketball dating back to 2005. The coaching legend led the U.S. National Team to an incredible 88-1 record during his tenure as head coach. He won three Olympic gold medals and two FIBA World Cup gold medals. His 10 total major championships are one behind Phil Jackson for the most of all time.
Coach K's salary and net worth
Coach K is the highest-paid head coach in college basketball today. According to Stadium, he makes $8.98 million per year in salary, almost a million dollars more than Kentucky's John Calipari. For comparison, Duke's President Richard Brodhead only makes $1.1 million in salary.
Coach K's net worth, according to Celebrity Net Worth, is $40 million. That number only figures to grow larger as Krzyzewski continues coaching. No number is too high for the most accomplished NCAA Division I men's basketball coach ever.
Coach K could be the first head coach in NCAA basketball history to eclipse a salary of over $10 million in the coming years. His $40 million net worth will only soar with the passing years.