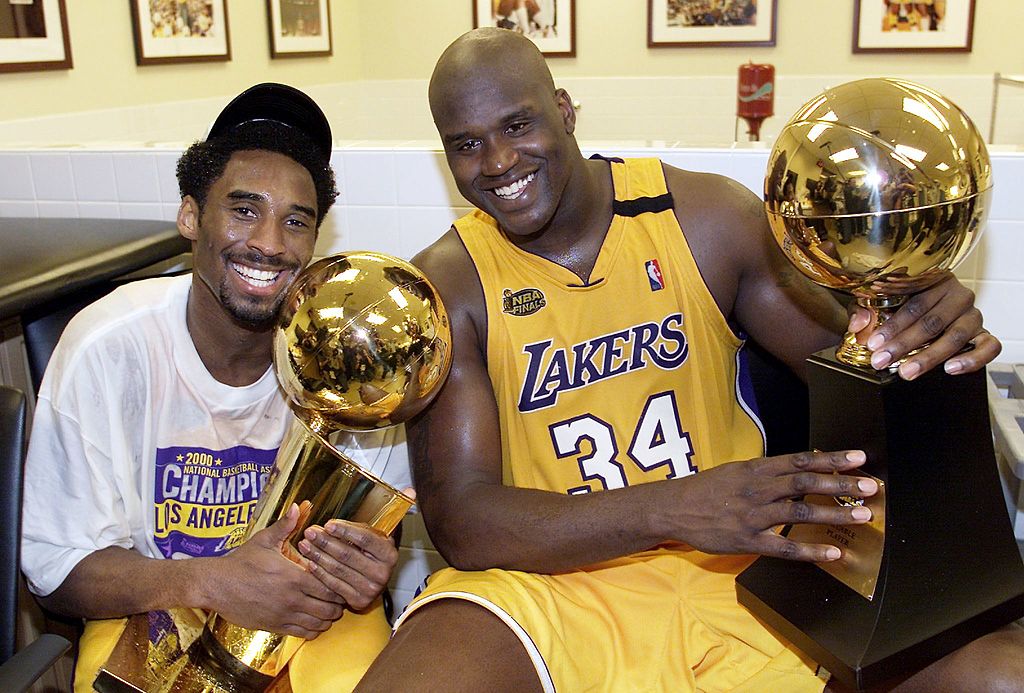 Shaquille O'Neal Vows to Change His Life After Kobe Bryant's Sudden Death
After Kobe Bryant's tragic death, Shaquille O'Neal has vowed to change his life in one specific way.
While the sports world has had plenty of dynamic duos, Kobe Bryant and Shaquille O'Neal had to be one of the best. During their time with the Los Angeles Lakers, the pair seemed unstoppable; while they didn't always get along, either man was capable of dominating any given game. In more recent years, they were able to put their issues behind them, making Bryant's untimely passing especially tough for Shaq.
The big man isn't simply mourning, though. He's already made one significant change to his life, as inspired by his late teammate.
Kobe Bryant and Shaquille O'Neal's relationship
While Shaquille O'Neal entered the NBA a few years before Kobe Bryant, both men arrived in Los Angeles at the same time. The pair didn't immediately click; Shaq is famously fun-loving, while Kobe always had an air of seriousness about him. Eventually, verbal barbs—and occasional blows—started flying.
Prior to the Lakers' 2000 campaign, Phil Jackson took over as head coach and instituted his famous triangle offense. That system proved successful, allowing Shaq and Kobe to fill their own unique roles on the court; with their stars working together, the Lakers would win three-straight NBA titles. Even winning, though, couldn't solve everything. Before long, O'Neal and Bryant were back at each other's throats, arguing over fitness, work ethics, and how they should co-exist on the court.
Eventually, things became too much to bear. After a disappointing 2004 season—despite bringing in Gary Payton and Karl Malone, the Lakers were upset by the Detroit Pistons in the NBA Finals—Shaq was traded to the Miami Heat. His feud with Kobe would continue for a few more seasons, but the two men eventually put their differences aside.
Reacting to Kobe Bryant's tragic death
Despite their disagreements, Kobe Bryant and Shaquille O'Neal spent a great deal of time together. That bond made the guard's untimely death especially painful for the big man.
On Tuesday night, Shaq paid tribute to his late teammate on a special edition of The NBA on TNT. "I haven't felt a pain that sharp in a while," he explained.
"Our names will be attached together for what we did," O'Neal continued. "People always ask about our relationship, and I tell them it's just like me and Charles [Barkley]. You got two strong-minded people that are going to get it done that way. You're going to say certain things, [but] the respect will never be lost. When it comes to being inside the lines and winning, that's what me and him did."
Shaq has already made a major change
O'Neal isn't simply mourning the loss of his teammate, though. He's already taking concrete steps to change his life.
"Look, I'm all about being hard and all that, but after yesterday, I'm gonna to have to delete my beef and my confrontation clause," Shaq explained on The Big Podcast with Shaq. "I don't want to do that anymore because you know, you never know."
He echoed those sentiments on Tuesday night. "[Bryant's death] definitely changes me," he said. "I work a lot. You guys know what I do. I probably work more than the average guy. But now I've finally got to take time and say I love you … I'm going to try to do a better job of taking the time and reaching out to people. Because you just never know."
That's a lesson we can all stand to learn.