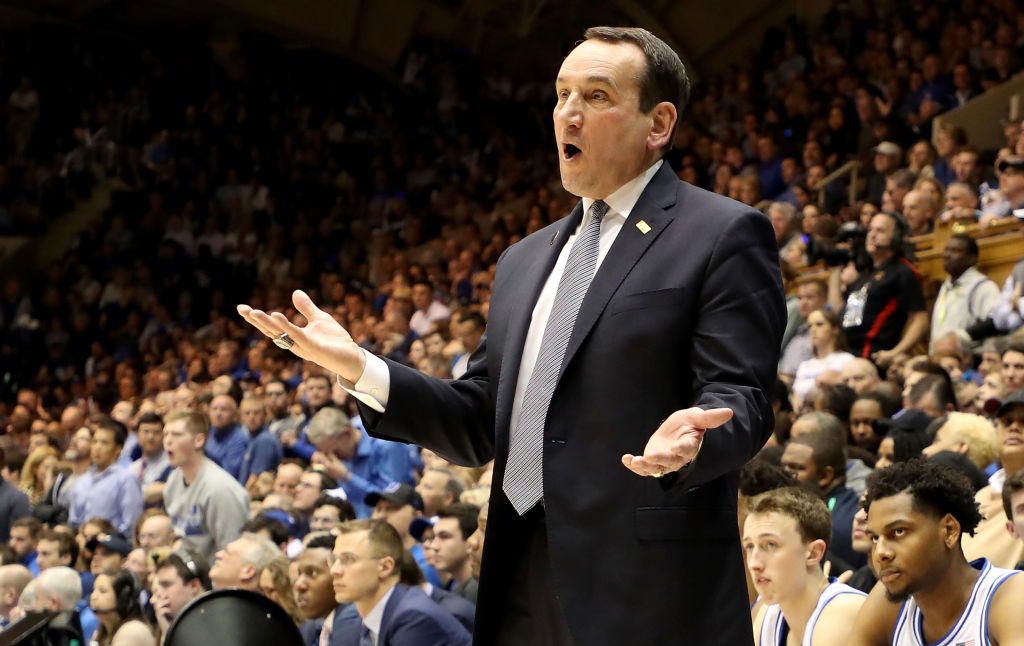 Where Has Mike Krzyzewski Coached Besides Duke?
Mike Krzyzewski will forever be associated with Duke University, where he has coached for 40 seasons.
Basketball coach Mike Krzyzewski is one of the most recognizable figures in college sports thanks to his unprecedented success over four decades at Duke University, which regularly plays on television, and his work as the head coach of three U.S. men's teams in the Olympics.
Coach K has run just one other college team
The 2019-20 season is Mike Krzyzewski's 40th as the head coach at Duke University. His teams have won at least 22 games in every season since an 18-13 record in 1996-96. Krzyzewski's record at Duke entering the 2019-20 season is 1,059-285.
Before accepting the job at Duke, Krzyzewski served as the head coach at the U.S. Military Academy in West Point, New York, for five years with a 73-59 record. His connection to West Point began as a student there; Krzyzewski was the Army team's captain as a senior in 1968-69 under coach Bobby Knight.
Krzyzewski fulfilled his five-year military obligation after graduating and coached service teams for three years in that time. After being discharged, he joined Knight's staff at Indiana as an assistant coach in 1974 and left after the season to accept the head coaching job at his alma mater.
Duke has been Mike Krzyzewski's home since the 1980-81 season
Mike Krzyzewski was appointed as head coach at Duke in March 1980 and has guided the team to the NCAA Division I Tournament in 35 of the past 36 seasons. His Duke teams have won 15 Atlantic Coast Conference championships and played in the NCAA Final Four a dozen times. Duke won the championship in 1991, 1992, 2001, 2010, and 2015.
On Nov. 15, 2011, the man known throughout the sports as "Coach K" registered his 903rd career victory to pass mentor Bobby Knight's record for Division I coaches. Two years later he became the first Division I men's coach to win 1,000 games with one school.
Krzyzewski reached another milestone with the Blue Devils on March 17, 2018, with his 1,099th victory to pass Tennessee women's coach Pat Summitt for the most wins by a Division I coach, men or women.
Winning his 1,123rd game in February 2019 made Krzyzewski the winningest NCAA coach ever at any level. He began the 2019-20 season with 1,132 victories, far ahead of Syracuse University's Jim Boeheim, second at 946 wins. Bobby Knight was still third at 902 wins.
Krzyzewski, an inductee in the Naismith Memorial Basketball Hall of Fame, has also worked his through the ranks of USA Basketball. He was an assistant coach on the Olympic teams that captured gold medals in 1984 and 1992.
He was appointed head coach of the national team in 2005 and steered the United States to gold medals in Beijing in 2008 (captained by Kobe Bryant), London in 2012, and Rio de Janeiro in 2016. Carmelo Anthony played on all three of those teams.
Mike Krzyzewski's coaching tree is impressive
Coach K has frequently been linked to NBA head coaching jobs since 1990 when the Boston Celtics offered him their job. The most noteworthy offer came in 2004 when he interviewed with the Los Angeles Lakers following Phil Jackson's resignation.
Many of his former players and assistant coaches have gone on to become Division I head coaches. The list includes Tommy Amaker at Harvard and Michigan, Mike Brey at Notre Dame, Johnny Dawkins at Stanford, and Steve Wojciechowski at Marquette.