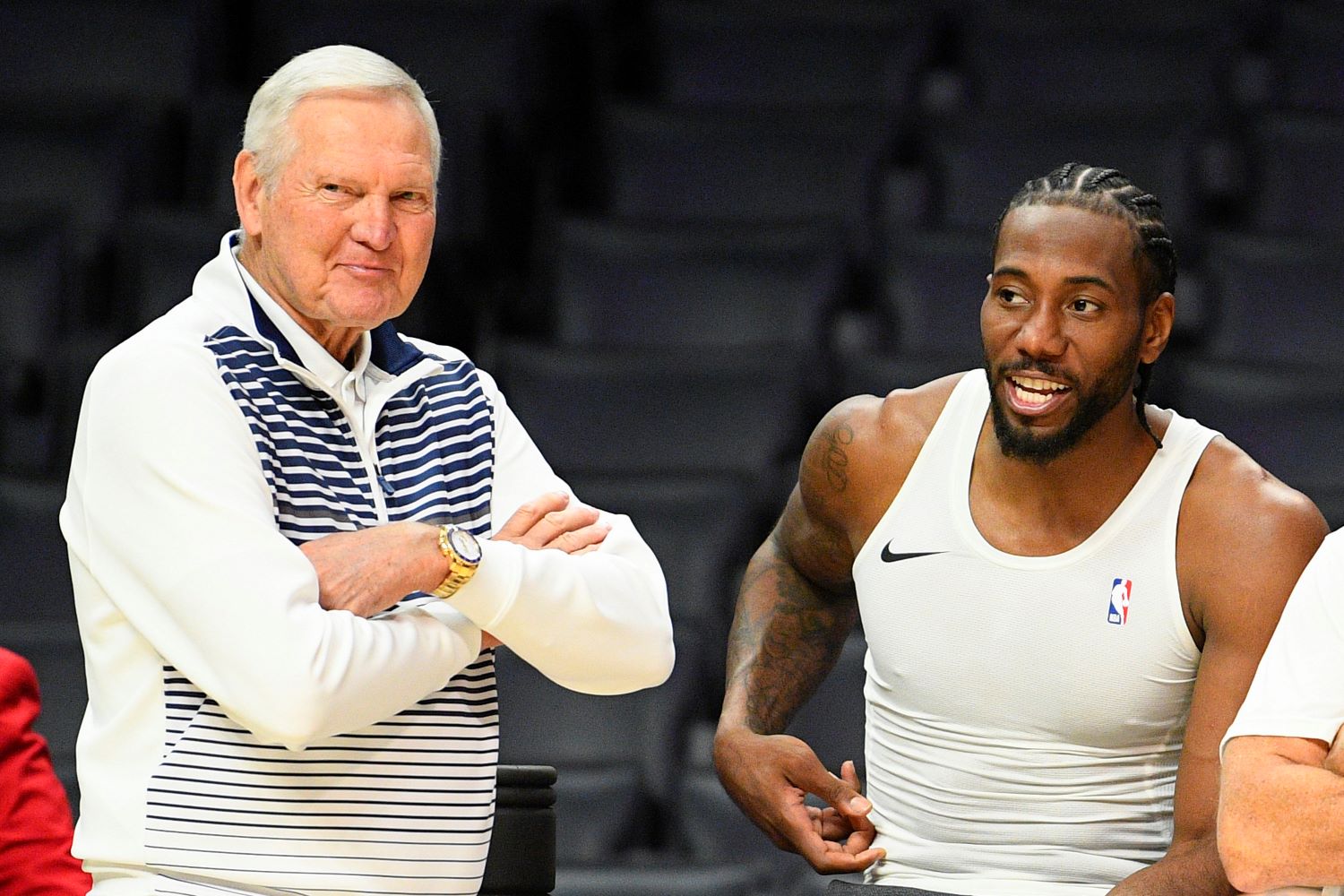 Jerry West Allegedly Owes a Man $2.5 Million For Bringing Kawhi Leonard to the Clippers
Jerry West faces a $2.5 million lawsuit from a man who claims to have played a significant role in Kawhi Leonard joining the Clippers.
Jerry West has amassed an impressive net worth during the course of his legendary NBA career as both an executive and as a player. The Los Angeles Lakers icon transitioned from making baskets to putting together championship rosters as an executive for several franchises.
But since 2017, West has worked for the LA Clippers in their front office. And a year-and-a-half ago, the franchise landed its biggest star by signing Kawhi Leonard to a three-year deal.
Apparently, though, that would never have happened without the help of a man who alleges the 82-year-old NBA executive owes him $2.5 million for bringing Leonard to LA.
Lakers legend Jerry West took his talents to the other LA NBA franchise in 2017
When you mention the name Jerry West, you immediately think of the Lakers. After all, he has spent the majority of his life with the iconic franchise.
The West Virginia native entered the NBA as the second overall pick of the 1960 draft class. Shortly after, the Lakers relocated from Minneapolis to LA. And for West, the city essentially became his permanent home.
A dynamic point guard who could dominate on both ends of the floor, West earned 14 All-Star berths and won a championship ring in 1972.
Once his playing career ended, he coached briefly before transitioning to a front-office role. For decades, West has excelled at putting together elite rosters headlined by the game's most electrifying stars. The Lakers became a dynasty in the '80s thanks to West's work as a general manager.
In addition, he brought Shaquille O'Neal and Kobe Bryant to LA. Obviously, that worked out well for the Lakers.
West took over GM duties for the Memphis Grizzlies from 2002-2007 before he became an executive board member with the Golden State Warriors in 2011. Of course, the Warriors became NBA champions just a few years later.
In 2017, West returned home to LA. Only this time he signed up to help turn the Clippers into champions, too.
Kawhi Leonard won a title in Toronto before signing with the Clippers
Kawhi Leonard succeeded in getting the San Antonio Spurs to trade him. However, he didn't exactly land in the most ideal spot for someone who doesn't like cold weather. But while his stay in Toronto may have been brief, Leonard transformed the Raptors into champions.
Still, he entered the summer of 2019 as the crowned jewel of a free-agent class that also included Kevin Durant, Klay Thompson, and Kemba Walker.
The battle for Leonard's services ended with the reigning NBA Finals MVP signing a three-year, $103 million deal with the Clippers. Don't forget, though, that that signing came just days after LA orchestrated a blockbuster trade for Paul George.
For the Clippers, landing Leonard represented a massive win on multiple levels. From a pure talent perspective, he gave them a top-three player (when healthy). It also spoiled Lakers fans' dreams of the two-time champion donning purple and gold. Plus, it gave Clippers fans a pair of superstars to support for years to come.
In his first season in LA, Leonard fell short of leading the team to an NBA title. And as he tries to prove Jerry West right for investing more than $100 million in him (plus the massive cost to acquire and retain George), the iconic NBA executive is dealing with a $2.5 million lawsuit from a man who claims to have been the key to Leonard landing with the LA franchise.
West allegedly owes a man $2.5 million for bringing Kawhi to the Clippers
Although Jerry West has made a lucrative living as an NBA executive, he allegedly owes one man $2.5 million for a business deal involving one of the league's biggest stars.
TMZ Sports recently reported that Johnny Wilkes has filed a lawsuit against West because he claims the Clippers executive agreed to pay him $2.5 million to help bring Kawhi Leonard to LA.
According to the lawsuit obtained by TMZ Sports, Wilkes claims to have met West at the Staples Center on April 10, 2019, where he told the Clippers exec that he had close ties with Leonard and his uncle, Dennis Robertson. The two reportedly exchanged contact info before Wilkes claims West asked him to help court Leonard to the Clippers.
However, that demand came with a reported price of $2.5 million.
Wilkes then claims he told the Clippers they needed to first acquire Paul George (which they ultimately did) in order to entice Leonard into signing with them. He also said he gave the team vital information to use at a critical meeting with Leonard that took place that summer.
Wilkes even says he had a celebratory meal in Beverly Hills with West and others after the Clippers agreed to terms with the NBA's top free agent.
Although Wilkes seeks $2.5 million (plus damages), his lawsuit apparently came as a total surprise to Jerry West.
His representative told TMZ Sports the NBA executive did nothing improper and that he didn't even know he was being sued.
Like Sportscasting on Facebook. Follow us on Twitter @sportscasting19.