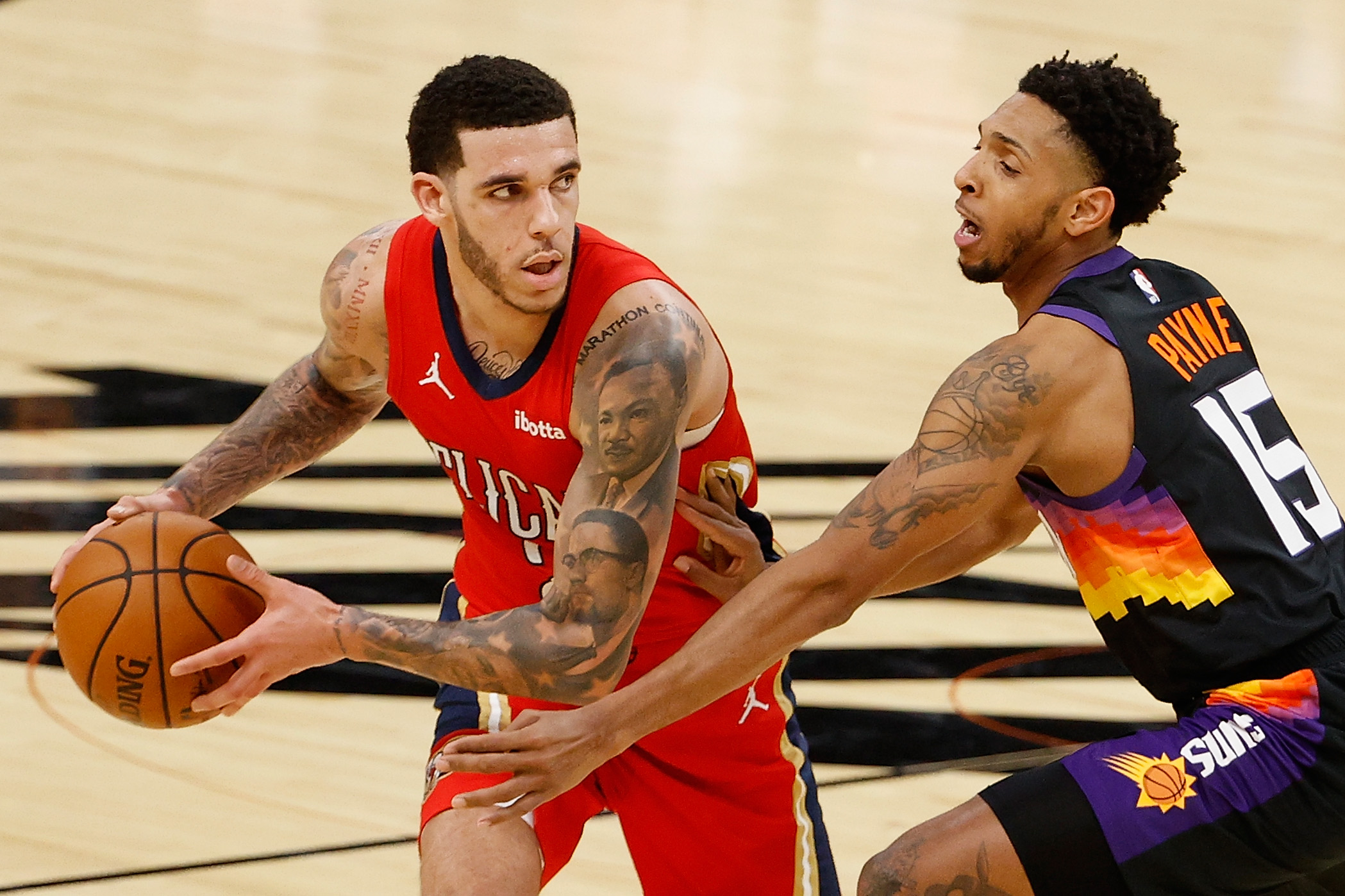 The New Orleans Pelicans Have Been Watching a (Lonzo) Ball Drop Since Trading for Him
New Orleans Pelicans guard Lonzo Ball hasn't lived up to expectations after being the second overall pick in the 2017 NBA draft.
Lonzo Ball came into the NBA with tons of hype. He was the second overall pick and expectations were very high for the 6-foot-6 point guard out of UCLA. Ball is already with his second team after he was traded to the New Orleans Pelicans, and his numbers certainly don't line up with that of a No. 2 pick.
Lonzo Ball's early basketball career
Lonzo Ball was born into a basketball family. His father, LaVar, and his mother, Tina, both played college basketball. Lonzo Ball was named California's Mr. Basketball after averaging a triple-double during his senior year at Chino Hills. For the Huskies, Ball averaged 23.9 points, 11.3 rebounds, and 11.7 assists per game, according to CalHiSports.com.
Ball was teammates with his brothers, LiAngelo and LaMelo, in high school as a senior. During that year, Chino Hills went 35-0 and was named the best high school team in the state. Ball was named the USA Today Boys Basketball Player of the Year, among numerous other awards.
Ball went on to play his college basketball at UCLA. He played one season for the Bruins before declaring for the NBA draft. At UCLA, Ball averaged 14.6 points, 7.6 assists, and six rebounds per game.
Ball entered the NBA with a lot of hype
Lonzo Ball left UCLA after one season, declaring for the 2017 NBA draft. Heading into the draft, he was considered a top-three pick, along with Markelle Fultz and Jayson Tatum. The Boston Celtics had the top pick that year and made a last-minute deal with the Philadelphia 76ers, who had the third pick. Sandwiched in between were the Los Angeles Lakers, who had the second pick.
The Sixers selected Fultz and then the Lakers grabbed Ball with the second pick. Tatum went third to the Celtics. Ball spent two seasons with the Lakers. He missed 30 games due to various injuries, but started in 50 of the 52 games in which he played. Ball averaged 10.2 points, 7.2 assists, and 6.9 rebounds in his rookie year.
In his second year with the Lakers, Ball's season was cut short in March due to an ankle injury. Ball played 47 games that season, starting 45, and saw his numbers dip. He averaged 9.9 points, 5.4 assists, and 5.3 rebounds. He shot 40% from the floor, which was an improvement over his 36% in his rookie season.
The New Orleans Pelicans trade for Ball
In July of 2019, the New Orleans Pelicans and Los Angeles Lakers made a blockbuster deal centered around disgruntled Pelicans big-man Anthony Davis. Davis was sent to the Lakers in exchange for Ball, Brandon Ingram, Josh Hart, the draft rights to De'Andre Hunter, draft picks, and cash.
Maybe a change of scenery would help Ball, who wasn't living up to his high expectations. Last year with the Pelicans, he continued to struggle shooting, making just 40% of his shots and averaging 11.8 points per game. He did average seven assists and 6.1 rebounds.
Prior to this season, the Pelicans brought in veteran point guard Eric Bledsoe, acquiring him in a trade with the Milwaukee Bucks. Whether the move is to try and light a fire under Ball or to provide insurance in case they want to move him, Ball's numbers are heading in the wrong direction. It's only been four games, but his shooting continues to be deplorable at 37%. Ball is putting up 11.3 points, but is averaging less than four assists and rebounds per game. He's been a major disappointment for a No. 2 pick in the draft.
Statistics courtesy of Basketball Reference.