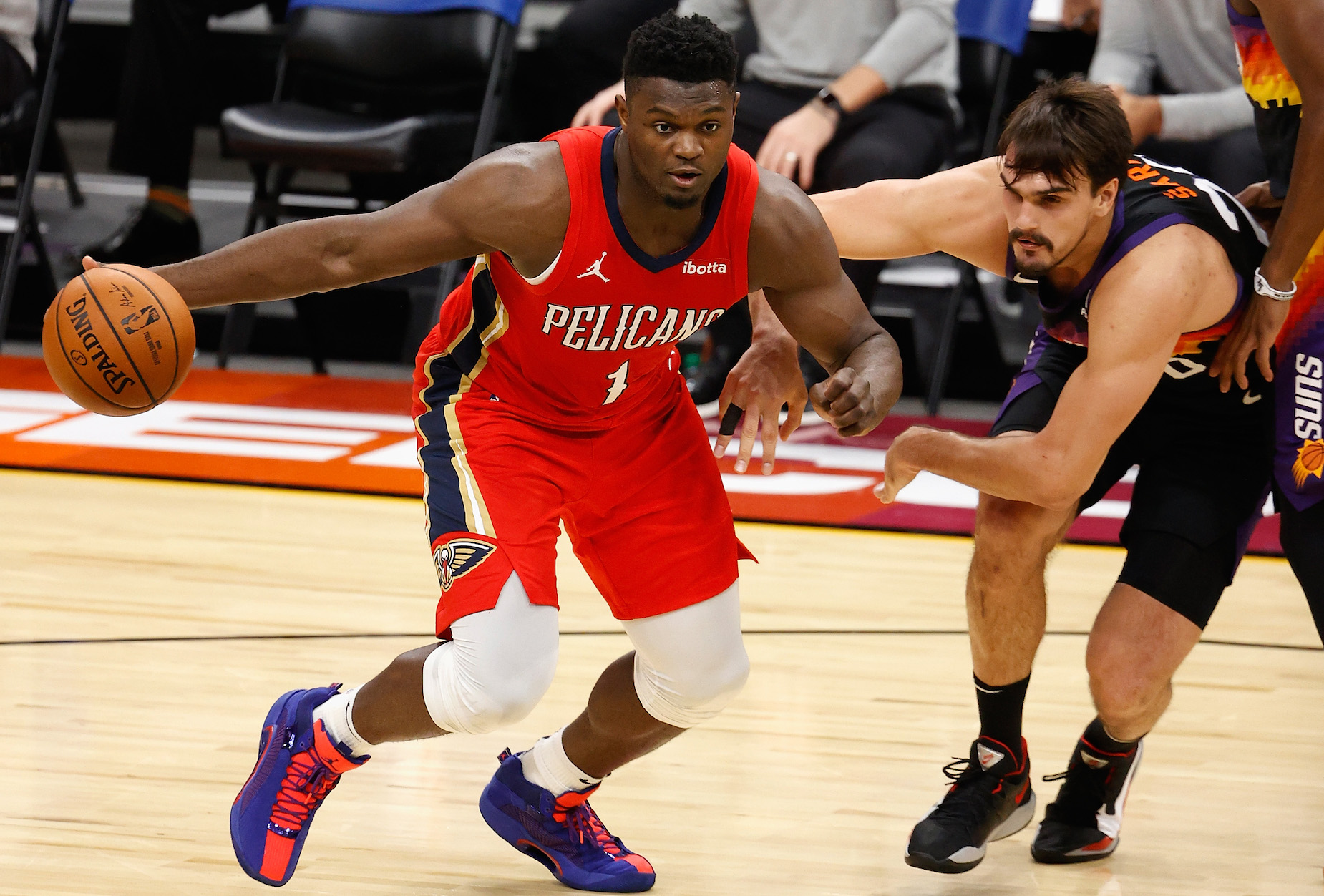 Zion Williamson Changed His Diet After a Disappointing Rookie Year: 'All the Sauce, the Bacon, That Stuff—He Can't Have That'
After a disappointing rookie campaign that was blighted by injury, New Orleans Pelicans forward Zion Williamson changed his diet.
Heading into the 2019-20 season, Zion Williamson was supposed to be one of the league's main attractions. When the games began, however, the New Orleans Pelicans' big man was sidelined with a knee problem; in total, he only played 24 games during a disappointing rookie campaign.
Zion Williamson, however, wasn't going to take those struggles lying down. During the 2020 offseason, the forward retooled his diet and workout plan in the hopes of bouncing back in a big way as an NBA sophomore.
Zion Williamson looks like a star, provided that he's able to play
During the past two years, basketball fans have only been able to see Zion Williamson play in fits and starts. When he's on the court, however, it's pretty clear that the big man has the talent required to be a legitimate star.
After making a name for himself in high school, Williamson took his talents to Duke. While an infamous shoe blow-out and his subsequent knee injury slowed down his freshman year, the big man still 22.6 points and 8.9 rebounds per game; that was enough to make him the first-overall pick of the 2019 NBA draft.
With the Pelicans, Williamson, unfortunately, fell into somewhat of a pattern. He made his Summer League debut but promptly found himself on the sidelines after bruising his knee; he then returned to the court for the preseason but ended up needing knee surgery. By the time Zion made his regular-season debut, it was January 2020.
While it took him some time to make his professional debut, Williamson proved that he could hang with anyone at the NBA level. During his 24 games as a rookie, he averaged 22.5 points, 6.3 rebounds, and 2.1 assists per appearance. Although it's still early in the 2020-21 campaign, he seems to have picked up where he left off.
There were some concerns about the forward's weight
When Zion Williamson is able to take the floor, his talent is plain to see. Over the past year, however, some have been concerned that the forward's body simply won't hold up.
According to NBA.com's official draft profile, Williamson entered the league at 6 feet, 7 inches, and 284 pounds. While that frame played a role in his success—Zion is pretty nimble, but he's also strong enough to bang bodies in the paint—it also raised a few eyebrows around the league.
While the NBA has seen plenty of big men over the years, most of them were conventional, back-to-the-basket centers; Williamson, however, plays an explosive, modern game. That reality caused some pundits to worry that the forward was too heavy—and capable of generating too much force when he jumped and cut—to have a legitimate basketball career.
Both Williamson and the Pelicans organization, however, have rejected that hypothesis. The forward has even gone on the record as saying that he's only concerned with what his inner circle thinks about his weight.
Zion Williamson changed up his diet and workout routine during the offseason
Whether you believe Zion Williamson's weight will affect his long-term performance or not, one thing is clear: the forward changed up his diet and workout routine during the offseason in the hopes of a stronger sophomore campaign.
Although no one quite knows what Zion has been doing in the gym, Mens' Health did get somewhat of an inside scoop. Beyond push-ups, sit-ups, and running, "Williamson revealed that his daily exercise regimen also consisted of two sessions on the basketball court, plus flexibility, strength, and conditioning work away from the court with a trainer," Brett Williams explained.
Zion's diet has also undergone a few changes in the hopes of keeping him in peak physical condition.
"Meanwhile, his mother Sharonda Sampson took care of his diet by swapping out soul food standards for healthier options," Williams' story explained. "All the sauce, the bacon, that stuff—he can't have that,' Sampson says. Instead, Williamson is sticking to salmon."
A few games into the 2020-21 season, those changes seem to be paying off; Zion reportedly lost at least 25 pounds during the offseason and has been moving better on the court.
No one doubts Zion Williamson's talent. With his new workout routine and diet, the forward may finally be able to prove that he's capable of staying healthy and becoming a legitimate NBA star.
Stats courtesy of Sports-Reference and Basketball-Reference