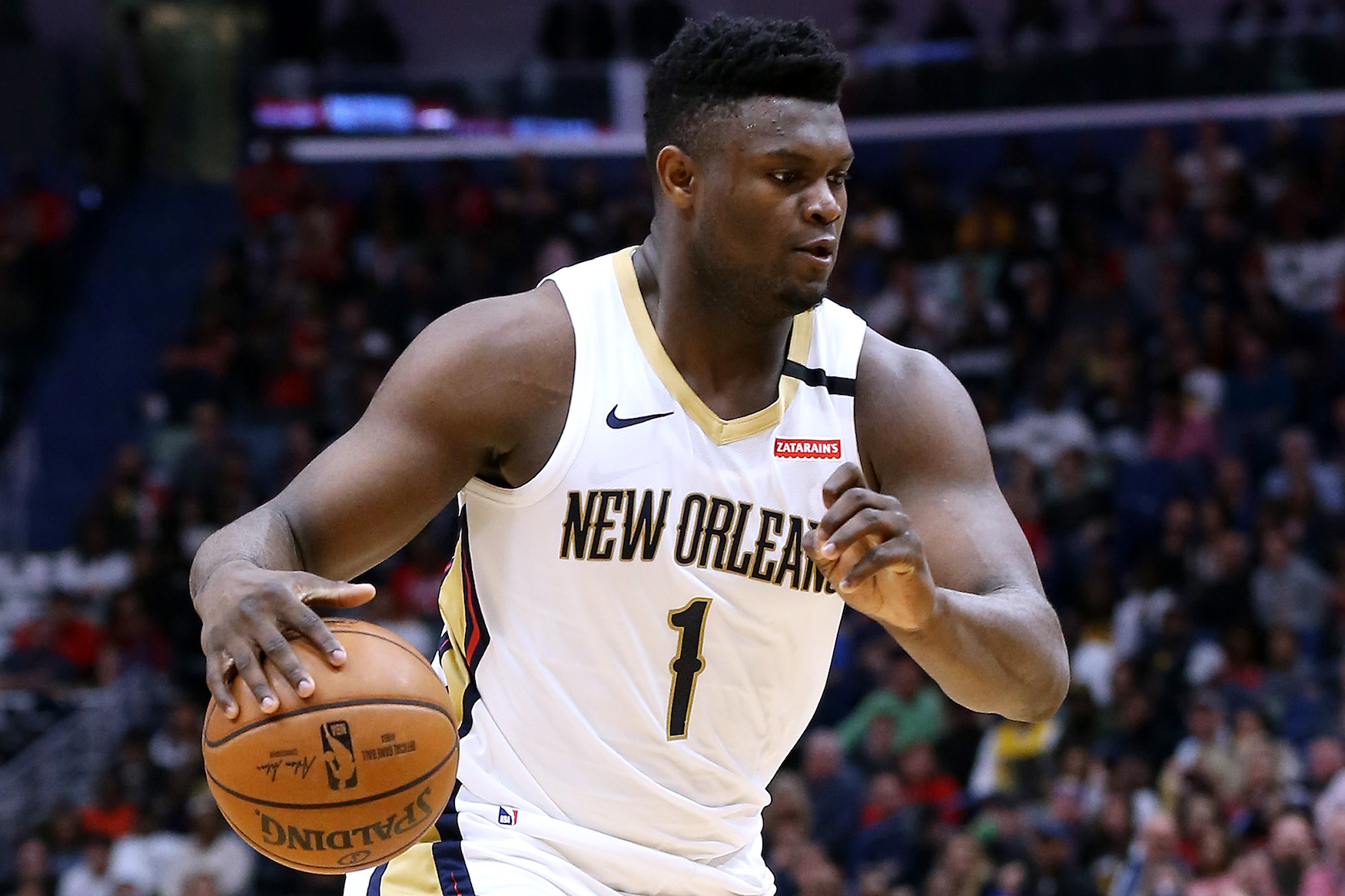 What Are Zion Williamson's Height and Wingspan?
While Zion Williamson is talented, he's also an impressive physical specimen. What is the forward's height, weight, and wingspan?
While NBA fans didn't get to see much of Zion Williamson before the season was suspended, there was still plenty to be excited about. In his limited time on the floor, the New Orleans Pelicans rookie looked like a legitimate star; even in limited minutes, he still managed to make a massive impact. Despite turning 20 in July 2020, Zion seems to have all the physical tools to succeed.
But what exactly are those tools? Let's take a look at Zion Williamson's height and wingspan.
Zion Williamson rose to national prominence at Duke
These days, Zion Williamson is the main attraction on the New Orleans Pelicans roster. His rise to stardom, however, started in the amateur ranks.
Williamson played his high school ball at the Spartanburg Day School and immediately started making waves. As a freshman, he was already catching the eye of college recruiters; before long, he was dominating at prospect showcases and appearing on magazine covers.
Zion eventually became the nation's top high school recruit and committed to Duke University. He promptly announced his arrival by dropping 29 points and pulling down 13 rebounds during his Blue Devils preseason debut against Ryerson.
While an infamous shoe blowout cost Williamson some time down the stretch, he still posted an impressive freshman campaign. In 33 total appearances, the forward averaged 22.6 points, 8.9 rebounds, and 1.8 blocks per outing. Zion claimed consensus National College Player of the Year and First-Team All-American honors before entering into the 2019 NBA draft.
A slow burn toward NBA stardom
Once the New Orleans Pelicans selected Zion Williamson with the first-overall pick of the 2019 draft, NBA fans couldn't wait for his professional debut. While it took longer than expected, the forward eventually lived up to the hype.
Zion's NBA career was supposed to begin in the Las Vegas Summer League, but a bruised knee confined him to the sidelines after a matter of minutes. He returned to action—and looked pretty impressive—in the preseason, but found himself nursing another injury when the regular season began.
Williamson ended up having surgery to repair a torn meniscus; while the Pelicans brass expected that he'd return within six to eight weeks, he ended up spending three months on the sidelines. When he returned, though, Zion lived up to the hype.
Although Williamson only played 19 games before the coronavirus stopped all NBA action, he proved that he could hang with the big boys. Thus far, he's averaging 23.6 points and 6.8 rebounds per outing.
What are Zion Williamson's height, weight, and wingspan?
On paper, Zion Williamson's performances have been nothing short of impressive. If you watch the young forward play, however, you'll also notice that he possess all the physical tools required for NBA stardom.
By professional basketball standards, though, Zion isn't the tallest guy; the NBA's official stats state that he stands 6 feet, 6 inches. Despite that relatively short stature, he weighs in at 284 pounds; he's more than able to hold his own in the paint.
Williamson's wingspan, however, is where the forward truly stands out. While most wingspans are pretty close to a person's height—Slate cites a study saying the average man's wingspan is roughly two inches longer than his height—Zion is no ordinary man. According to NBAdraft.net, the forward's arms measure 6 feet, 10.5 inches from tip to tip; a Popeyes' promotion from around the 2019 NBA draft agrees on 6-10.
It's abundantly clear that Zion Williamson has plenty of natural ability and sheer athleticism; that, combined with his his physical measurements, combine to make him a truly unique talent.
Stats courtesy of Sports-Reference and Basketball-Reference