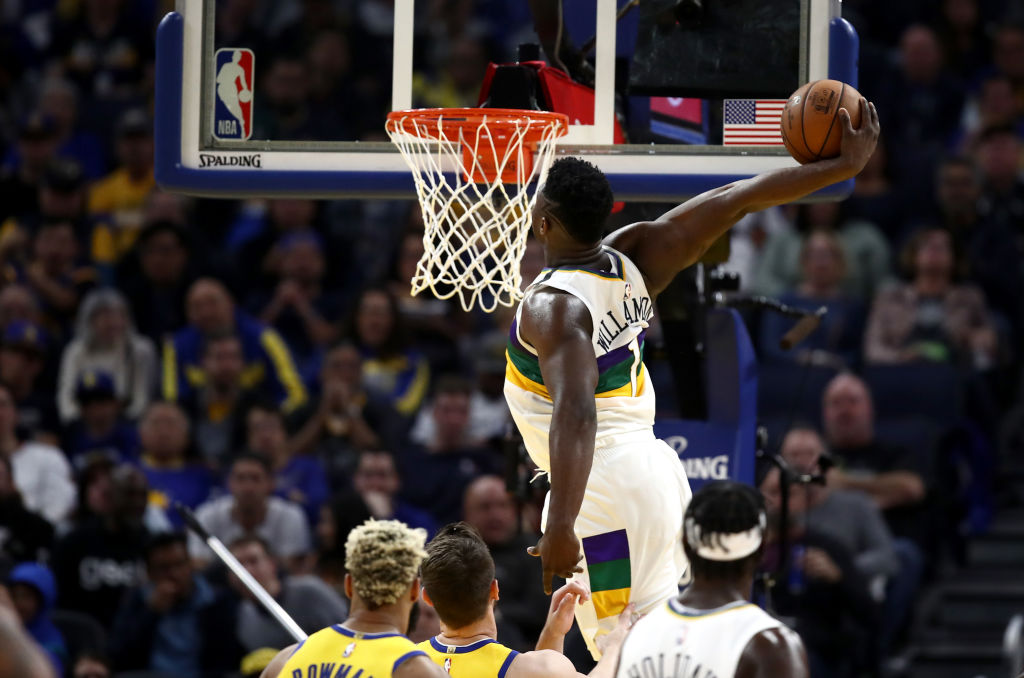 Led by Zion Williamson, the 5 Best High School Basketball Hoop Mixtapes of All Time
Zion Williamson is one of the most electric young players in the NBA today, but what did he look like in high school?
In these dark times of quarantine and a sports hiatus, we need new forms of entertainment now more than ever. Some might opt to start a new Netflix show or rent a couple of books to pass the time. But what are sports fanatics to do?
ESPN is airing re-runs of the best March Madness games with a few documentaries mixed in, but those just remind us of what we're missing this month. We have to get creative to find sports nirvana again.
Enter high school basketball mixtape videos. Here are some of the best to watch while we wait for sports to return, highlighted by Zion Williamson.
5. Andrew Wiggins, 2013
Andrew Wiggins was a highly touted recruit out of Huntington Prep in West Virginia. Wiggins already had an NBA frame by the time he reached high school, so he could dunk on whoever got in his way in 2013. So he did.
The new Golden State Warrior was extremely long and athletic in high school. His mixtape almost looks like if Kevin Durant showed up to a pickup game and started crossing players up and dunking everything in sight. Wiggins' dominance came so easy to him, and everyone who watched him knew they were seeing a future NBA talent.
4. Aquille Carr, 2012
Aquille Carr's Hoop Mixtape was a fan favorite because of his height. The 5-foot-6 point guard made up for his short stature by being the most athletic and quickest player on the floor. Carr could dodge a triple team in a split second and dish it to the open guy down low before the defense even knew what happened.
His killer handles and ability to soar through the air captivated basketball fans across America. Carr was going to attend Seton Hall University to play collegiate ball, but he decided to pursue a professional career overseas instead.
3. Seventh Woods, 2013
Seventh Woods became a nationwide phenomenon after his Hoop Mixtape video surfaced on YouTube in 2013. The incredible part about his dominant highlight tape is that he was just a freshman in high school.
The mixture of high-flying dunks, chase-down blocks, and impossible shots make this one of the best high school basketball videos ever made.
Woods went on to play at North Carolina for Roy Williams, but he never lived up to the hype his tape created for him. The high school phenom never averaged more than 2.5 points per game in a single season in Chapel Hill. Woods has since transferred to South Carolina.
2. John Wall, 2009
Basketball fans know John Wall from his Kentucky days and now the Washington Wizards, but his high school highlights are mindblowing. Wall is a man amongst boys in his Hoop Mixtape. He looks like he could turn pro the next day.
There are windmill dunks and no-look passes abound in Wall's tape. His "shammgod" move in the first 15 seconds even sent an opponent off the camera screen. There's a level of disrespect in Wall's video. It's almost as if he's not even trying and still dunking on whoever he feels like. That's what puts it over the top.
1. Zion Williamson, 2018
No surprises here. Zion Williamson quickly became an internet sensation after his high school highlights started showing up on YouTube. His senior year mixtape from ballislife.com is a revolutionary display of athleticism that almost looks impossible for a human being.
Williamson's soaring dunks and disrespectful swats can only be described as jaw-dropping. His tape looks like a video game. Everyone knew immediately they were watching a one-of-a-kind talent that would light the world on fire for years to come.
Just two years later, Zion Williamson is now doing the same dunks against NBA players. It's hard to believe he was in high school such a short time ago. Williamson blows the field away and takes the No. 1 spot of the best high school basketball mixtapes.