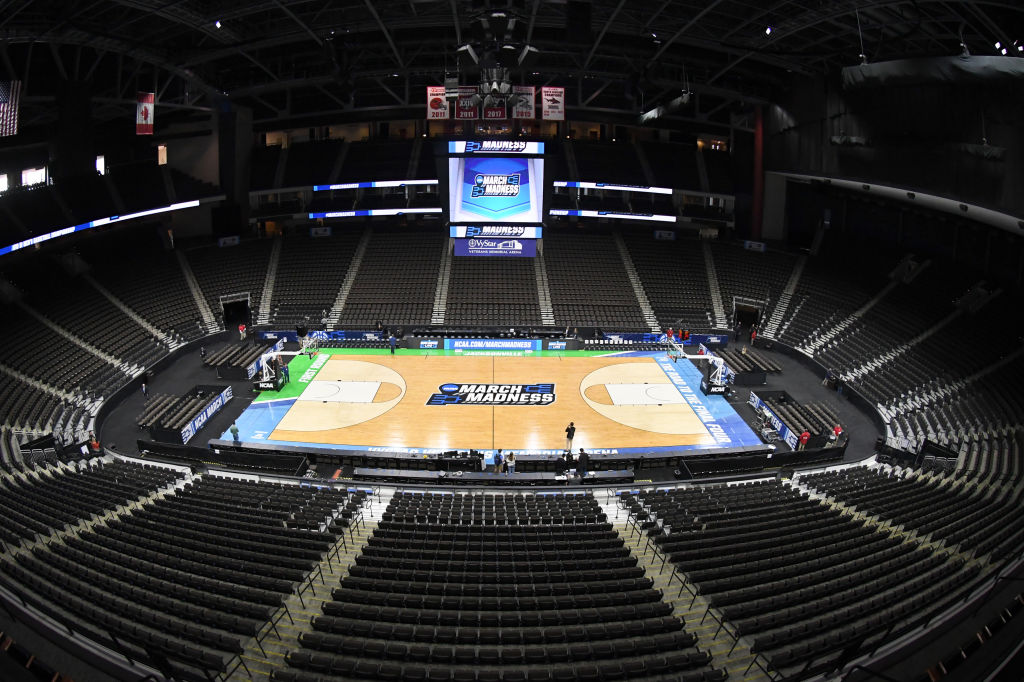 March Madness is Now March Sadness
The coronavirus has officially affected March Madness. The NCAA Tournament will have limited attendance due to COVID-19.
The coronavirus has now officially affected March Madness.
After much speculation on how COVID-19 could affect both the Men's and Women's NCAA Basketball Tournaments, the rumors can be put to rest. March Madness will be played without fans.
March Madness games will officially be played without fans
In a statement from NCAA president Mark Emmert on Thursday, the worst fears surrounding upcoming NCAA Tournament action were confirmed. General fans will not be in attendance in games around the country as only essential staff and family members will be allowed inside the arenas hosting March Madness games over the next few weeks.
"The NCAA continues to assess the impact of COVID-19 in consultation with public health officials and our COVID-19 advisory panel. Based on their advice and my discussions with the NCAA Board of Governors, I have made the decision to conduct our upcoming championship events, including the Division I men's and women's basketball tournaments, with only essential staff and limited family attendance.

"While I understand how disappointing this is for all fans of our sports, my decision is based on the current understanding of how COVID-19 is progressing in the United States.  This decision is in the best interest of public health, including that of coaches, administrators, fans and, most importantly, our student-athletes.

"We recognize the opportunity to compete in an NCAA national championship is an experience of a lifetime for the students and their families. Today, we will move forward and conduct championships consistent with the current information and will continue to monitor and make adjustments as needed."

NCAA president Mark Emmert on limited attendance during March Madness games
Earlier this week, the Ivy League completely canceled their conference tournament amid concerns over the coronavirus. The MAC and Big West conferences have taken similar measures to what just transpired, also limiting attendance to their tournaments.
The coronavirus affected the NBA on Wednesday as well
Just hours before the decision was made by the NCAA to limit attendance to March Madness, the NBA was also affected by the coronavirus.
The Golden State Warriors and Brooklyn Nets will play in an empty Chase Center on Thursday night after the mayor of San Francisco put a ban on all public gatherings of 1,000 people or more.
Over the past few weeks, numerous sports organizations around the world have been affected by the coronavirus outbreak. The NBA will be the first major organization in the United States to play a game in an empty arena. March Madness won't be far behind. The First Four is set to begin in Dayton, Ohio next week. As of this writing, decisions have not been made on other conference tournaments such as the Big Ten and ACC.
In addition, the College Basketball Invitational Tournament, which is not run by the NCAA, has been completely canceled.
March Madness becomes March Sadness
It didn't take long for the March Madness news to spread across social media. Fans across the country took to Twitter to voice their displeasure with the announcement, many speaking on how fan involvement and reaction is part of what makes March Madness so special.
Honestly, just go to Twitter and punch in "March Madness" or "March Sadness" and you'll find a million more just like this.
The truth is that nobody knows what's going to happen with the coronavirus in this country. This was probably the right decision by the NCAA. The only other real option at this point in time would be to cancel both tournaments and nobody wants to see that happen, not after all the work that these athletes have put in all year. No, it won't be the same. There's no possible way that it could be.
But these men and women deserve the chance to play these games, even if they'll only be played in front of a few family members. Yes, it's going to be very interesting watching some Hofstra parent scream and yell if their son hits a game-winning shot to upset one of the big guys. But again, it's gotta be safety first at this point.
This country and the rest of the world will get through this. Watching a few basketball games without crowds isn't that big of a deal, minus the revenue anyway. March Madness is still going to happen. It's just going to look a little different this time.