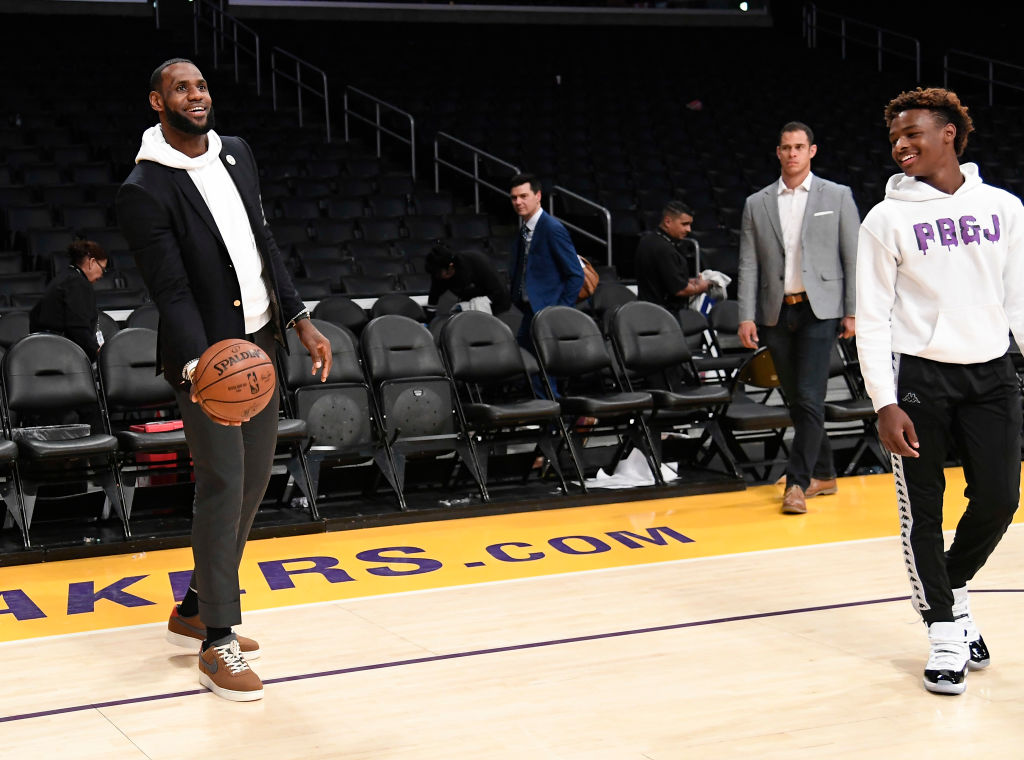 How LeBron James and Other Stars are Passing the Time During the Sports Lockdown
Professional sports are on lockdown for the next few weeks, but that isn't stopping LeBron James and other athletes from entertaining their fans.
Just like sports fans have to find creative ways to pass the time until sports return, professional athletes are in the same predicament. They can't compete or even practice at their team facilities for the time being. Athletes love perfecting their craft more than anything, but this sports lockdown has given many like LeBron James and Christiano Ronaldo a chance to have extended family time and entertain their fans along the way.
LeBron James and others turn to TikTok
TikTok has been booming since there are no live sports to watch. Even LeBron James is getting in on the fun, posting a few dancing videos with him and his entire family this month. James, his wife, and his three kids dance in sync to popular TikTok tunes.
James has also been an active Instagram user, but this recent free period has given him more time to choreograph dance videos with the whole "James Gang."
Philadelphia 76ers rookie Matisse Thybulle is another NBA player who has built a presence on TikTok recently. Thybulle is cooped up in his apartment with not much to do. It's evident from his posted videos that he has a ton of time on his hands.
Even though no one can watch these guys night-to-night on the hardwood, they're still keeping their fans engaged in a creative way. Until the NBA returns, TikTok will have to do.
Dwayne Wade and Gabrielle Union play a friendly game of hoops
Dwayne Wade recently retired from the NBA, but that didn't stop him from getting buckets with his wife inside their home. Wade and Union posted a video of the two facing off in a shooting competition this weekend. They used a plastic hoop and what looked like rolled-up socks as basketballs. Union actually beat Wade at his own game.
She must have learned a thing or two from Wade over the years.
Spencer Dinwiddie, Steph Curry, and others rewatch their own highlights
Spencer Dinwiddie of the Brooklyn Nets posed the equation last week: is anyone else watching their own highlights on YouTube to pass the time? The answer was a resounding yes. Steph Curry, Buddy Hield, Donovan Mitchell, and more NBA stars chimed in saying they've been doing the same.
Dinwiddie has been a popular voice on Twitter in the past week. He even suggested NBATV should start showing the best game-winners in the league from the past few seasons. The NBATV Twitter account even responded to Dinwiddie, saying they would look into the idea.
Christiano Ronaldo is teaching his kids how to sanitize properly
While most athletes are finding different ways to entertain themselves and their fans, Juventus superstar Christiano Ronaldo is taking the time to teach his children how to stay healthy. A video surfaced on Twitter this weekend that shows Ronaldo squirting hand sanitizer into three of his kids' hands and preaching to them about how to stay safe. One of Ronaldo's Juventus teammates, Paulo Dybala, recently tested positive for COVID-19, so he knows it was close to affecting him as well.